Why water emergencies are the thorniest end of the climate crisis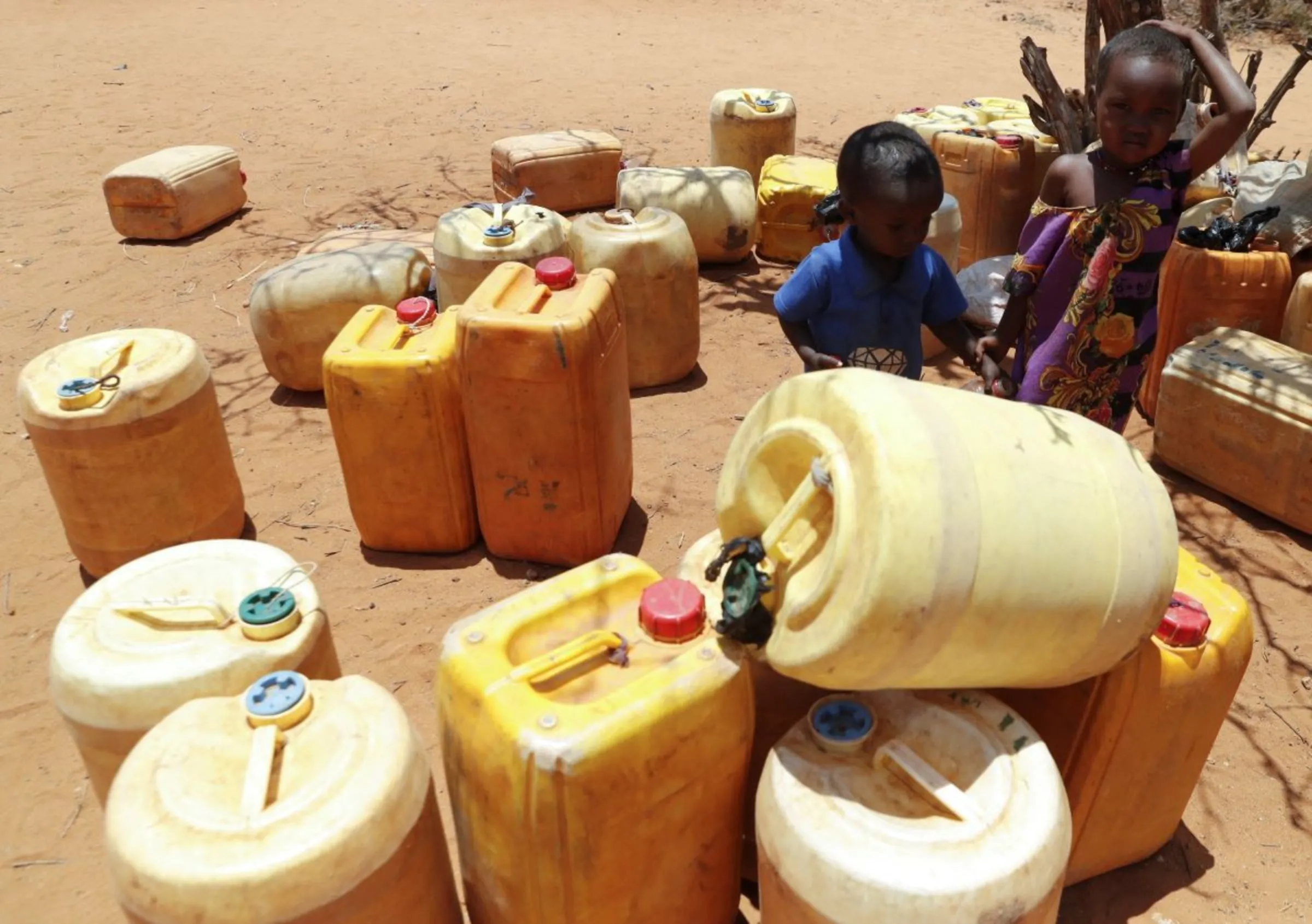 Children stand by their family jerrycans as they wait for their turn to collect water at a borehole following a prolonged drought near the Kenya-Ethiopia border in Kubdishan, in Mandera region, Kenya September 1, 2022. REUTERS/Thomas Mukoya
Future water security depends on transforming how water systems are managed
Mark Smith is director general of the CGIAR International Water Management Institute (IWMI).
More than six months after unprecedented floods left a third of Pakistan under water, millions are still feeling the humanitarian aftershocks.
The deluge was an extreme manifestation of how the planet's water cycle is becoming increasingly unpredictable because of climate change. Growing water risks are reinforcing the notion of a global water crisis.
And no wonder: from record-breaking droughts in the west of the United States and the Horn of Africa to chronic water scarcity across the Mediterranean basin, the shape-shifting spectre of water extremes is appearing in all corners of the world with growing frequency.
But the floods in Pakistan also demonstrated why loss of water security – for communities, farmers, economies and businesses – is among the most complex impacts of the climate crisis. Not only were farmland and harvests devastated; the floods also threatened critical infrastructure such as power stations.
Water disasters disrupt energy supplies with impacts that ripple through economies. They can choke global supply chains for critical products like computer hard drives, and undercut food security locally as well as globally.
And, as we have seen, they can compound the effects of price spikes for food and fertiliser, fuelled by shocks like the Ukraine war, for vulnerable communities in the Middle East and Horn of Africa.
The water emergencies the world is witnessing strike locally and regionally, but they have global repercussions. Solutions will therefore need both a global response to coordinate support for national strategies, and local action to rethink water management in response to changing water risks and to build resilience against future disasters.
In the middle of the UN's Water Action Decade 2018-2028, the international community is at an inflection point. Setting the trajectory from here on will determine whether we achieve the global goals of delivering climate action and sustainable management of water and sanitation for all by 2030 and beyond.
The UN 2023 Water Conference next week – the first since 1977 – is an overdue opportunity to reignite ambition among leaders in governments, businesses and international agencies to create the political environment necessary to deal with water challenges head on.
The momentum for such a movement is strong after the importance of water systems was recognised for the first time in the climate agreement at COP27 just a few months ago.
Bringing together policymakers is a crucial chance to share the latest available science, evidence and solutions to help governments and communities, as well as critical sectors, such as agriculture, energy and manufacturing, understand and prepare for future water risks.
This is vital because the pace of climate change now means that the data and historical precedent conventionally used to manage water risks and extremes are losing relevance.
As the world's water regimes shift, future water security depends on transforming how water systems are managed.
The Transformative Futures for Water Security initiative convened the policy, business, development and scientific communities, together with youth networks, in a bottom-up, South-South dialogue to ask what it will take to do this.
Collectively, they called for a mission-driven agenda to urgently align research, policy, investment and action for future water security.
Water users and water agencies, women and youth leaders, and voices from businesses and community organizations, jointly identified eight missions for science-based action on water security.
From transforming the way water is used in its most demanding sector – agriculture – to integrating ecological and built infrastructure to build resilience, and using innovation to guide decision-making on water and water governance that is fit for the future, these missions can form a roadmap for a high-ambition, locally-responsive but global Water Action Agenda to be launched at the UN 2023 Water Conference.
Water emergencies are the product of climate change, which in turn creates ever more precariousness. Responses to water emergencies must manage the threat of water insecurity to all users, from national utilities and households to farmers and industry.
A global agreement for water is neither realistic nor needed to do this, but we do need global coordination to develop the mechanisms that will deliver the international support needed at national and local levels, and with urgency.
Managing water risks and resources may be the more challenging aspect of the climate crisis, but getting it right will set the course for a safer, more equitable future.
---
Any views expressed in this opinion piece are those of the author and not of Context or the Thomson Reuters Foundation.
---
Tags
Extreme weather

Climate and health

Climate inequality

Loss and damage
---