Electric buses start up digital skills for Mumbai mechanic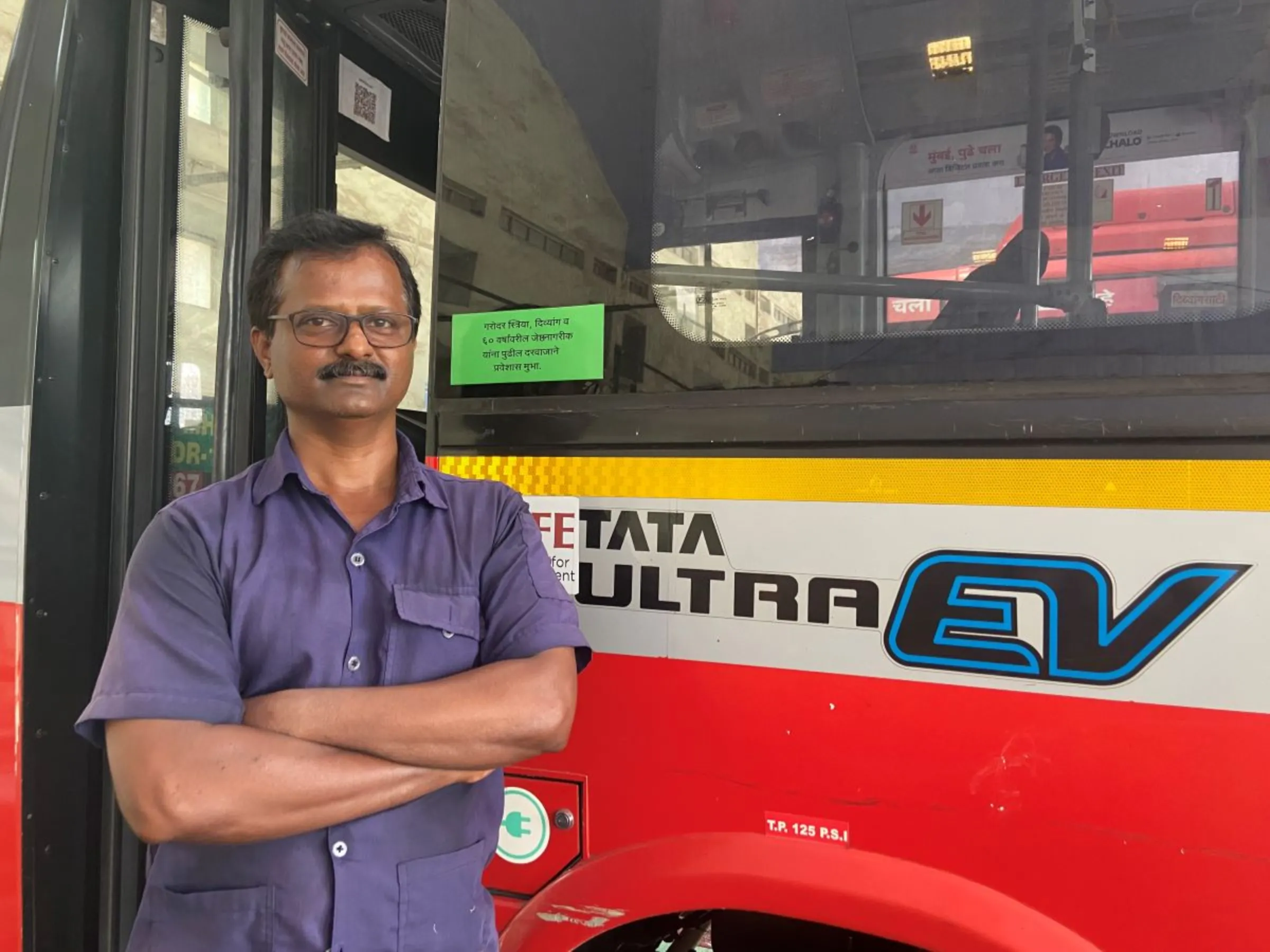 Sanjay Shashikant Kerkar, senior mechanic with Mumbai's public transport body, poses for a picture in front of an electric bus in Mumbai, India, April 19 2023. Thomson Reuters Foundation/Roli Srivastava
What's the context?
With India aiming to put 50,000 electric buses on its roads in the next few years, vehicle maintenance is going high-tech
This story is part of a series on transforming the world of work for a greener, fairer global economy: "Green jobs for a just transition"
MUMBAI - As a child, Sanjay Shashikant Kerkar was happiest playing with screwdrivers and pliers, or burying his head in open car bonnets at a friend's garage, influenced by his father's job as a machine operator at a textile mill in central Mumbai.
Kerkar, 47, is now a long-serving mechanic with Mumbai's public transport operator where he repaired diesel buses until four years ago, when he was trained in the daily upkeep of the new electric buses his firm had procured.
He is one of a growing number of Indians carving out a career in an expanding electric vehicle sector as the country aims to cut planet-heating emissions from fossil fuel transport.
India aims to deploy 50,000 e-buses in tranches over the next four to five years at an estimated cost of 1 trillion rupees ($12 billion) - and is helping states to procure buses from manufacturers by striking bulk deals for them.
In the city of Mumbai, the public transport body - Brihanmumbai Electricity Supply and Transport, or BEST as it is known - started replacing its fleet of over 3,000 buses running on diesel and compressed natural gas with electric ones in 2017.
Now nearly 400 electric buses ply Mumbai's crowded roads - and the target date to convert the rest is 2026.
For machine-crazy Kerkar, learning how to fix electric buses is a route to job security after he realised early in life that career aspirations were a luxury in a household struggling to make ends meet.
After his father lost his job when the mill he worked in closed, Kerkar for years delivered milk bottles for a business his parents set up.
"I wanted to become an engineer, but I could not do it," he said. "Things were difficult at home and getting a job became a priority."
After 12th grade, when he began looking for a "stable, government" job that would offer fixed wages and social security, a friend told him to sit a test for BEST.
Born and raised in Mumbai, Kerkar was a regular BEST user, whether travelling to school or participating in Ganpati festivities around the city - but he never thought he could work there until he passed the test and landed an apprenticeship.
Today, as public transport shifts from running on dirty fuels to cleaner electricity, he believes his work is helping protect his beloved hometown from the tailpipe emissions he says cover the city and its residents with soot and grime.
Why did you choose this job?
"I have been a diesel bus mechanic for more than 25 years and I have been doing well. I was even chosen as a 'line mechanic' for two years, which meant I was on call to attend breakdowns or any problems for any BEST vehicle at all times. I was taking decisions on my own.
I had seen electric cars at a friend's garage but didn't think I would get to lay my hands on them ever when Sir (my immediate superior) told us about this training for maintaining and repair of electric buses. I immediately volunteered. The bus fleet is changing and I have 10 years of service left before I retire.
Everything is going to be electric. I wanted to learn. I love taking up challenges, whichever vehicle it is. I learned on the training and I am learning more on the job. It is only when you start working on the machinery that you learn the most."
What do you enjoy about the job?
"When I repaired diesel buses, I could identify the problem from the sound the bus made. For electric buses, we plug in a laptop to detect faults. You can't do without it. I had used a laptop only occasionally in the past. But now that I am using it for work, I enjoy it. The laptop displays the problem that needs to be fixed! It is interesting to look for the fault and detect it accurately using technology."
Do you miss working on diesel buses?
"I do miss the heavy duty nature of my (old) job. It took five to six hours to remove one gear box and then remove the clutch assembly. A recurring problem with those buses was finding air locks in the engine, but I had mastered it.
It was more continuous work, and physically straining as diesel buses required more maintenance. You have to deal with exhaust fumes and my eyes burnt.
Now there are no fumes and the workload has gone down. I do check the tyres, battery voltage, transmission, brakes - every system. But everything is digital with the electric bus."
What are the challenges?
"Electric buses are good, better than diesel, but there are issues with the battery. It shows 90% charged and then it suddenly drops after, say an hour, to 30%. Each time there is a battery issue, we have to coordinate with the company who check the battery cells and then the faulty cells are fixed.
Another challenge is the use of laptops to detect problems. We plug in the laptop which has an in-built software that shows the problem. But those commands are in English and younger people understand English and computers better. I feel they have an edge over me on that front. But while they can understand the command, I understand the problem, find the fault and fix it."
How do you see jobs in your sector evolving in the next decade?
"There will be more jobs in electric buses for sure. None of the diesel buses were air-conditioned, but all the electric buses being launched are - and that's because of the heat now. And there are AC (air-conditioning) issues all the time that need to be fixed. Then there are motors and tyres to check every day. Jobs will only grow in this sector."
This interview has been edited for length and clarity.
(Reporting by Roli Srivastava; Editing by Megan Rowling.)
---
---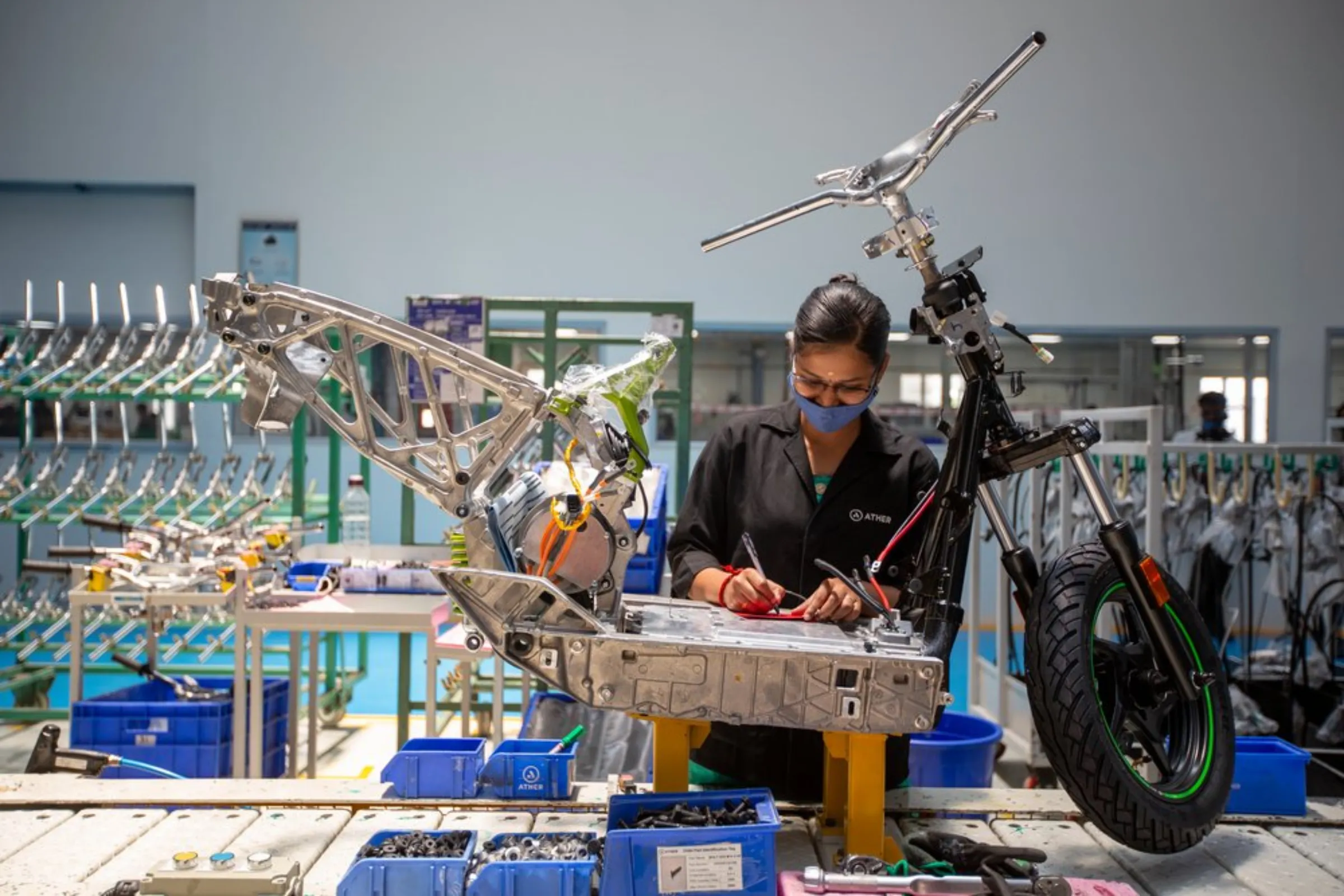 ---
Tags
Clean power

Adaptation

Net-zero

Future of work

Green jobs
---