US reuse expert fights throw-away economy through deconstruction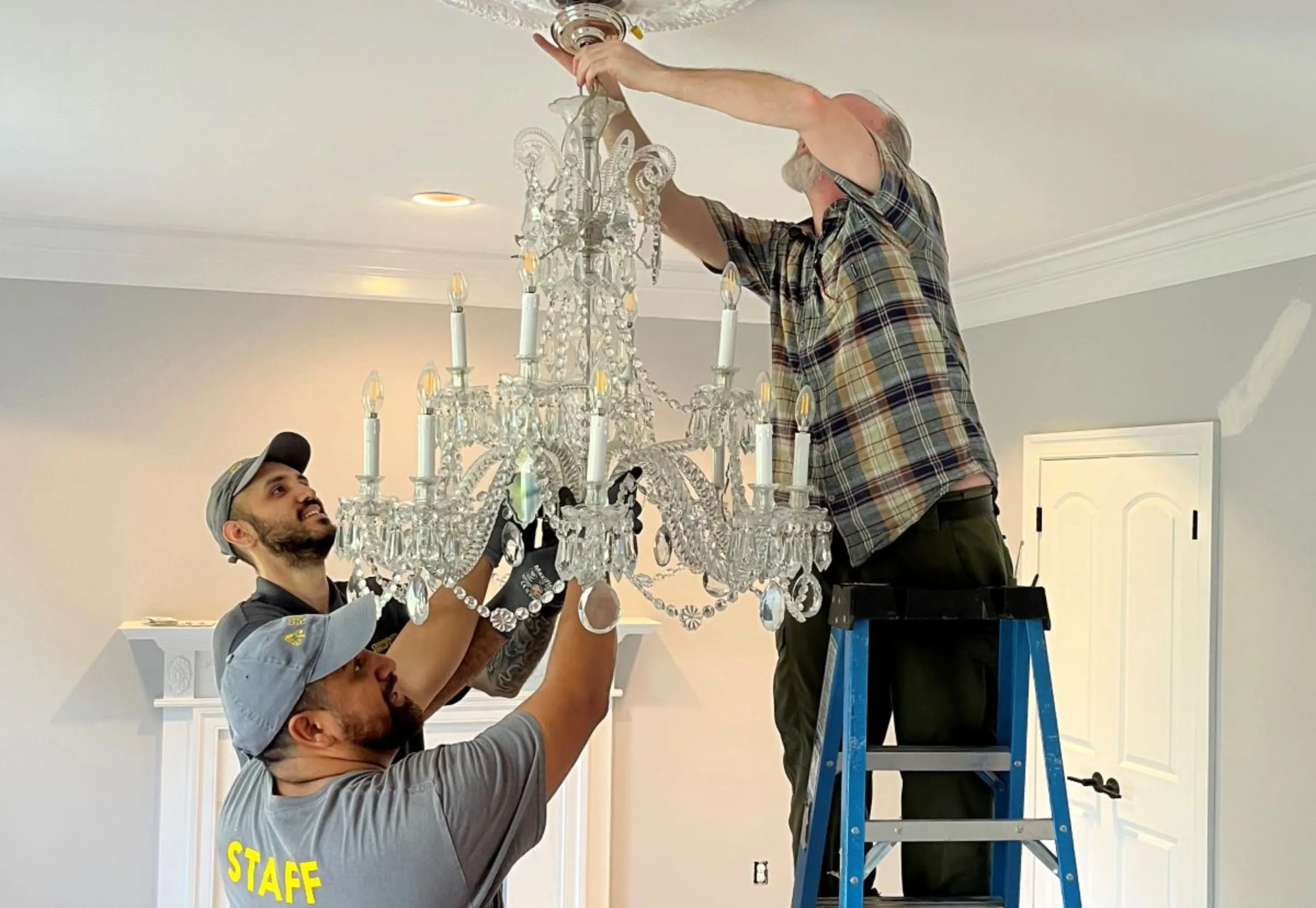 Deconstruction workers remove a chandelier from a home in Potomac, Maryland, in April 2023. Community Forklift/Handout via Thomson Reuters Foundation
What's the context?
Some U.S. cities now require that materials from unwanted buildings should be recycled to curb waste, while creating jobs and helping communities
This story is part of a series on transforming the world of work for a greener, fairer global economy: "Green jobs for a just transition"
EDMONSTON, Maryland - For years, Tom Patzkowski has helped the construction industry in Maryland green its practices, taking in donations of surplus and salvaged materials from builders and making them available at low cost to homeowners, small-scale contractors and others.
"Growing up on a fruit farm with family members who made it through the Great Depression there was lots of reuse ... and plenty to learn about repair and how things are made," said Patzkowski, 56, who has more than three decades of experience in recycling and reusing waste across the United States.
Today, his goal is to keep usable materials out of landfills, while helping people change the way they see waste.
The reuse sector has grown significantly in recent years, fueled in part by a sister business: building deconstruction - which is now becoming a requirement in more U.S. cities.
Revenue from deconstruction and reuse has tripled since 2008, to about $1.4 billion last year. The sector employs some 14,500 people and keeps about 350,000 tons of waste out of landfills annually, according to Brad Guy, an architect with Material Reuse, a sustainable architecture consultancy.
That still accounts for just 0.2% of total U.S. construction and demolition waste, said Guy, who co-founded what is today Build Reuse, a national umbrella group for the sector.
At Community Forklift, a Maryland business set up in 2005, Patzkowski and his colleagues started experimenting with deconstruction in 2021 and are now looking to expand that work.
The sector offers an entry point for people looking to move into the construction sector, said Patzkowski, who is director of donations at Community Forklift, noting that a big part of its mission is about creating good green jobs with benefits.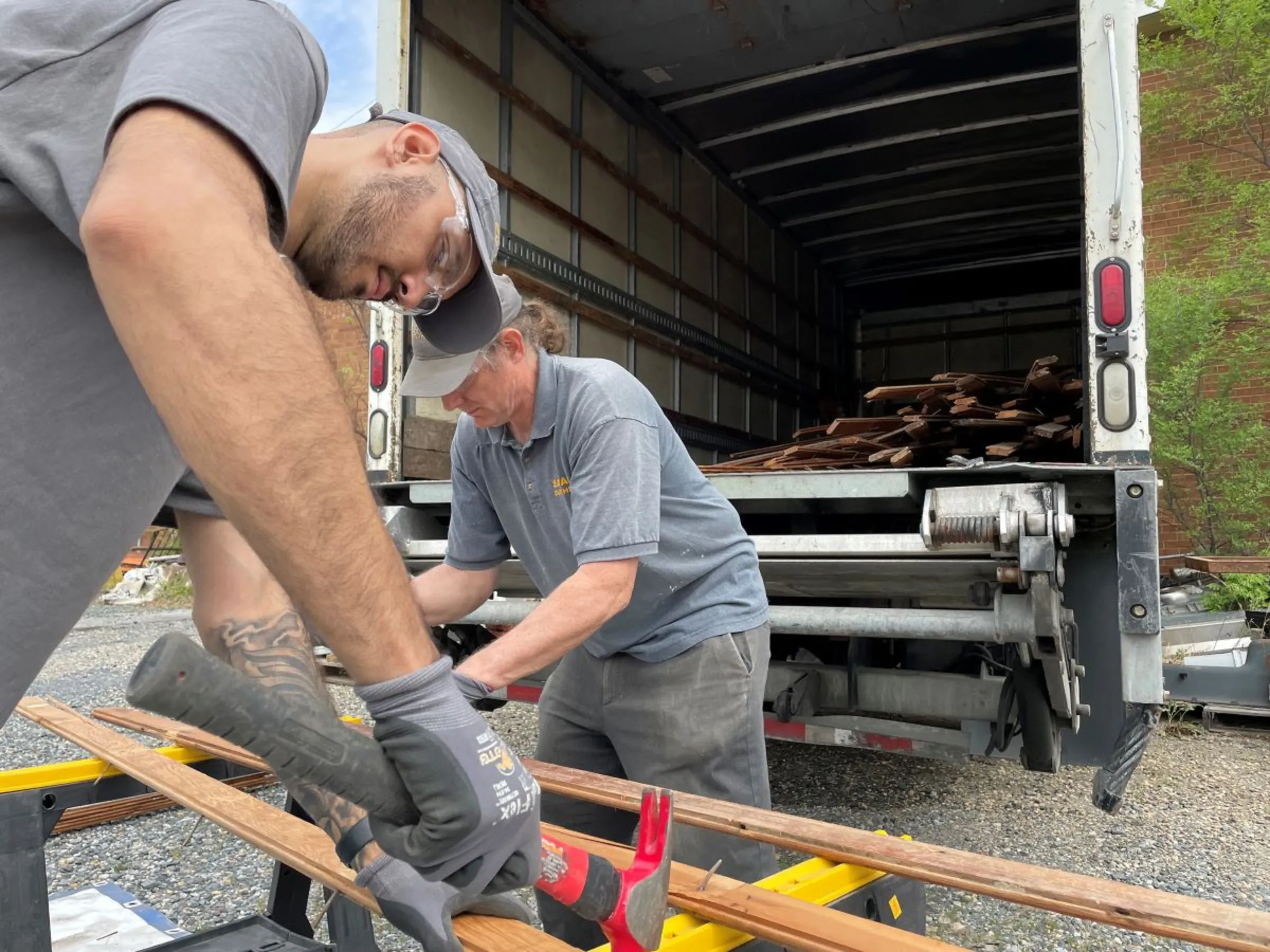 How do you find deconstruction projects?
"Right now, we're in the process of trying to ramp up, working with our own staff and doing on average about one job a week. That can be pulling out a full cabinet set, or going into a house or structure before it's demolished and salvaging as much as we can in a day.
We just got a grant to support us and go out and do 18 projects in D.C. over the coming five months. Our long-germ goal is to increase the amount of jobs we get, but we're always trying to find more materials, trying to keep these high-quality materials out of landfills.
And there's a long history here. If you look back in time, especially before World War II, this was how things were done – things were reused, re-purposed.
But then we got into a throw-away economy. So we're just trying to return to the idea of cherishing that history and value of the materials - and the embodied energy that goes into the materials.
We'll choose a job based first on the value of the materials, but we also want to make sure some of the projects are done for people who don't have extra resources to hire contractors for this kind of stuff. One helps pay for the other."
What does a typical day look like - and what do you enjoy?
"It depends on the job, but usually our teams are two to three people – we did one last week where we had a five-person team out. We also have some others we work with who have specialized skills – for instance, we're usually not doing the disconnections on electrical fixtures or plumbing.
This week we did a bunch of light fixtures, cabinet sets and odds and ends from a larger house that a person is flipping. So they were just going to trash all of this stuff – incredible, huge chandeliers!
And last week, we did another large house outside Baltimore that had a huge kitchen... and two bathrooms. We got sinks, countertops, appliances and more.
Usually these are just one-day jobs. We can do a whole kitchen in just five or six hours – almost the same amount of time it would take to smash it into pieces and carry it out to a dumpster. It's crazy that's considered faster to do."
What's the most difficult part of the work?
"You always have to be strategizing and trying to get into (the builder's) head, and trying to figure out what the previous person did. Even though every job might be the same sort of materials, it's completely different in so many ways.
You're looking at where are the pressure points, where can you lift it off – so you have to take more time and thought with stuff. It's more of a process.
And plus, the previous person – they wanted that to stay there. So something that looks like it will be no problem can take forever to get out. But something else can end up being really simple, like a mantle. Flooring is another good example – at first we were having trouble figuring out how to take that out, but now we've gotten pretty good."
Why should people get into deconstruction?
"Deconstruction is something that is a great training opportunity for people in the construction trades because it's basically reverse engineering the building of the structures. Once we get ramped up, it'll be such a great training process for those going into the trades. Especially with our focus on employing folks with difficulties with employment, it will make a big difference.
We've also seen an increase in skilled removal on the part of contractors and homeowners themselves. That has been a noticeable change – taking the time and putting extra effort in to save something, knowing that it's going to make your neighborhood, your community better."
This interview has been edited for length and clarity.
(Reporting by Carey L. Biron; editing by Megan Rowling and Kieran Guilbert.)
---
---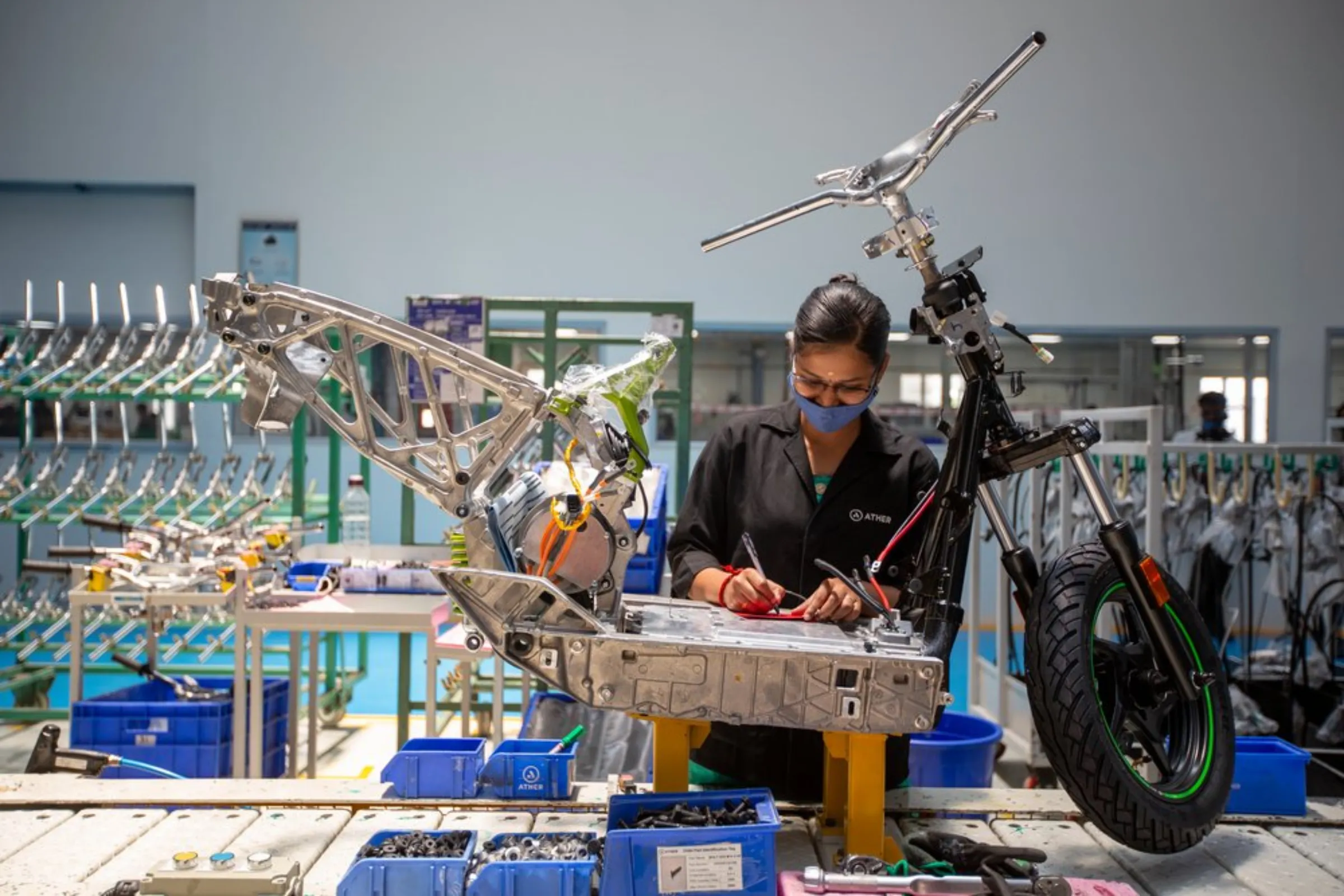 ---
Tags
Circular economies

Green jobs
---