Unions gain momentum as World Cup women push for pay parity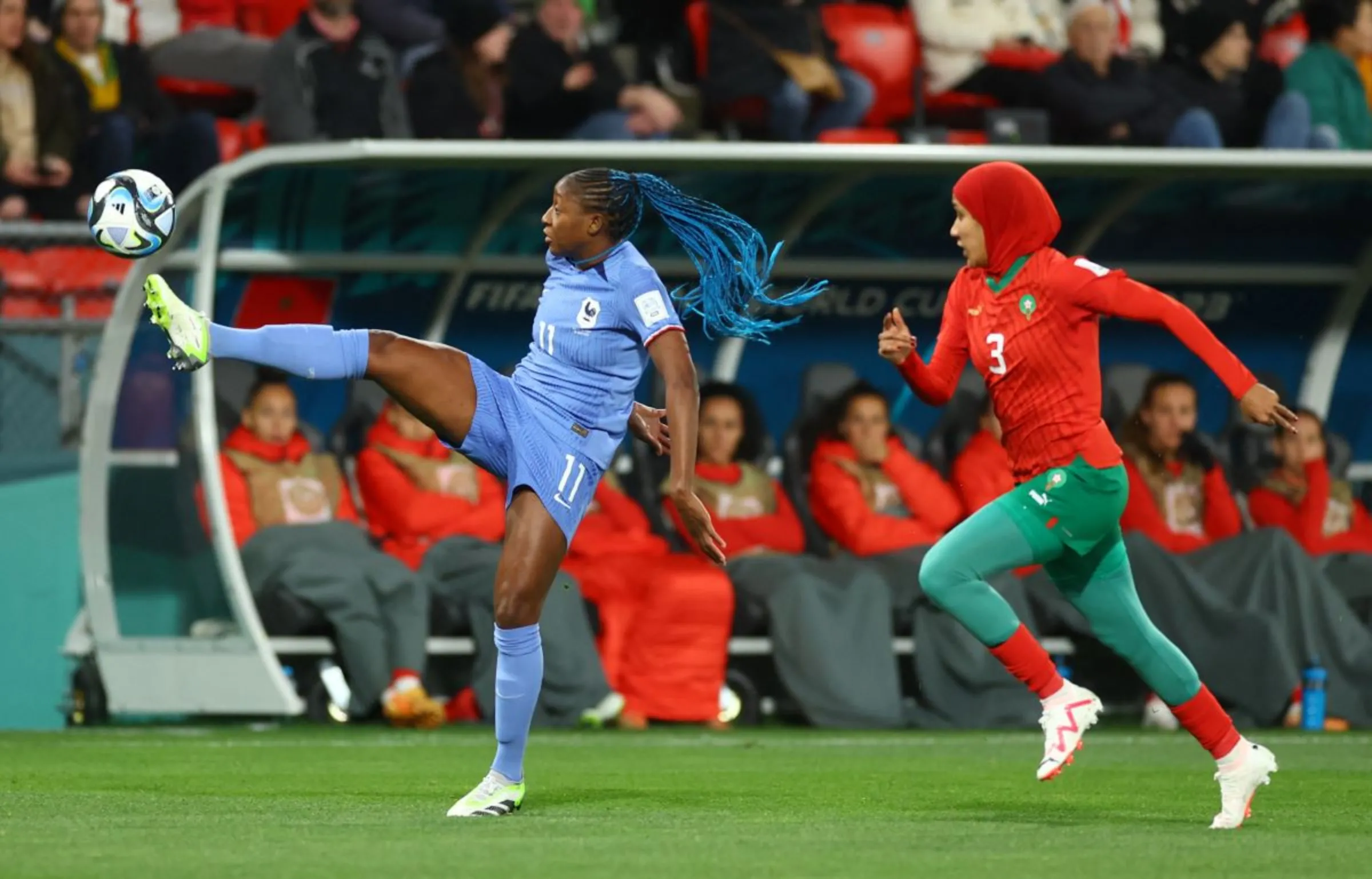 France's Kadidiatou Diani in action with Morocco's Nouhaila Benzina REUTERS/Carl Recine
What's the context?
Strikes and protests around the Women's World Cup show the struggle women face worldwide pursuing a career in soccer
Women players earn a quarter of men's pay in World Cup
Pay disparities push women out of the game
Collective bargaining may lead to more
The world is watching and the playing field is far from level - welcome to the 2023 Women's World Cup, where players work just as hard, but earn less and win smaller prizes than the men.
That inequality - women face a 75% gender pay gap at the World Cup alone - is propelling elite players to form unions and make a collective push for parity where persuasion has failed.
Tournament co-host Australia led the way as play kicked off, calling out soccer's global governing body FIFA for presiding over such entrenched inequality in the beautiful game.
"Collective bargaining has allowed us to ensure we now get the same conditions as the Socceroos (men's national team), with one exception," Australia's Matildas team said in a video published on their social media accounts.
"FIFA will still only offer women one quarter as much prize money as men for the same achievement."
Advances have come but women still earn less at every level of the sport, train in worse conditions and must often work two jobs or take unpaid leave to compete on the world stage.
In March, FIFA announced that it would guarantee every player participating in the Women's World Cup would be paid at least $30,000, a first for the tournament.
The measures were negotiated with the International Federation of Professional Footballers (FIFPRO) and supported by more than 150 players who co-signed a letter to FIFA asking for equal pay and conditions.
Although the $110 million total prize pool is roughly 300% higher than what FIFA offered for the 2019 tournament, it is still far behind the $440 million prize awarded to men in the 2022 World Cup in Qatar.
For the global player union, the increase is to be celebrated - but FIFA must still fulfill its pledge to equalise prize money by the 2027 Women's World Cup.
"This is not only about maximizing the growth of women's game after years of neglect by stakeholders, but it is also a matter of principle: women players should be treated with equal respect to men players," said Jonas Baer-Hoffmann, general secretary of FIFPRO, in an email to Context.
In the past years, women soccer players organised through unions have won better deals that change the playing field.
In 2022, following a three-year dispute with the U.S. women's national soccer team (USWNT), the governing U.S. soccer body pledged equal pay for the women's and men's national teams in all friendlies and tournaments, including the World Cup.
The same year, in a first for Latin America, the Costa Rican players' union negotiated an agreement in which all prizes, per diem rates, and trips are equal for the male and female teams.
Similar agreements have been reached from New Zealand to England - but are still an exception to the rule when it comes to women's soccer.
Wonky pitch
Despite participating in the same tournament, not all players in the Women's World Cup compete on an even field.
The 32 teams face disparate pay and conditions given the varying deals in each country, said Anna Goorevich, PhD student at the Tucker Center for Research on Girls and Women in Sport.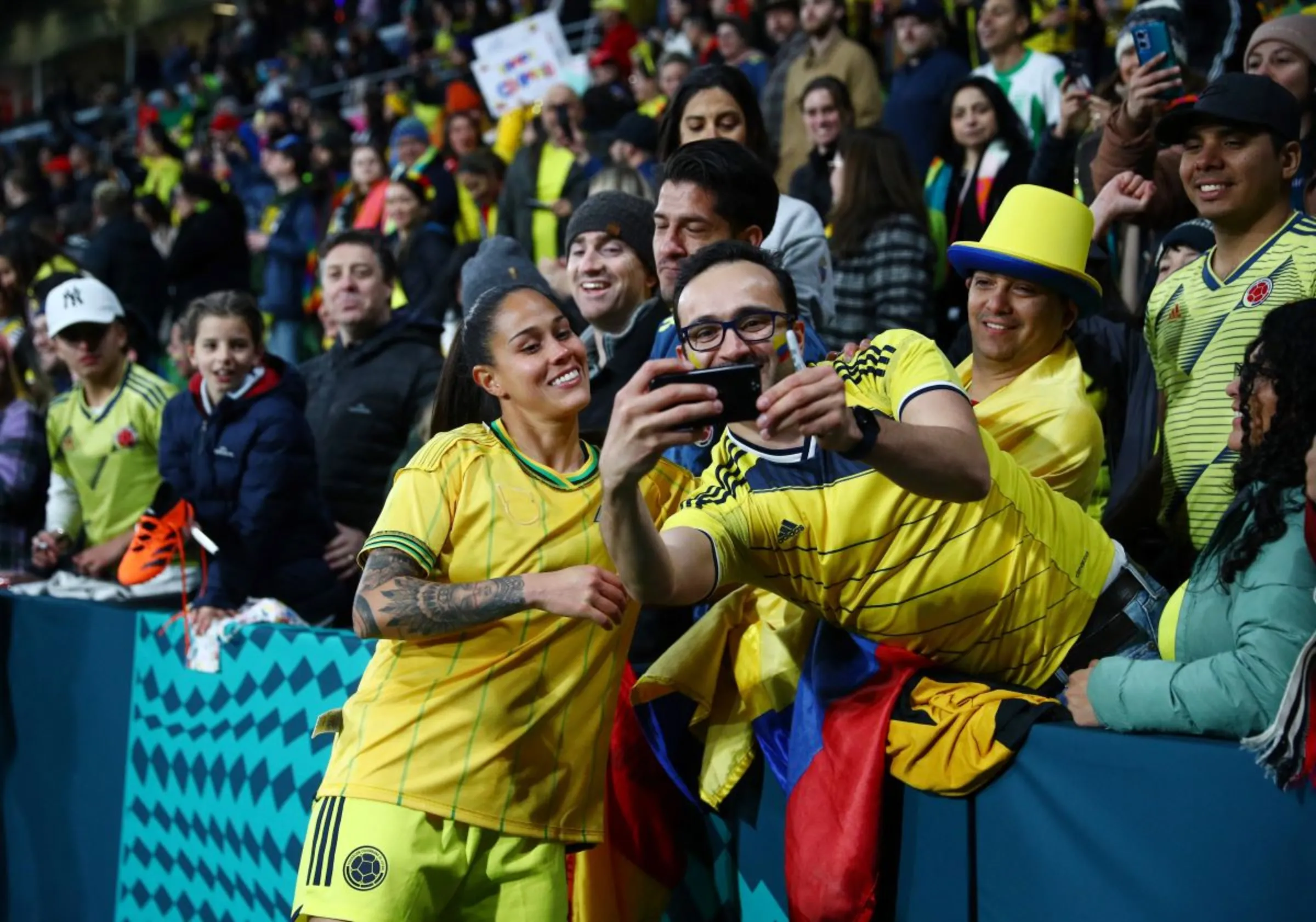 "We'll see teams like the U.S., which have just signed this historic collective bargaining agreement that will equalise (pay)... and (other teams) who have had to fight just to get paychecks," said Goorevich.
A recent report by FIFPRO shows that national teams participating in qualifiers had unequal access to training and recovery facilities, and to medical and mental health support.
To participate in the tournament, 66% had to take unpaid leave or vacation time from a second job, while 29% of national team players in the World Cup qualifying competitions received no pay at all.
"They can't be the best athletes they have the potential to be to when they are thinking about (when) their next paycheck (is) going to come," said Goorevich.
Around the world, women soccer players have taken collective action to equalise their conditions to those of the men's teams.
In Canada, the Olympic champions threatened a strike in February due to budget cuts that affected their training camp days, number of staff, and youth teams' activities.
During the World Cup, the team announced they had reached an interim agreement with the national governing body Canada Soccer regarding prize money.
Just before the tournament, a dispute over prize money and contracts was resolved by the South African Football Players Union and the national federation.
Similar disputes have taken place in Spain, France, and Zambia, with players demanding fair pay and changes in leadership, and are likely to extend well beyond the World Cup.
For the soccer players' union, the next step toward equality is implementing a set of mandatory minimum standards for FIFA and all confederations.
"These conditions should include satisfactory financial compensation, business class travel for long-haul flights, medical support, maternal protections and support, and recovery facilities," said Baer-Hoffmann.
Low pay, no contract
Data shows that the disparities seen in the World Cup echo the experiences of women in professional clubs and leagues - low pay, no contracts, and unequal training conditions.
A 2017 report by FIFPRO shows that female players earned an average of $600 per month, while 47% did not have a signed contract.
"Poor pay and conditions means talented women players are unable to reach their potential as they juggle multiple jobs along with economic and social uncertainties," said Baer-Hoffmann.
"Many young women players are eventually forced to find another career because they do not earn enough income from football or are frustrated by inferior conditions."
Former professional player Paola Lopez Yrigoyen said she experienced gender inequality first-hand in three Mexican clubs and in the main national female league, launched in 2017.
At the time, she said in an interview with the Thomson Reuters Foundation, she had a second job and studied a degree in political science while earning a salary of $129 (2,200 Mexican pesos) as a professional soccer player.
"Everybody is underpaid, from the coach to the nutriologist," said Lopez Yrigoyen, who left professional soccer after multiple disputes over her contracts.
López Yrigoyen also experienced disparities that hurt her performance, be it a lack of training on natural grass, or lack of access to the best physical therapists.
Although labour conditions are improving, there are still few pathways for women to a career in football, sports experts say.
"All this means the women's game is missing out," said Baer-Hoffmann.
"Football stakeholders need to do much more to correct this imbalance and make up for what has been an historic suppression."
(Reporting by Diana Baptista; Editing by Lyndsay Griffiths.)
---
---
Tags
Gender equity

Pay gaps

Economic inclusion
---