Brazil's Indigenous brace for backlash in fight for land rights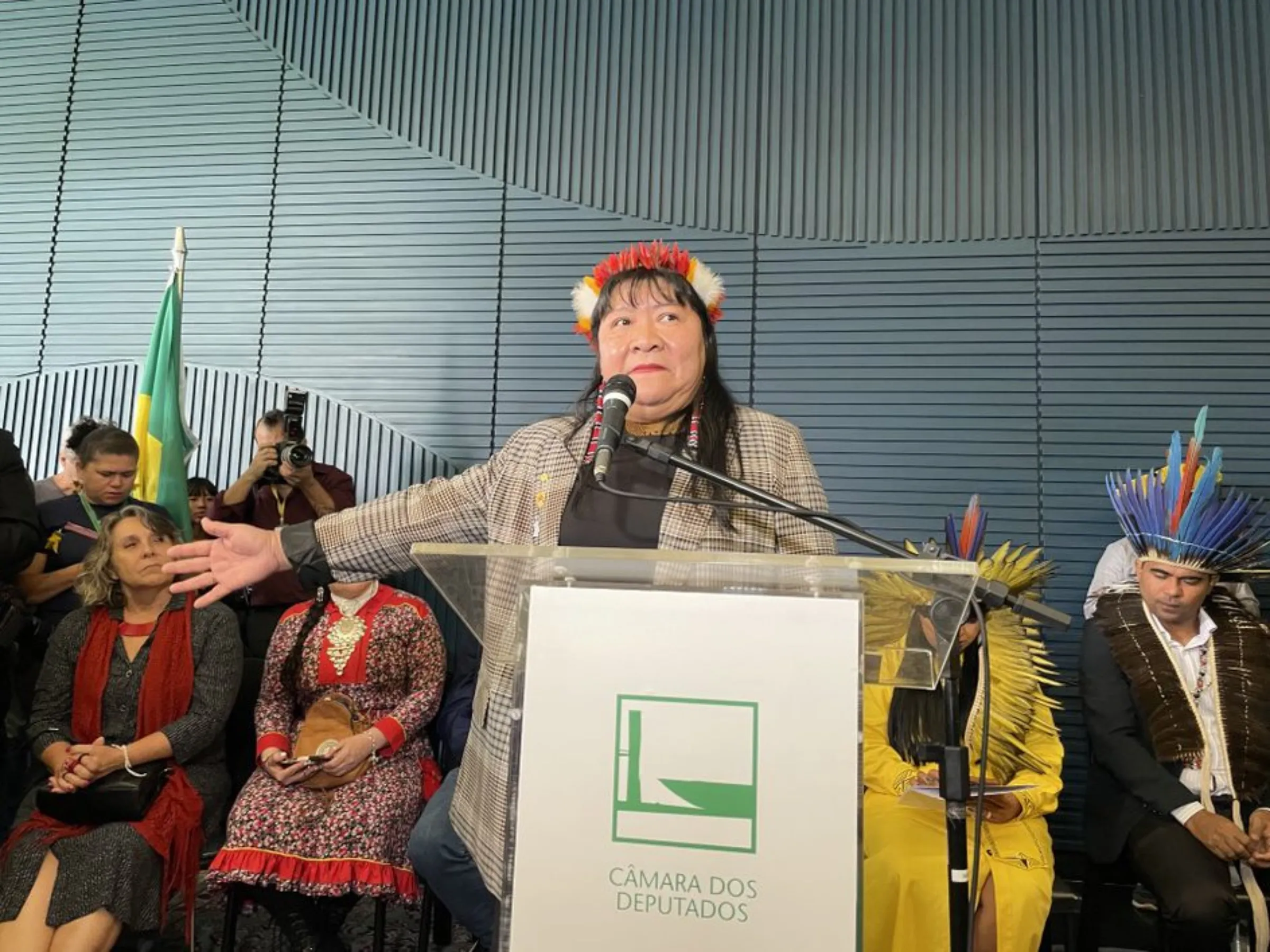 Joenia Wapichana, president of Brazil's indigenous affairs agency Funai, speaks at the launch of the Indigenous Parliamentary Front in Brasília, Brazil, April 2023. Thomson Reuters Fountation/André Cabette Fábio
What's the context?
Indigenous people gather in Brazilian capital to demand land recognition - with more representatives now wielding political power
Indigenous Brazilians gain government, lawmaking positions
Securing Indigenous land key - but contentious - objective
Sense of hope at annual Indigenous encampment in Brasilia
BRASILIA - As thousands of Indigenous people from all corners of Brazil camp at the country's capital this week, a queue of delegations has gathered each day at an office building that harbours the nation's Indigenous affairs agency, Funai.
Wearing traditional garments, headdresses, straw, feathers and body paint, they have come to present their demands and hopes to Joenia Wapichana, the first Indigenous woman to run the institution.
On Wednesday, Wapichana walked into a meeting room in Funai's offices filled with Pataxó, Tumbalalá and Tupinambá leaders, to hails of celebration: "There she is! Our president has arrived!".
For Brazil's Indigenous communities, whose representatives have been meeting at the country's biggest annual Indigenous gathering, this week is a time of renewed hope.
After four years of battling right-wing ex-President Jair Bolsonaro, who left office in January, they are no longer simply here to protest under the hot Brasília sun.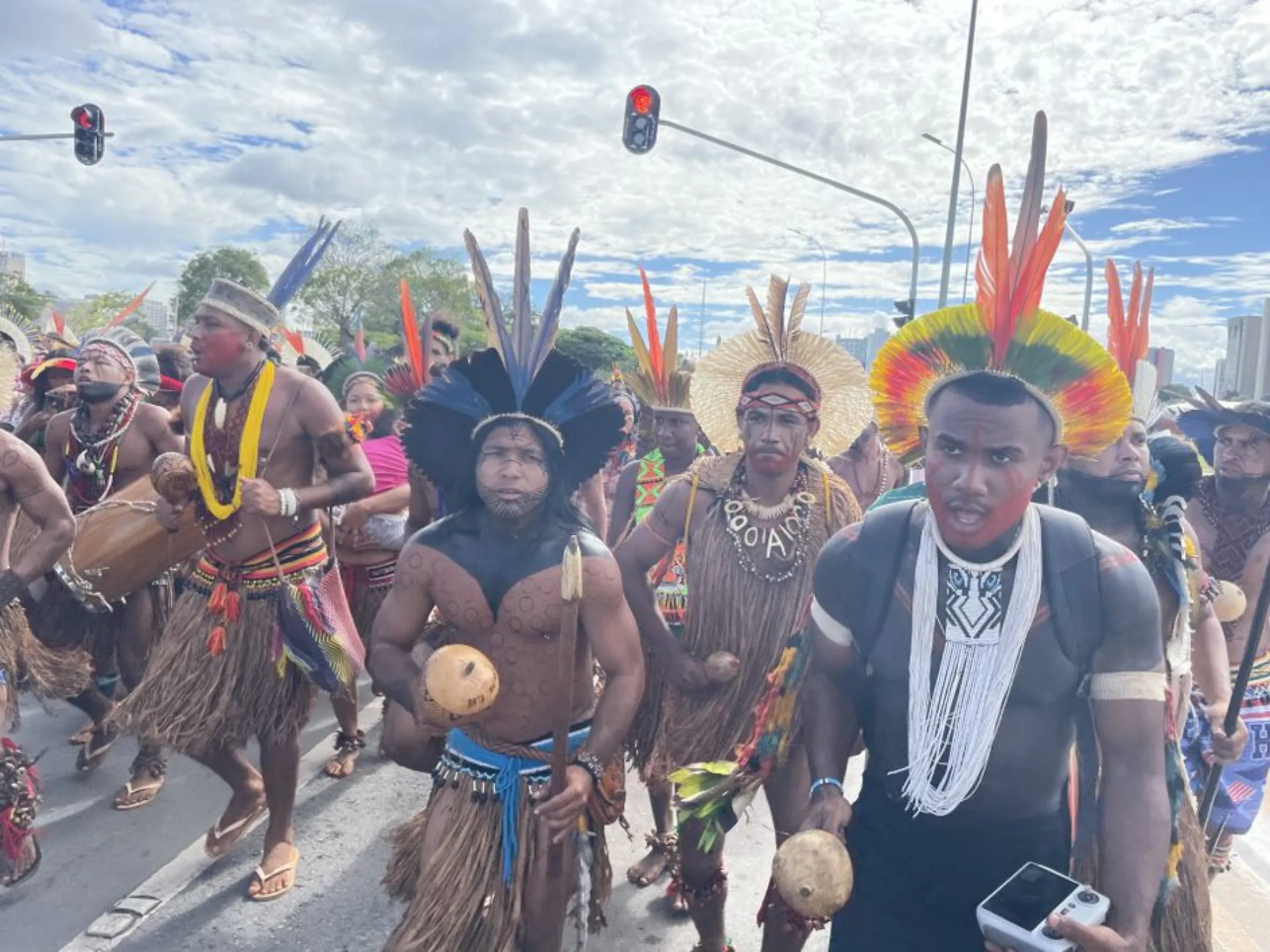 Instead, many are now working inside the capital's modernist office buildings, occupying high-ranking posts in Brazil's agencies and gathering strength in Congress as well.
That shift has come under the new government of President Luiz Inácio Lula da Silva, who was elected with support from Brazil's Indigenous movement, and who has vowed to reverse the policies of his predecessor.
As president, Bolsonaro promoted illegal mining and farming in protected areas, contributing to a peak in deforestation in the Amazon, and made good on his pledge to not recognize "one centimeter more" of Indigenous territory.
By contrast, Lula - as the new president is widely known - has promised to fully recognize new Indigenous land, and has already launched raids on illegal gold miners, a key threat on a growing swathe of Indigenous land.
But as Indigenous leaders play a bigger role in institutions that could determine their future, they also face a backlash in Congress from Bolsonaro allies, including the country's powerful agribusiness sector that profited under the former leader.
In part because of those pressures, Indigenous leaders now in government say bringing change will be a fight, and that delays are possible.
"Things might take time - but they are moving," Wapichana promised the visiting Indigenous delegations, asking for patience from those who wanted to know why formal recognition of their territories has not yet come through.
Some territories have awaited completion of the recognition process for decades, often as a result of political pressures and legal battles with farmers.
"There are some things out of our control," Wapichana said.
"But I will tell you the same thing I told Lula: If there is any pressure for me to do something wrong, I will leave this government."
New Indigenous territories?
In addition to protecting the 490 Indigenous territories that are already fully recognized, Indigenous agency Funai also has a central role in establishing new areas.
Currently, the agency has 230 requests for recognition of additional Indigenous territories in Brazil.
But the process of "demarcating" new land has been halted since 2018, when agribusiness-backed Michel Temer, who took charge as president after the impeachment of Dilma Rousseff, established one single territory.
A growing body of research shows that official recognition of Indigenous land not only helps protect Indigenous people but also the nature they control.
Under Lula, a newly created ministry for Indigenous people, run by congresswoman Sonia Guajajara, has taken over management of the demarcation process and of Funai itself.
The move has fueled hopes that, under the new structure, the processing of recognizing new territories will be prioritized and speeded up.
"Without demarcation, there is no democracy," is the motto for this year's Indigenous gathering in Brasilia.
Congressional pushback
On the camp's first day, politicians and Indigenous leaders gathered in the sunbathed ceremonial hall of the presidential palace to hear Raoni Metuktire, an elder chief of the Kayapó people, speak at the launch of a new pro-Indigenous congressional pressure group.
"The former president said he would drive me away, but he will never drive me away. I am the one who overcame him! I am holding on!" said Metuktire, wearing a headdress of green and red feathers and a large wooden disc inserted in his lower lip.
In Brazil's 2022 elections, seven self-declared Indigenous politicians were elected to Congress, up from one in the previous election: Funai's new head Wapichana.
The new political caucus, run by congresswoman Célia Xakriabá, is broader than just the few elected Indigenous officials, with support from about 205 of the country's members of Congress.
Its first challenge may be to help the new Indigenous ministry hold onto its powers in the face of intense opposition.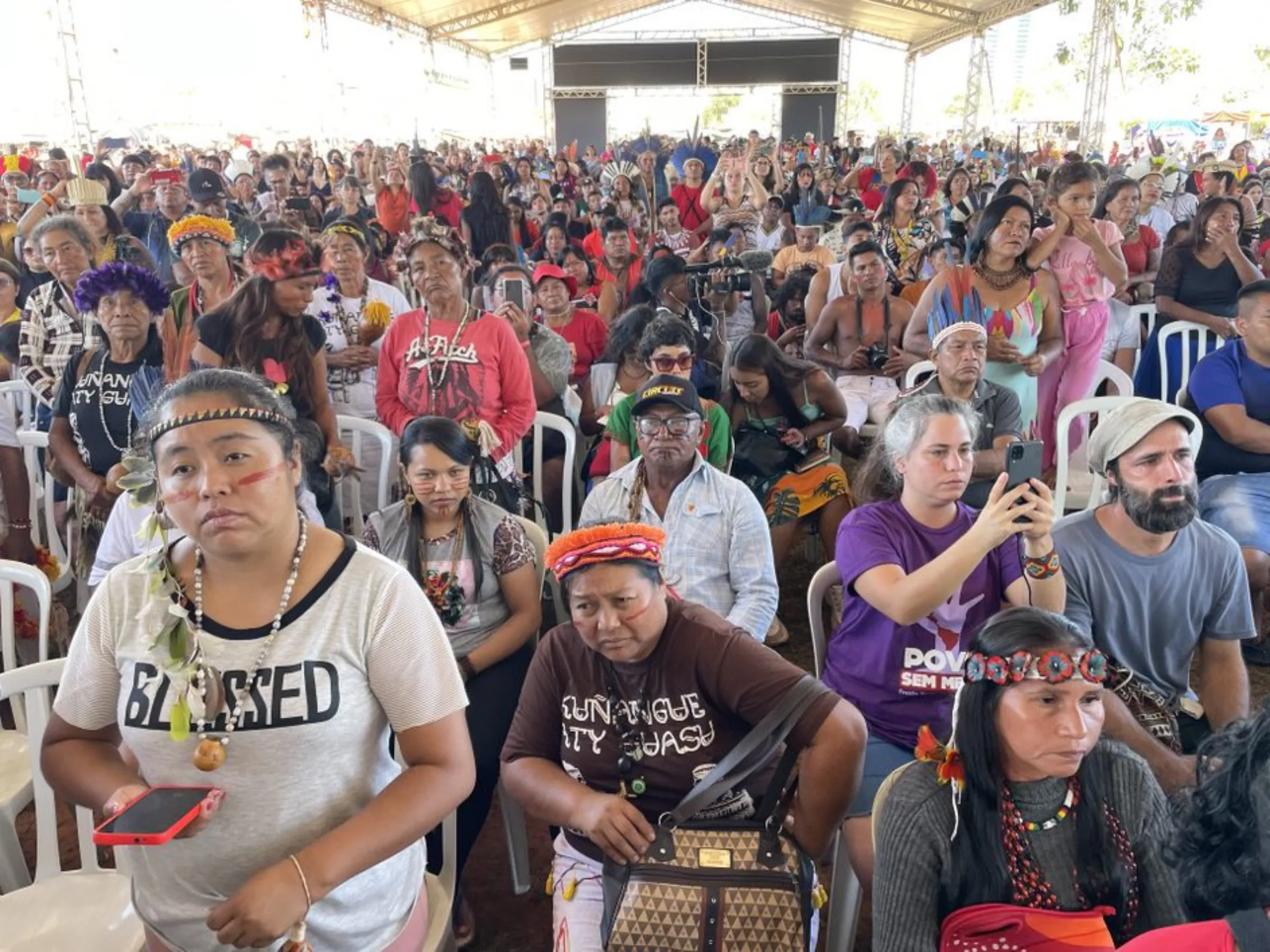 Members of the agribusiness caucus - the largest in Congress, with 340 backers - want to amend a bill establishing the new government structure, with the aim of disbanding it or stripping it of powers to recognize new Indigenous territories.
Brazil's conservative and pro-agribusiness Progressive Party asked the Supreme Court this month to remove demarcation powers from the new ministry, saying it "leads to an overwhelming imbalance of interests, excessively privileging Indians over farmers, which generate wealth and drive the country's development".
But Dinamam Tuxá, the coordinator of Brazil's largest umbrella Indigenous organization, the Articulation of Indigenous Peoples of Brazil (APIB), said he is not afraid of a backlash, "in spite of the power of the agribusiness caucus".
"(Giving) demarcations to the ministry has been very positive for Lula internationally," he said.
"We don't have a majority in Congress - but we have the public opinion."
In the middle of a maze of tents in Brasilia, Indigenous people from across Brazil's diverse regions this week chanted in dozens of languages and danced, shaking maracas and stomping their feet, lifting thin red dust.
Congresswoman Guajajara, speaking from a stage, promised change under new Indigenous leadership in Brasilia - including more demarcation of Indigenous land.
"Land still is the biggest point of dispute of power", she said.
(Reporting by Andre Cabette Fabio; Editing by Laurie Goering and Kieran Guilbert)
---
---
Tags
Loss and damage

Forests

Biodiversity

Indigenous communities
---