How are Indigenous areas protected in Brazil?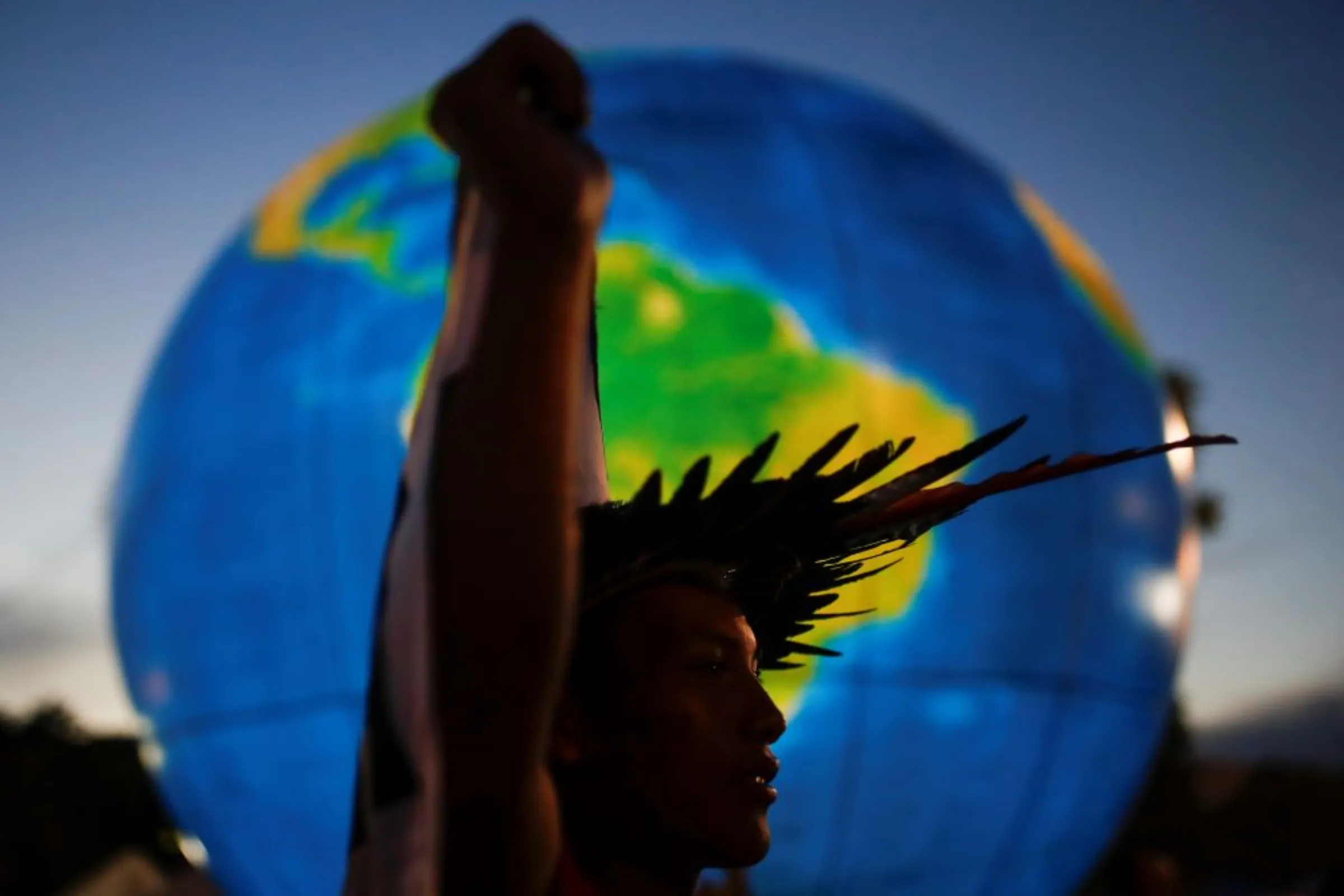 An indigenous man, holds a banner in front of a globe at the Terra Livre (Free Land) camp, a protest-camp to defend indigenous land and cultural rights, in Brasilia, Brazil April 8, 2022. REUTERS/Amanda Perobelli
What's the context?
Giving Indigenous people clear rights to their traditional land protects forests but it can be a long process in Brazil
Under Lula, Brazil is ramping up demarcation efforts
Giving land titles seen protecting people and nature
Advocates say opposition from agribusiness is a barrier
RIO DE JANEIRO - Indigenous people account for around 6% of the global population, but safeguard 80% of the world's remaining biodiversity, according to data from the World Bank.
Giving them clear titles to their land - in part by legally "demarcating" land boundaries - can be an effective way to protect Indigenous rights as well as nature, a growing body of research shows.
"No one knows our forests, nor is more capable to defend them, than those who had been here since immemorial times," Brazil's President Luiz Inácio Lula da Silva said in his first speech to Congress in January.
Under Lula, Brazil - which is home to more than 250 Indigenous groups - is stepping up efforts to demarcate Indigenous territory that has not yet been fully recognized.
In January, Sônia Guajajara, head of Brazil's newly created Ministry of Indigenous Affairs, said 14 demarcation processes were nearly finished and should be concluded this year.
This push is in stark contrast to the stance of former President Jair Bolsonaro, who rolled back environmental protections and failed to recognize any new Indigenous territory, in keeping with his campaign pledges.
Here's why land demarcation matters for Indigenous people and for forest protection, and how this happens in Brazil.
How does protecting Indigenous land protect nature?
In 2020, a study found that Indigenous territories in Brazil's Amazon with full property rights experienced a 66% reduction in annual deforestation from 1982-2016 compared with land outside their borders.
In a country where Amazon forest loss is largely driven by invaders cutting down trees, then converting the deforested land to pasture or farmland and hoping to eventually legalize the area, demarcating land as Indigenous can help to protect it.
Demarcation means "the land is taken off the market, and may never be returned to it," said Dinamam Tuxá, coordinator at Brazil's largest umbrella Indigenous organization, the Articulation of Indigenous Peoples of Brazil (APIB).
"This is why the agribusiness (political) caucus opposes demarcation."
On land that has been officially demarcated, it is also more straightforward to ask authorities to "immediately expel invaders", said Juliana de Paula Batista, a legal consultant at Instituto Socioambiental, an advocacy group.
Uses for demarcated Indigenous land are restricted, with mining, growing of genetically engineered crops and building of hydropower dams all illegal - although bills aiming to overturn those restrictions continue to get presented for debate in Brazil's legislature.
Land that is demarcated as Indigenous territory remains under government ownership but Indigenous peoples then effectively possess it and have the exclusive right to use it.
Does Brazil's government have an obligation to recognize Indigenous land?
The 1988 constitution recognizes Indigenous peoples' rights to the areas they traditionally occupy, and establishes that the federal government must demarcate that land and protect it.
According to Instituto Socioambiental, there are currently 490 fully recognized Indigenous areas, covering nearly 107 million hectares (264,402,758 acres) or 12.6% of Brazil's territory.
Another six areas comprising about 1 million hectares have not gone through the full demarcation process, but are protected because they are home to isolated Indigenous communities.
At least 236 territories are in the process of seeking official recognition as Indigenous land, according to the NGO.
Tuxá of APIB said gaining formal demarcation of territories was key to protecting Indigenous culture as well as forests.
"Demarcation recognizes the territory necessary for a particular Indigenous people to exist, protecting its culture and its traditional knowledge", he said.
How long does it take to formalize protection for Indigenous land?
The demarcation process has slowed over the past decade, which analysts say is partially due to the fact many areas are located outside the Amazon, in more densely populated regions, which makes those decisions complex and politically sensitive.
Meanwhile, the agribusiness political caucus, which tends to oppose demarcation, has grown stronger, according to experts.
"People inside the government say that ... only the most contested areas are left (to be recognized)", said Marcelo Rauber, a post-doctoral fellow at the Federal University of Rio de Janeiro
Those areas frequently have non-Indigenous private owners contesting demarcation, he added.
Several territories have been awaiting recognition for decades, in some cases without clear justification from authorities on why the process is not progressing.
Often, "this delay is caused by interference from powerful political and economical actors, sometimes violently", said Antônio Eduardo de Oliveira, secretary general of the Indigenist Missionary Council (CIMI), a rights group linked to the Catholic Church.
Tuxá said that it was not uncommon for farmers to deforest land in the process of being demarcated, build infrastructure on it and plant it, in an effort to tie the demarcation process down with compensation requests.
What does the recognition process entail?
After an Indigenous community presents a land claim, the government's Indigenous affairs agency Funai consults with specialists - coordinated by an anthropologist - to determine the community's size and the area needed for them to maintain their way of life, from food supplies to language.
How the community is being affected by non-Indigenous people and how long they have lived in the area is also taken into account by the specialists, in a report which is presented to Funai's president.
Alternatively, Funai can temporarily establish a protected territory without a claim being made.
After a report summary and map are made public, the results can be contested for 90 days, with anyone else claiming the land able to seek compensation.
After Funai reports on any questions raised, the process moves to the Ministry of Justice.
The justice minister can ask for additional studies, decide against demarcation or make public the boundaries of the area, moving the process forward. The Ministry of Justice's role in the process may be transferred to the new Ministry of Indigenous Peoples in the future, analysts said.
Physical markers indicating the land boundaries are then established by Funai.
The government also gathers information about non-Indigenous people living in the area to determine what resettlement needs to happen, and what compensation for buildings or other improvements will be offered. No money is offered for the land itself.
"If someone owned 50,000 hectares, they would be paid for the fences, not for the raw land", said Batista of Instituto Socioambiental.
The demarcation may then be signed by Brazil's president, concluded through a decree and officially registered.
Often, however, demarcation of Indigenous areas is the target of lawsuits, which can slow the process.
Settlers may also refuse to leave Indigenous territories, although the government has an obligation to remove them, by force if necessary, if it rules that their presence is unlawful.
According to Tuxá of APIB, demarcation can ultimately lead to fewer violent disputes with other parties who claim control of the land.
"The Indigenous right to the area is recognized, and conflicts are tempered", he said.
(Reporting by Andre Cabette Fabio; Editing by Laurie Goering and Kieran Guilbert)
---
---
Tags
Climate policy

Climate inequality

Loss and damage

Forests

Biodiversity

Indigenous communities
---