Brazil's Indigenous territory bill spells trouble for the Amazon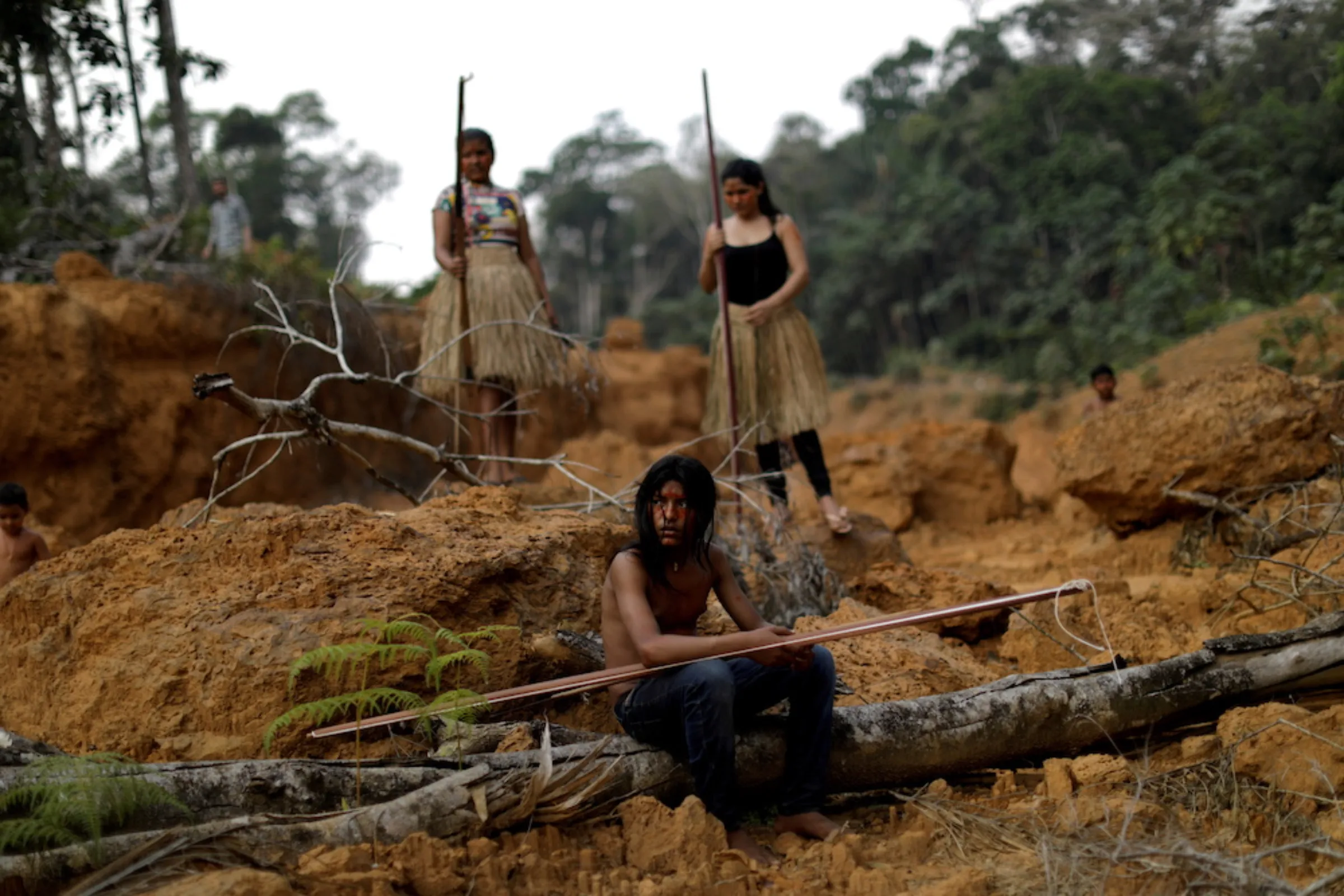 Indigenous people from the Mura tribe show a deforested area in unmarked indigenous lands, inside the Amazon rainforest near Humaita, Amazonas State, Brazil August 20, 2019. REUTERS/Ueslei Marcelino
To safeguard the world's largest rainforest, President Lula must survive a conservative whiplash
Robert Muggah is co-founder of the Igarapé Institute, and Mac Margolis is an editor and advisor.
Brazil's stewardship of the world's largest tropical forest has long ignited acrimony. If frontier enthusiasts see billions of trees as speed bumps to wealth and progress, the Amazon's defenders counter that neither is possible without a standing rainforest and the people who tend to it. They point to the global cooling service the Amazon renders by keeping all that carbon cached under the canopy.
So whenever Brasília shifts its Amazon policy, the blowback is swift and global. Such is the case of Constitutional bill PL490, which would reset the rules for delimiting Indigenous territory.
The amendment would overrule ancestral claims by native communities to lands their forefathers inhabited for centuries. Last month, the lower house greenlighted the measure. Should the upper house also endorse the bill (renamed PL2903), the new limits for designations would be the lands any group effectively occupied in 1988 - the year Brazil published its latest constitution.
Brazil's Indigenous peoples and their supporters immediately cried foul, denouncing the bill as a maneuver to legalize land theft. Artists, public intellectuals and screen idols from Cannes to Hollywood joined the protest.
Back home, louder voices prevailed: the country's powerful farmers, ranchers and mining lobbies.
Indeed, even as left-wing president Luiz Inácio Lula da Silva took office on January 1, promising to halt destruction in the world's biggest rainforest, Brazil's political center of gravity had already shifted beneath him.
Today, Lula's remit is not just to thwart environmental criminals and stop the flow of dirty money that enables them. As a new study by the Igarapé Institute shows, his government must also navigate a more hostile, predatory political class that puts pork and patronage ahead of forests.
While former president Jair Bolsonaro narrowly lost his reelection bid last year, the rancorous right-wing populism he enabled has grown. Scores of ultra-conservative candidates, with little sympathy for the green agenda and human rights, swept into office. The reinvigorated right now sets the pace in Congress, with two conservative parties controlling 235 seats to the left's 124.
Having climbed to power astride an unwieldy coalition of 14 parties, from the hard-left to the center-right, Lula's government has little option but to bend to the new political zeitgeist, calibrate expectations and exercise humility. "We have to talk with people who don't like us," he recently allowed.
Opposition lawmakers have wasted no time in moving to dismantle environmental red lines and roll back safeguards in the Amazon basin, waved on by major agro-industry players – who saw their sector grow a remarkable 21.6% last quarter.
Lula's own agriculture minister backed the new limits on Indigenous lands as a critical step to ensure legal security in the Amazon, a conflicted region where disputes over land tenure increase risks for residents and investors alike.
Initiatives of Brazil's more contrarian Congress include downgrading the environment ministry by reassigning sensitive issues like water management and land tenure to other ministries. Demarcating native lands would fall to the Justice Minister, a move that all but defenestrates the newly created Ministry of Indigenous Peoples.
The final word may fall to the Supreme Court, which has ruled favorably to Lula's government, or Lula himself, who could veto the restrictions on Indigenous territory.
The conservative whiplash is troubling news for Brazil's respected environmental minister, Marina Silva, an internationally recognized Amazon defender. She oversaw a remarkable 80% reduction of deforestation from 2004 to 2012, but now risks falling prey to the machinations of Brazilian realpolitik.
Brazil may yet succeed in rebooting environmental policy. Lula recently vetoed sections of a bill that would weaken protection of the Atlantic Forest, and last week unveiled a plan targeting illegal logging, mining and money laundering to end deforestation by 2030.
A critical part is shoring up Indigenous lands, which have served as an effective barrier to deforestation. Critically, Lula also mobilized security forces to thwart the criminal syndicates that have turned the rainforest into a homicide hotspot.
That grim record was top of mind this month as Brazil commemorated the brutal murders of Indigenous affairs activist Bruno Pereira and British journalist Dom Phillips last year, who were gunned down while investigating criminal intrusion on Indigenous lands in the Amazon's northwestern Javari Valley.
Pereira and Phillips knew that exposing the Amazon to unbridled development was not only unconscionable but economic folly. Projects that keep the forest standing and resilient could add $317 billion a year to the Brazilian economy, a recent World Bank report found. That's seven times more than the country currently reaps from large-scale farming, mining and other extractive activities.
The tragedy of the Amazon is also a tale of squandered opportunities. Passing bad legislation will do nothing to change the story.
---
Any views expressed in this opinion piece are those of the author and not of Context or the Thomson Reuters Foundation.
---
Tags
Climate policy

Loss and damage

Forests

Indigenous communities
---