Surveillance state? India seizes media's mobiles and laptops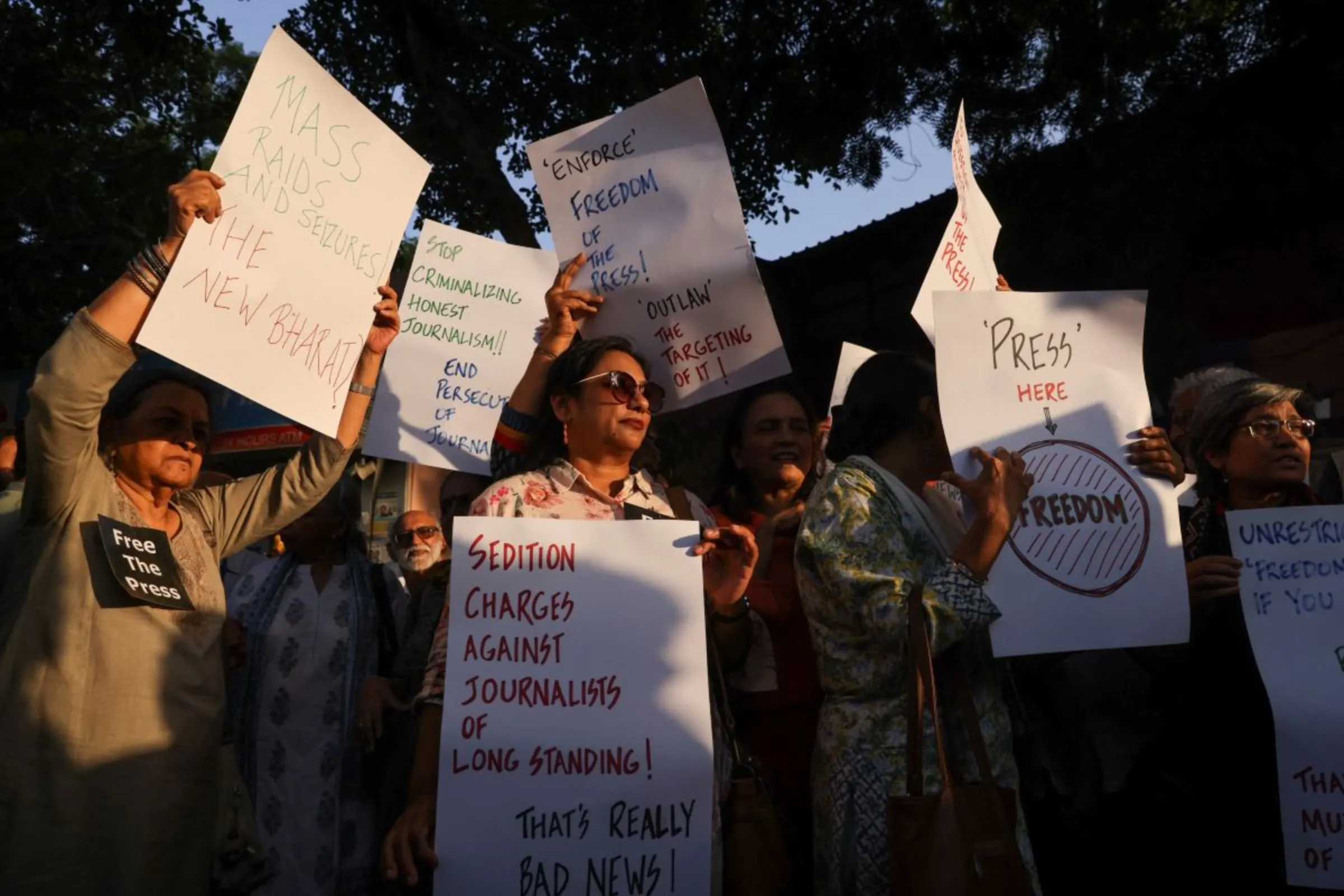 Members of the media protest after the Indian police raided the New Delhi office of a news portal and the homes of journalists and writers linked to it on Tuesday, at Press Club in New Delhi, India, October 4, 2023. REUTERS/Anushree Fadnavis
What's the context?
Digital footprints of journalists and activists are increasingly searched and seized in violation of privacy and free speech
Fears as police swoop on journalists, activists
Action violates privacy and free speech, experts say
Authorities say seizures aid national security
MUMBAI - "If this is not surveillance, what is?"
That was the question posed by one Indian journalist after police last week raided the news portal where he worked, seizing dozens of mobiles, laptops and hard disks, and interrogating reporters deemed hostile to the government.
"They extracted all the data from my phone - my WhatsApp messages, my contacts, my pictures," said Paranjoy Guha Thakurta, who consults for NewsClick, an independent website whose coverage has sometimes been critical of the government.
New Delhi police said they had questioned 46 suspects in an investigation into suspected money laundering by the news portal, which has rejected the allegations and said it has not been given the "exact particulars of the alleged offences".
Thakurta, 68, said he was interrogated for about 12 hours about his coverage of mass farm protests in 2021 and the government's handling of the COVID-19 pandemic, reporting that was often critical of Prime Minister Narendra Modi.
A spokesperson for Modi's nationalist Bharatiya Janata Party (BJP) said the raids were justified as foreign funding to media groups must be assessed.
Thakurta said journalists, interns - even graphic designers and activists with ties to NewsClick - were questioned at the police station for hours. Their devices were confiscated and examined; the founder and a senior officer were arrested.
"The message is: 'If you are a journalist and if you are taking views that the government does not welcome, then the government can be vengeful. It has a chilling effect," he said.
It was the latest of more than a dozen instances in the last five years of police seizing the devices of journalists and activists across India.
Random checks of mobiles on the streets and in cordoned-off neighbourhoods have also risen, pointing to a curtailed freedom of expression in the world's biggest democracy.
But of most concern to free-speech advocates is what is seen as a crackdown on independent advocacy and media criticism.
While authorities cite security concerns, privacy advocates say the raids cross a line and curb free speech.
"Our entire lives can be accumulated in our digital devices. Searches and seizures of the devices directly impact our fundamental right to privacy and our fundamental right against self-incrimination," said Radhika Roy, an associate legal counsel at the Internet Freedom Foundation, a non-profit.
At risk is privileged communication, exchanges between journalists and sources whose privacy should be protected, and details about activism that can be misconstrued, she said.
"It's terribly invasive, and can be incriminating as well," she told Context.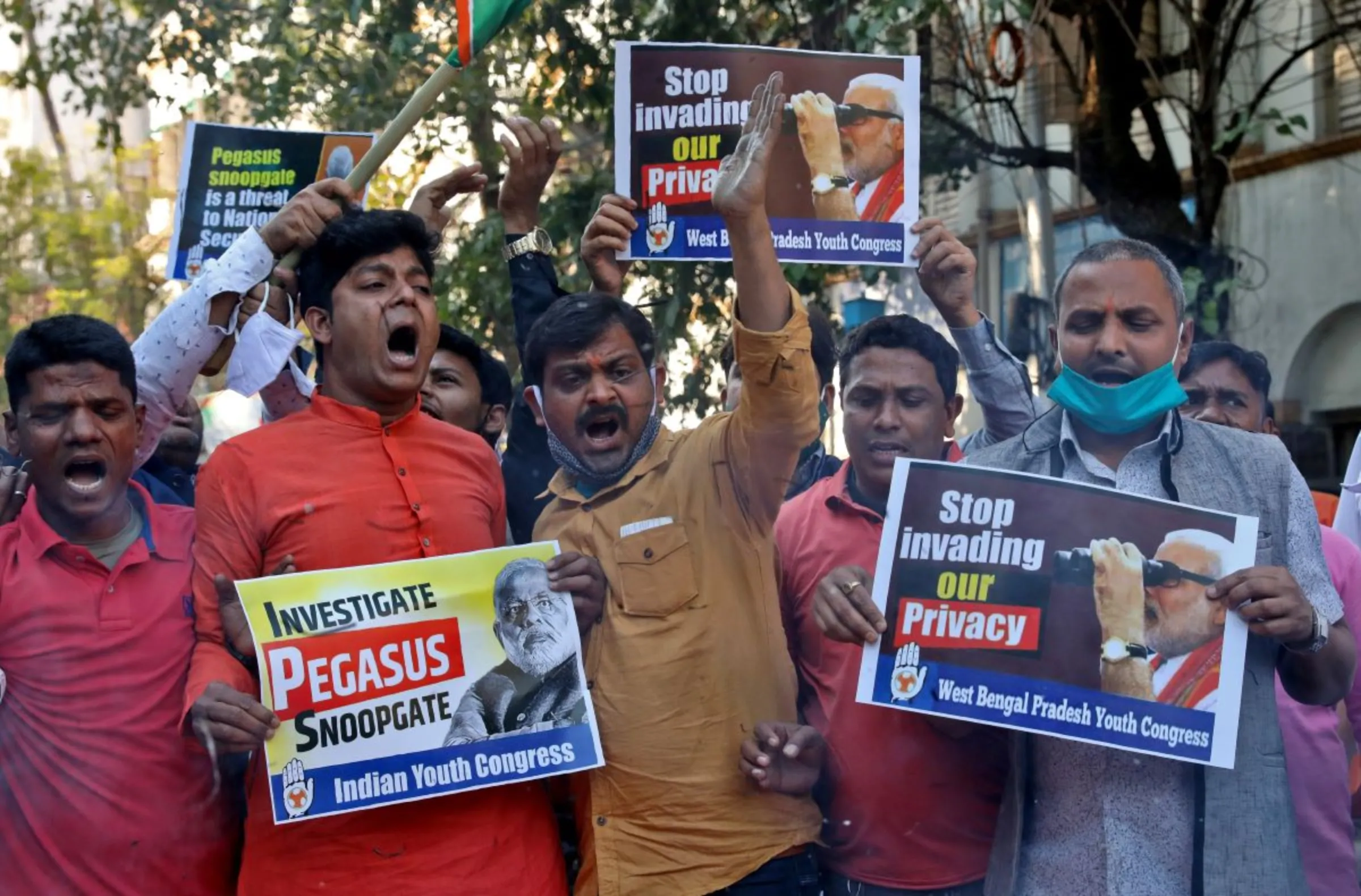 Arbitrary seizure
Surveillance in India, the world's most populous nation, has surged in recent years with increased digitisation of data, greater policing of the internet, and deployment of CCTV and facial recognition in schools, airports and on the streets.
Dozens of lawyers, activists and journalists were also targeted with Pegasus spyware. Indian authorities have declined to reveal whether the government bought Pegasus, saying only that "unauthorised surveillance does not occur".
Last November, police raided the office of digital publication The Wire, and the homes of three of its editors, and seized their mobile phones and laptops after a complaint filed by a politician with the BJP.
It took nearly a year to win a court order for the return of their devices, said Siddharth Varadarajan, a founding editor of The Wire, whose phone was targeted with Pegasus in April 2018, according to a forensic analysis by Amnesty International.
While their mobiles were in custody, "police could add or delete any data without there being any way to prove or disprove tampering," he said.
"The only legal recourse is to go to the trial court and ask for the device's return. But this is akin to shutting the stable door after the horses have forcibly been taken away," he said.
Delhi Police did not respond to a request for comment.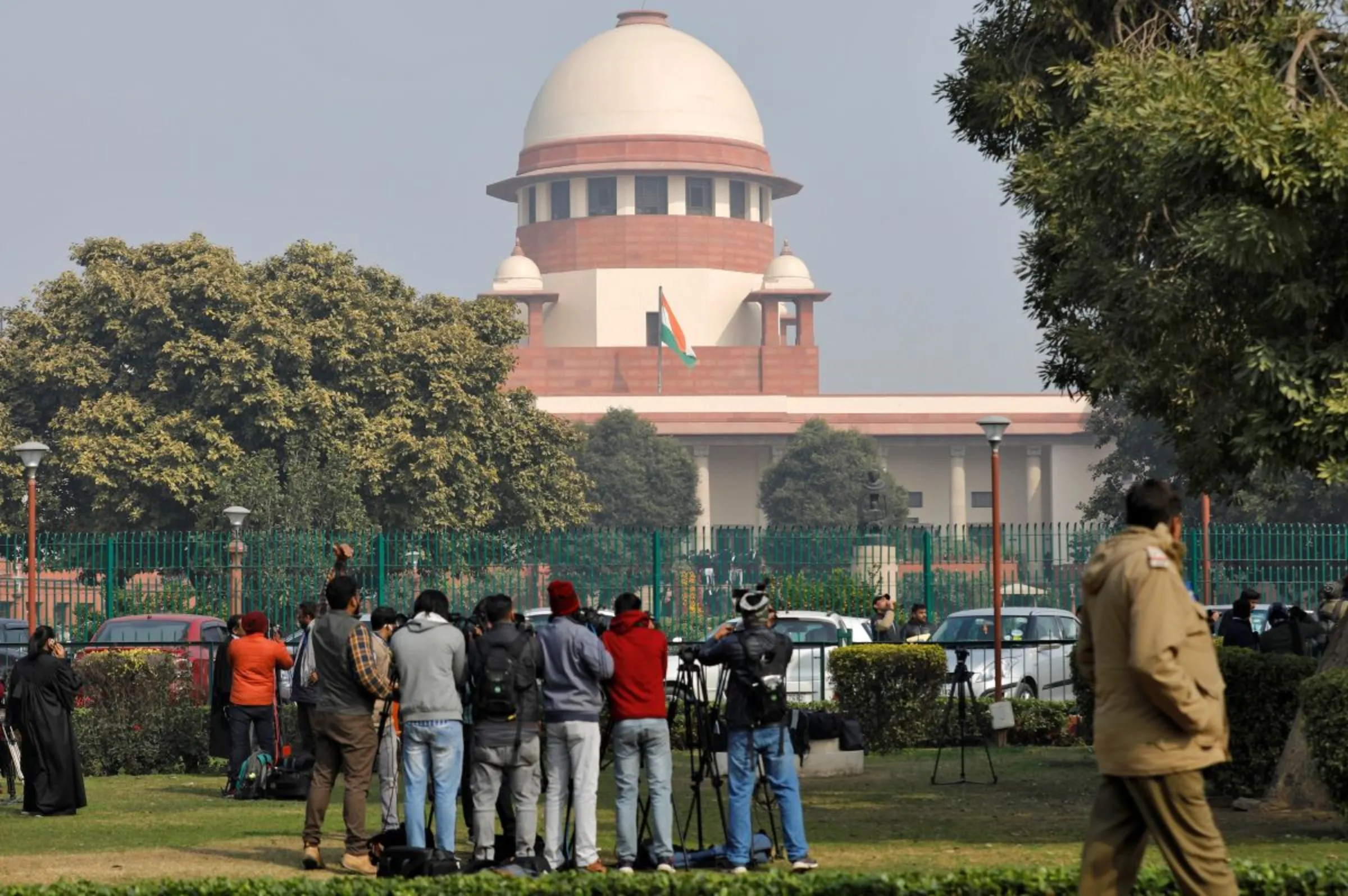 Court petitions
Since Modi took office in 2014, India has dropped to 161 from 140 on the World Press Freedom Index, its lowest ranking yet. The country's press freedom "is in crisis", the survey by Reporters Without Borders said.
The government has rejected the findings, and said India has a vibrant and free press.
Journalists aside, police routinely examine the mobiles of random motorists or the residents of particular neighbourhoods.
"It's a completely illegal exercise that targets poor neighbourhoods and minority groups," said SQ Masood, a human rights activist in Hyderabad, where such operations are common.
Hyderabad's police chief CV Anand called it "community led policing and in no way a disturbance to personal liberty."
The law offers little relief: a newly introduced Data Protection Act gives the state sweeping powers, experts say, and a new Criminal Code lets police search electronic devices without a written order if they have "reasonable grounds".
The nation's top court is hearing two petitions on the validity of search and seizure of electronic devices, one filed by academics and the other by the Foundation for Media Professionals, an advocacy group.
The "unchecked powers of the state, often targeted at journalists, are spreading a deleterious chilling effect in society," FMP said in its petition.
In response, the government said the search and seizure of electronic devices are "reasonable and duly proportionate".
Following the NewsClick raid, more than a dozen press groups wrote an open letter to the chief justice, urging him to rein in police and stop the seizure of journalists' phones and laptops.
"State actions against the media have been taken beyond measure," they said. "When journalists are summoned and their devices seized in the name of investigation, there is an inherent malice in the process."
(Reporting by Rina Chandran. Editing by Lyndsay Griffiths)
---
---
Tags
Facial recognition

Content moderation

Surveillance

Tech regulation

Data rights
---