Facing 'horrific' Pacific rise, Tuvalu crafts climate survival plan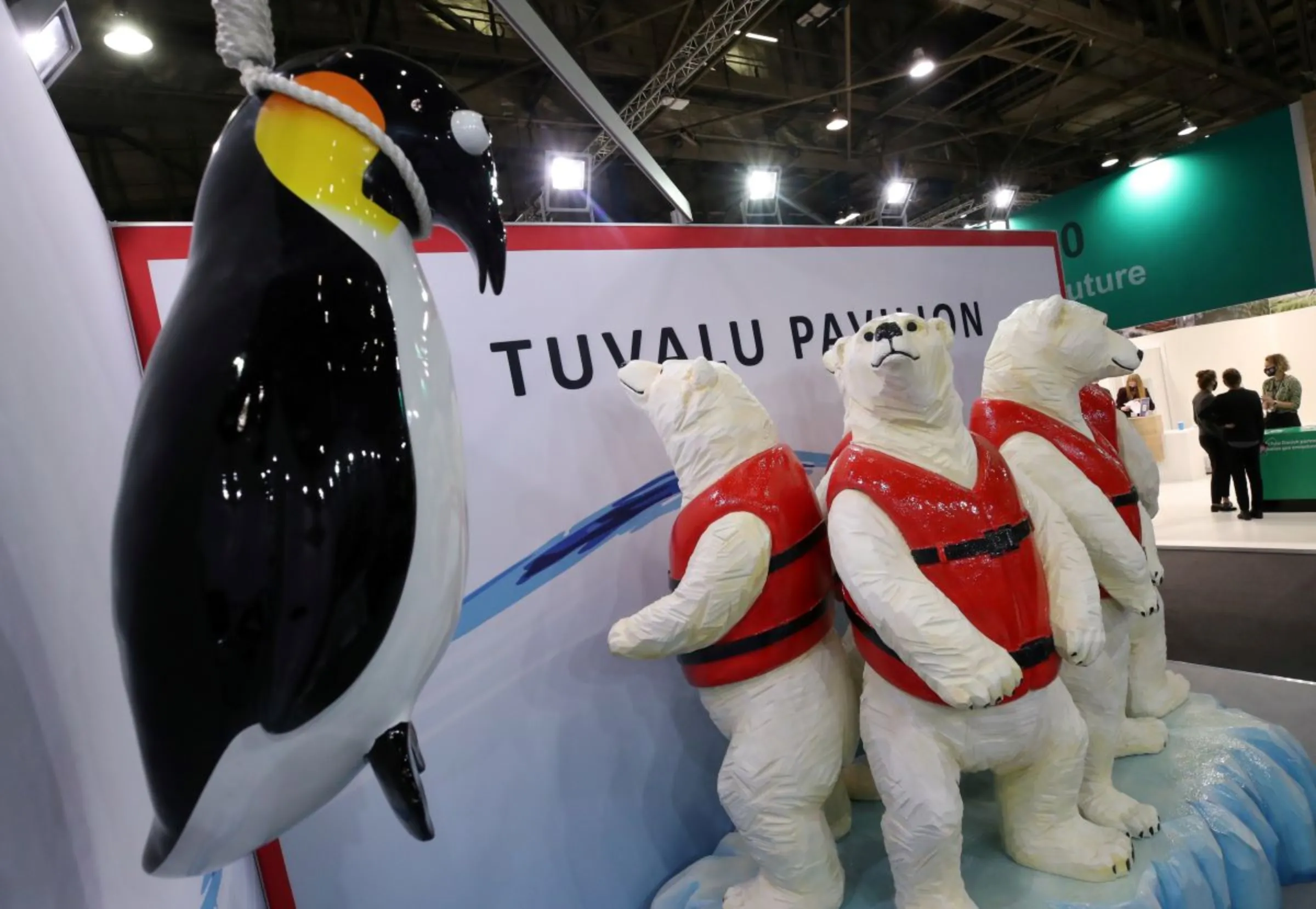 People stand next to the Tuvalu pavilion during the UN Climate Change Conference (COP26) in Glasgow, Scotland, Britain, November 1, 2021. REUTERS/Yves Herman
What's the context?
Australia will help island state Tuvalu raise funds to protect coasts from rising seas, testing a novel U.N. programme for adaptation
Australia to help Tuvalu live with rising seas
Island state risks inundation as ice sheets melt
Joint project hailed as 'fresh look at adaptation'
OSLO - Fearing "horrific" risks from a rising ocean that could swamp low-lying islands, the Pacific nation of Tuvalu aims to reinforce its coasts in a novel partnership with Australia aimed at helping the developing island state adapt to climate change.
The project will test a new U.N. blueprint under which one rich nation takes responsibility for raising funds to enable a climate-vulnerable country to roll out measures to cope better with heatwaves, floods, storms, droughts and rising seas.
Tom Mitchell, executive director of the International Institute for Environment and Development (IIED), said the plans marked a "fresh look at adaptation" after years of under-funded policies with no clear steer from governments.
Tuvalu, a chain of nine atolls midway between Australia and Hawaii, has a highest point of only about 4.5 metres (15 feet) and is among the countries most at risk from rising sea levels as global warming melts ice from Greenland to Antarctica.
Announcing the adaptation plan, Tuvalu Finance Minister Seve Paeniu told a U.N. Climate Ambition Summit in New York on Wednesday there were "horrific" possibilities sea levels could rise by up to 2 metres this century as the planet heats up.
"The habitable land of Tuvalu is already succumbing to sea level rise," he said, adding that 40% of the main island - site of the capital Funafuti - is already underwater during king tides.
He said Australia would work with Tuvalu on the long-term adaptation plan to "provide a safe, raised or elevated land territory that can accommodate the national population and secure our future as a state into the next century and beyond".
Fresh water, housing, renewable pacific energy
The project co-led with Australia would ensure freshwater supplies, renewable energy, housing, recreational areas and waste disposal for Tuvalu's tiny population of 11,000 people.
Paeniu did not estimate the cost. But Australia's Foreign Minister Penny Wong noted in her summit speech that "a coordinated effort involving multiple donors" will be needed.
"In the months ahead we will together be seeking financial support from those who wish to be part of this vital initiative: Tuvalu's survival plan," she said.
The Tuvalu-Australia project was one of two announced at the U.N. summit showcasing the efforts of climate action pioneers and is the first under a scheme known as the "adaptation pipeline accelerator".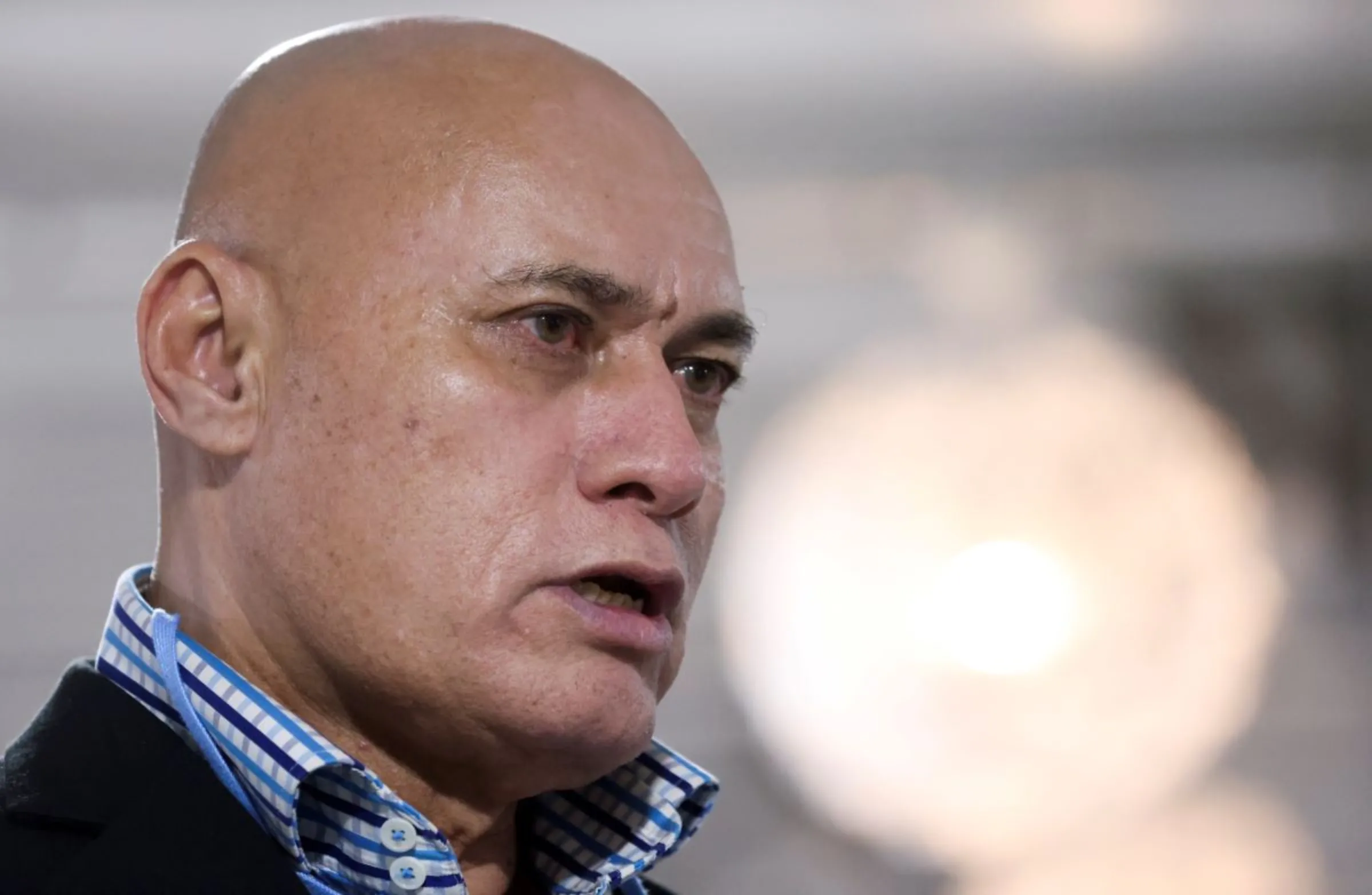 In the other project, Spain said it would work with the Dominican Republic to help the Caribbean island nation deal with climate change impacts, for instance by making buildings and agriculture more able to withstand storms, floods or wildfires.
South Africa also said it was looking to cooperate with Germany to develop an adaptation plan that can attract funding, drawing on lessons from a fledgling donor-backed partnership to shift its coal-heavy energy supply towards renewables.
Commitments, but no pledge of cash
While welcoming the innovative Tuvalu-Australia plan, IIED's Mitchell noted there was so far no promise of money.
"There's a pledge of commitments and we know that commitments haven't necessarily led to action on the ground - so we will be watching this closely," he told Context.
Still, both sides stood to benefit, he added. As all nations are now suffering the effects of global warming, developed countries "will have something to learn, particularly from those who are on the frontlines", he said.
Funding shortages have been a chronic problem for adaptation, aggravated in recent years by sluggish growth in major economies, Russia's war on Ukraine, the aftermath of the COVID-19 pandemic, and swings in food and energy costs.
The U.N. Environment Programme estimated last year that international adaptation finance flows to developing countries "are 5-10 times below estimated needs and the gap is widening."
It estimates that adaptation needs - everything from drought-resistant crops to hurricane warning systems - will be $160-$340 billion a year by 2030 and $315-$565 billion by 2050.
U.N. climate talks in 2021 urged wealthy countries to at least double their collective provision of adaptation finance by 2025, which would amount to about $40 billion per year.
"Not enough is being done. There is an adaptation finance gap and it is widening, especially for poorer countries and societies," said Siri Eriksen, professor of climate and development at the Norwegian University of Life Sciences.
"A general problem is that most adaptation finance so far has been public or multilateral - and it's not been enough," she said, adding "there needs to be ways to get more private finance into adaptation".
She also emphasised there are often limits to how far countries and communities can adapt to rising oceans - for example, it will be too costly to build ever-higher sea walls.
"There is a danger of a false sense of security and entrenching people into settlements and livelihoods," she warned. "Even with mitigation of greenhouse gas emissions, sea level rise will continue beyond 2100."
(Reporting By Alister Doyle; editing by Megan Rowling)
---
---
Tags
Extreme weather

Adaptation

Climate policy

Climate inequality

Loss and damage

Water
---