Afghan women take protests online as Taliban crush dissent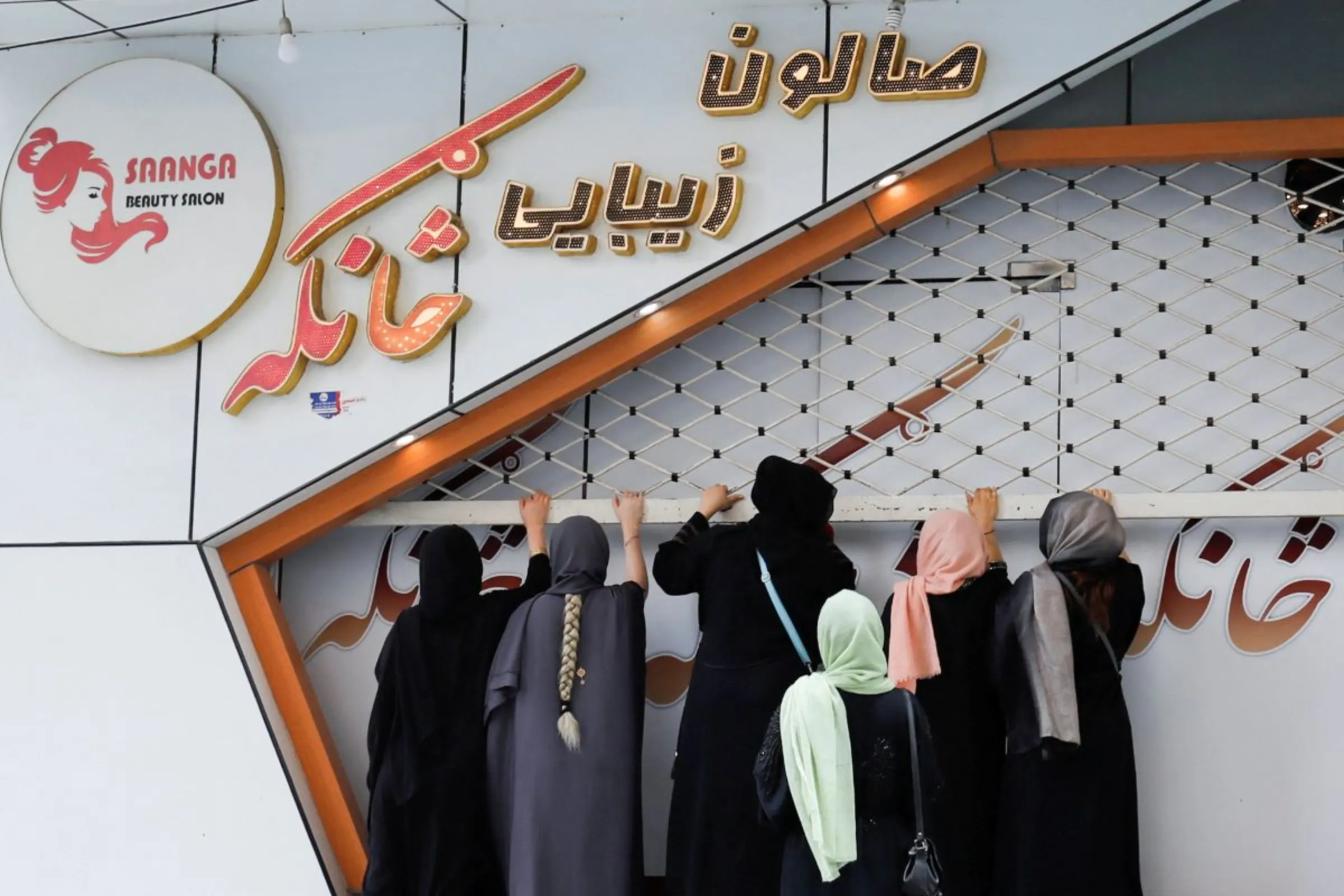 Afghan beauticians close their beauty salon in Kabul, Afghanistan, July 24, 2023. REUTERS/Ali Khara
What's the context?
Afghan women protest more indoors as rights are curbed, with social media posts enabling documentation of opposition to the Taliban
Afghan women protest indoors more as violent crackdowns rise
Posts of protests on social media key to documenting abuses
Indoor protests are harder to verify, women may feel discouraged
Days after the Taliban administration in Afghanistan announced in July that all women's beauty salons must be closed within a month, videos on social media showed groups of women protesting on the streets in Kabul, as well as in their homes, with many holding signs that read: "Bread, justice, work".
Since taking over Kabul on Aug. 15, 2021, the Taliban administration has barred girls and women from high schools, colleges, universities and most jobs, including working for the United Nations and non-government organisations.
Afghan women have pushed back, taking to the streets to oppose the Taliban, and moving their protests indoors and online as arrests and violent crackdowns grew, according to research by the Centre for Information Resilience, a non-profit.
Organising through WhatsApp and Telegram groups, Afghan women have posted pictures and videos of the protests on Facebook, Instagram and X - formerly known as Twitter, drawing attention to the worsening crisis, and enabling international rights groups to document abuses and opposition to the Taliban.
"The images of women protesting on the streets have been the single most important factor in compelling the international community not to look away," said Heather Barr, women's rights associate director at Human Rights Watch.
"The indoor protests feel like a valuable way of saying, in between the very risky street protests: "We're still here. Just because you don't see us on the streets every day it does not mean that our resistance is over"," she said.
Several of the indoor protests are organised by the Purple Saturdays Movement, a women's rights group that was formed two days after the fall of Kabul, and has hundreds of members.
It moved its demonstrations indoors after dozens of its members were arrested and imprisoned, said founder Maryam Marof Arwin, a former television news anchor.
"Even broadcasting our protests on social media networks, we are insulted, warned, and threatened with prison and death by the Taliban and their supporters," she said.
"But we will not give up our fight to bring the crimes of the Taliban to the eyes and ears of the world," she told Context.
Mapping protests
The Taliban banned the internet when they first controlled Afghanistan in the late-1990s, but have since embraced social media to broadcast their messages and attack critics. They have said they plan to upgrade the country's internet networks to 4G.
While Facebook and YouTube continue to block many Taliban accounts, supporters of the regime are known to criticise and harass women's rights activists on these platforms, even as girls and women struggle with limited mobile phone ownership and poor internet access that impede education and livelihoods.
That has also made it harder to access and verify online evidence of protests and rights violations in the country, said David Osborn, team leader of Afghan Witness at the Centre for Information Resilience.
Afghan Witness, which was set up in October 2021, has a portal where citizens can upload their own evidence of abuse. But much of the data is generally collected by investigators monitoring social media channels because many witnesses are "too scared to upload video footage themselves," Osborn said.
There is a "high level of false and misleading information circulating" in the country, so photographs and videos on social media are verified and archived using open source techniques such as geolocation and chronolocation, he said.
While images of indoor protests can be easier to find online, they cannot be geolocated or verified because they usually consist of just one piece of recorded footage, as compared to outdoor demonstrations that may have multiple videos from participants and witnesses, Osborn said.
Between March 1 and June 27 this year, Afghan Witness recorded and analysed 95 separate women's protests across the country, of which 84 were held indoors, with several demonstrations during talks in Qatar between envoys of the United States, China and other nations with the Taliban.
As outdoor protests have dropped, "the number and geographic spread of indoor protests appears to be increasing, with more groups in more locations," said Osborn.
"These protests appear to be aimed at showing solidarity within the community and raising awareness of the situation of Afghan women with international audiences, rather than reaching domestic audiences or confronting the Taliban," he added.
'Not afraid'
In the visuals of protests posted on social media, more than half the women appear fully covered, and about a third are partially covered by veil, a mask or a poster. A woman sometimes reads a statement of demands or grievances.
"The reason for wearing a face covering is so they cannot be identified by the Taliban," said Arwin of the Purple Saturdays Movement.
"But we have a number of women who participate in demonstrations without covering their faces to motivate other women to not be afraid. They are of the opinion that if we are afraid and silent, it is the biggest weapon for the Taliban against us," she said.
Still, with growing repression and abuse and threats directed at the protesters, the biggest concern is "not whether or not the data from protesters may get harder to find, but whether the women feel like there is little point in continuing to share their act of protest," Osborn said.
"The protesters may feel their actions go unseen."
For now, women's groups are preparing to hold protests on Aug. 15 to mark the second anniversary of the fall of Kabul, despite the risk of violence and imprisonment.
"We are protesting less than before on the street, just to keep the girls and women safe. But we are going to have a street protest on August 15," said Zholia Parsi, a women's rights activist.
"In a country where the whole world has turned its back on the women, any kind of movement is not without risks. It is very difficult, but we have to fight ... we are not afraid."
(Reporting by Rina Chandran. Editing by Zoe Tabary)
---
---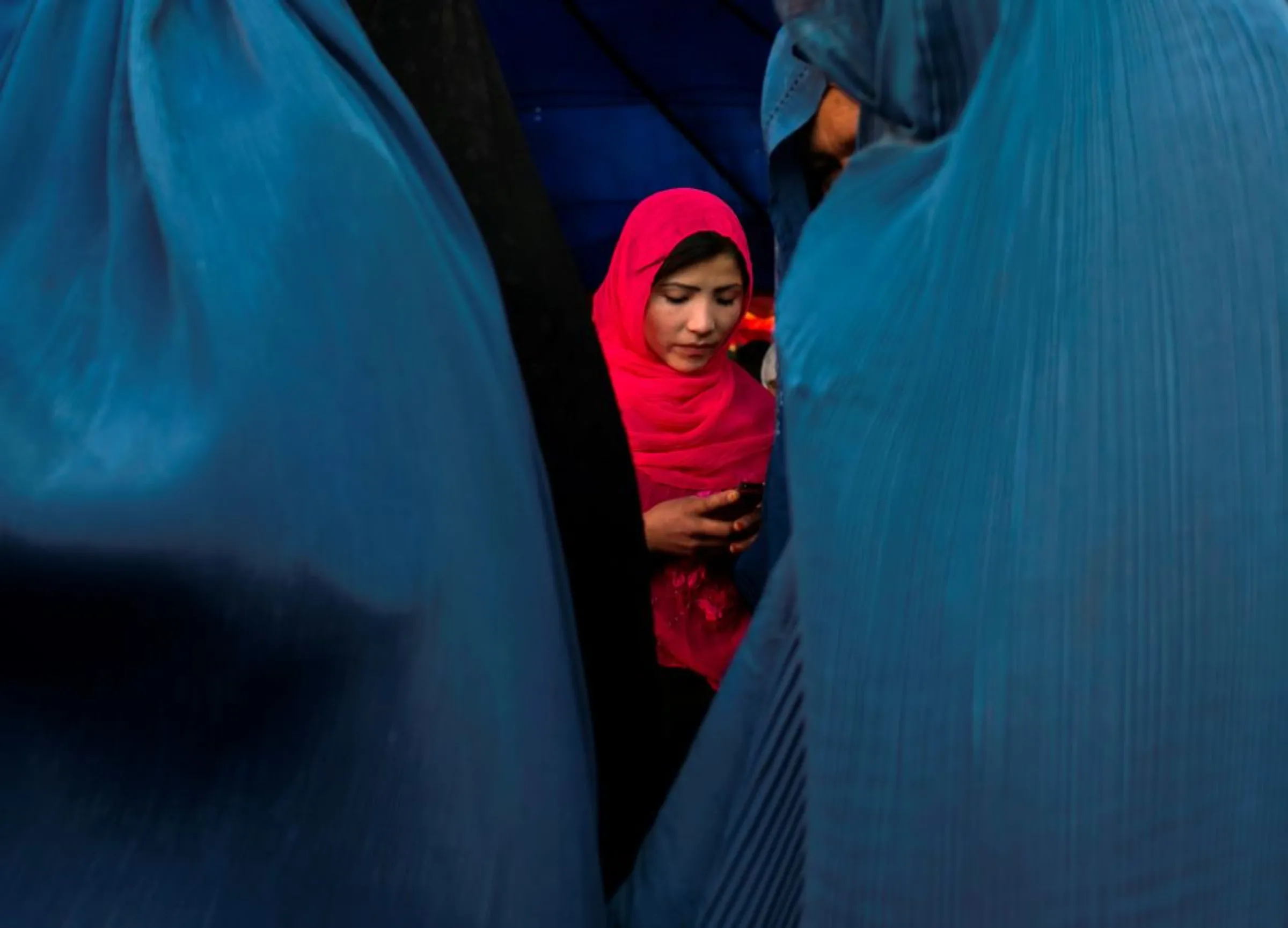 ---
Tags
Facial recognition

Surveillance

Tech and inequality

Tech regulation

Data rights
---