Shut out of jobs, Afghan women retrain as nurses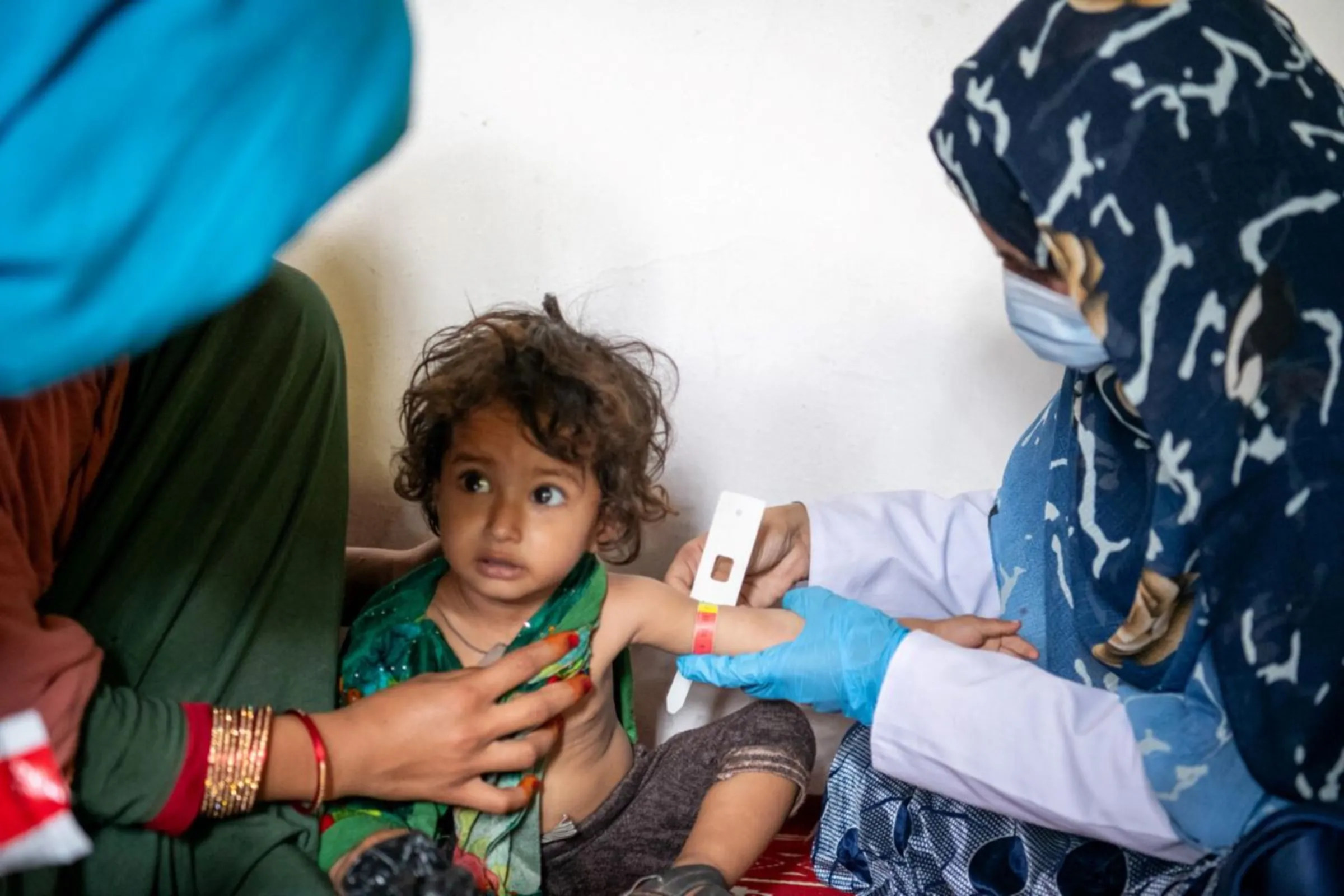 A nutrition nurse checks a child's arm circumference for signs of malnutrition at a UNICEF-supported mobile health unit in Nari District, Kunar Province, Afghanistan on 25 June 2023. UNICEF/Handout via Thomson Reuters Foundation
What's the context?
With Afghanistan's Taliban rulers banning women from most jobs, some are turning to nursing and midwifery as a way to keep working
Professional women switch to nursing
Afghanistan's health system under huge strain
School ban will hit future health training
After a decade lecturing at an Afghan university, former economist Shabana Sediqian is about to retrain as a nurse - it is not a career change she ever envisaged, but it will at least allow her to get out of the house again.
A growing number of professional women are enrolling in nursing and midwifery courses, fed up of being cooped up in their homes since the Taliban seized power two years ago - and needing money after losing their jobs.
Sediqian said nursing was almost the only vocation still open to women who were living "under house arrest" as the country's hardline Islamic leaders impose ever harsher restrictions on their freedoms.
"This is the only way I can help my family financially, and help myself to get a job and get out of the house for a few hours," she said.
Nilab Azizi, 30, a mother-of-three who used to work for an international aid project, is desperate to reconnect to her former professional life and looking forward to starting a three-year nursing course in September.
"I tried for more than a year to get back to work, but the Taliban shut every door in women's faces," she said. "Staying at home and doing nothing is like gradually dying."
The Taliban administration has barred girls from high schools, universities and most jobs, including working for the U.N. and non-governmental organisations (NGOs).
However, the ban does not apply to health professionals.
Context spoke to 10 nurses and trainees across the country who said they had either switched careers or had friends and colleagues who had done so.
Khaled Ferdous, CEO of a private medical institute in the northern city of Mazar-i-Sharif which works with the Health Ministry, said the number of nursing and midwifery students on its courses had more than doubled since mid-2021.
Almost 90% come from unrelated professional backgrounds, he said. They include former civil servants, teachers, journalists and university undergraduates.
But with girls barred from secondary education, aid agencies fear that applications to study midwifery and nursing will dry up over the coming years with dire implications for Afghanistan's future health care.
The Health Ministry did not reply to a request for comment.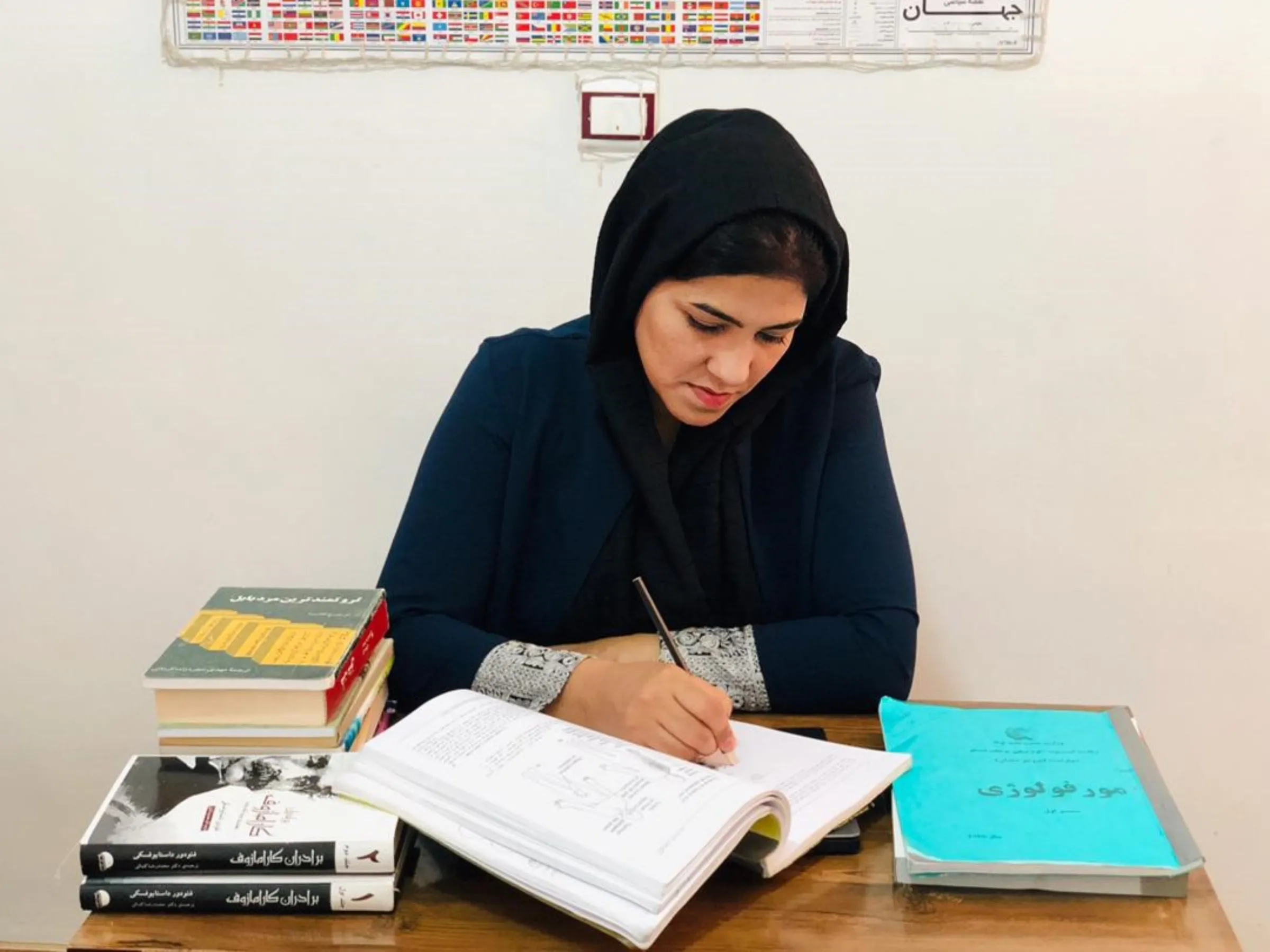 Financial struggle
Sediqian, 36, was dean of the economics faculty at a private university in the western city of Herat when the Taliban took power on Aug 15, 2021.
The following day her photo on the staff board was whited out. A few weeks later her post was filled by a man. Since then, she has been a housewife.
Dwindling finances and frustration at being trapped at home spurred her to enroll in a nursing course starting in September. One of her sisters is already training as a midwife after having to abandon a university degree in literature.
"Every day is a struggle financially and emotionally," said Sediqian, who used to earn $400 a month.
The mother-of-three expects to make about $150 a month as a nurse and hopes to save up to send her daughters to study abroad.
Sediqian said she felt angry that all her knowledge and expertise had been thrown away, but plans to use her leadership skills in her new career to empower other nurses.
For Azizi, nursing is a closer fit with her previous job educating families in Mazar-i-Sharif and surrounding villages about healthcare.
Afghanistan has one of world's highest maternal and infant mortality rates, with one woman dying every two hours during pregnancy or childbirth.
Azizi hopes a nursing career will help her continue raising awareness about the importance of breastfeeding, child nutrition and the dangers of child marriage - which is on the rise in Afghanistan and heightens the risk of birth complications and maternal death.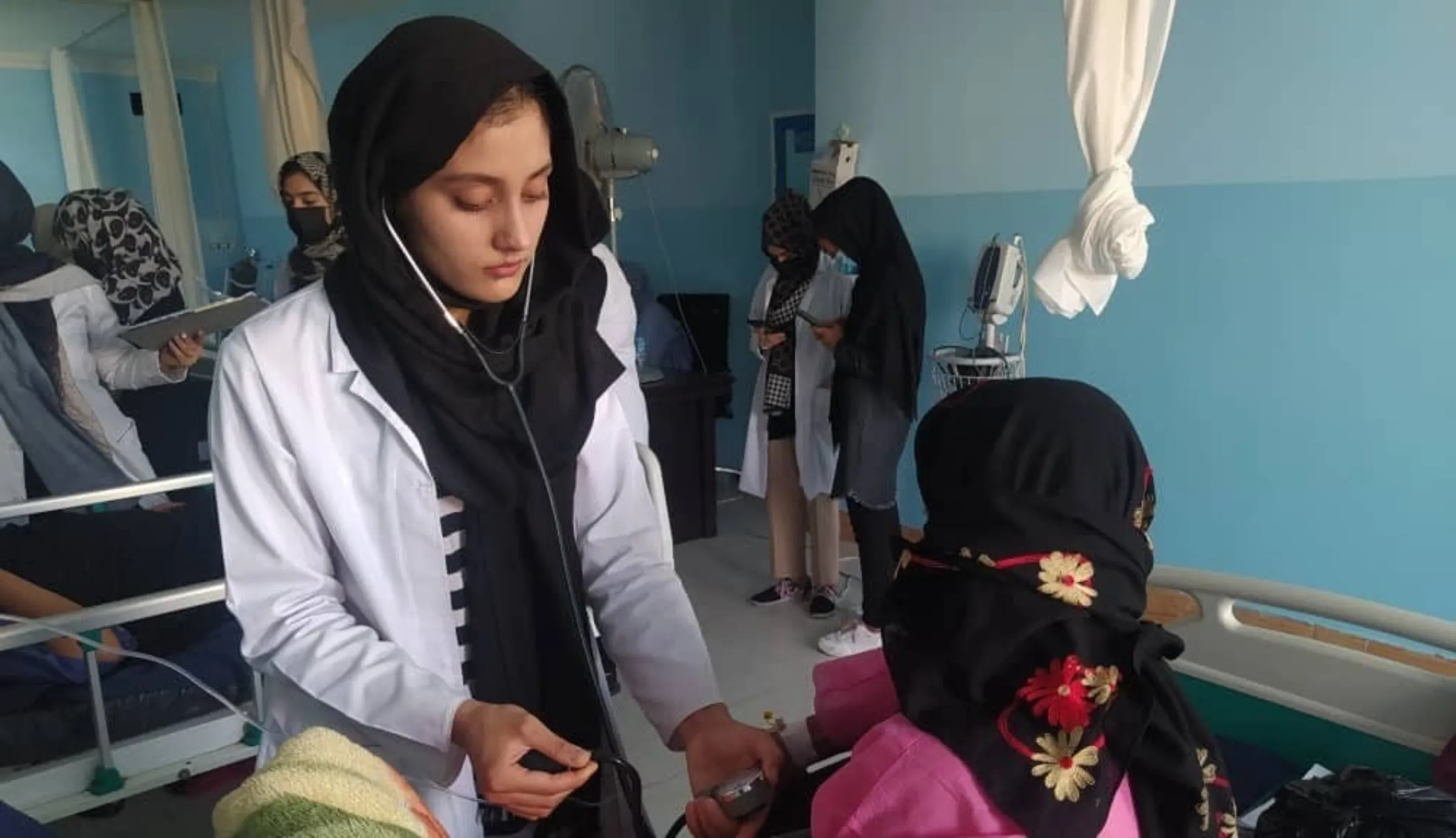 Lack of equipment
Afghanistan's economic crisis and the withdrawal of international development aid following the Taliban's takeover have left the over-burdened health sector struggling to stay afloat.
International donors continue to fund basic health services, but major gaps remain - particularly in rural areas - and many health professionals have left the country as part of a wider brain drain.
Afghanistan has about 4,400 health facilities, according to official data, mostly run by national or international NGOs.
But many clinics lack skilled staff, equipment and medicines. Some in rural areas are barely functioning.
At the same time, the number of people needing treatment has increased as malnutrition soars amid deepening poverty.
Shaqayque Barakzai, a 19-year-old student nurse in Herat, said her work helped her feel "empowered and valued in this dark age for women".
She had wanted to become an interior designer but opted for nursing after the Taliban banned girls from higher education.
However, she is concerned about finding a job. When she began her course in 2021 there were 50 students, but she said the latest intake was double that.
"My biggest worry is that when we graduate next year, there won't be enough jobs for us all," she added.
Barakzai said that while there were vacancies at very basic rural clinics, the Taliban did not allow women to travel around alone.
Aid agencies said female health workers faced particular challenges including harsh interrogations at checkpoints about their dress, job or lack of mahram - a male relative to chaperone them.
Some have even been sent home from their workplace for arriving without a chaperone.
One humanitarian expert described how a health worker with a young baby was left on the roadside by a bus driver miles from her home in a rural area because she did not have a mahram.
After moving to a new job, her husband had to quit his work because she was not allowed to do night duty unless he stayed with her.
The chaperone requirement has also increased costs for mobile health teams in rural areas.
One NGO said it initially sent one chaperone per team but the authorities increasingly required a mahram for each woman, adding about $40 a day to the cost of each trip and potentially increasing overall expenses by about $7,000 a week.
Despite the challenges, UNICEF - which helps administer about 60% of the country's health service with local NGOs - said women accounted for 10,000 of the 27,000 staff whose salaries it pays, slightly up on 18 months ago.
Global medical charity Médecins Sans Frontières (MSF), which supports other hospitals and clinics across the country, said 900 of its medical personnel - or more than half - were women.
But Filipe Ribeiro, MSF representative for Afghanistan, raised grave concerns over future staffing.
Female student medics who were about to qualify when the Taliban took over have been barred from taking their final exams, while female doctors have been blocked from specialist studies.
Although nursing and midwifery schools remain open, Ribeiro said the ban on girls' high school education meant they would soon struggle to find students.
"Who will be the midwives of tomorrow?" he said.
"It's great to know that some women are trying to get trained as nurses now, but in the mid to long term it will be a catastrophe."
(Reporting by Bahaar Joya and Emma Batha in London; Writing by Emma Batha; Editing by Helen Popper.)
---
---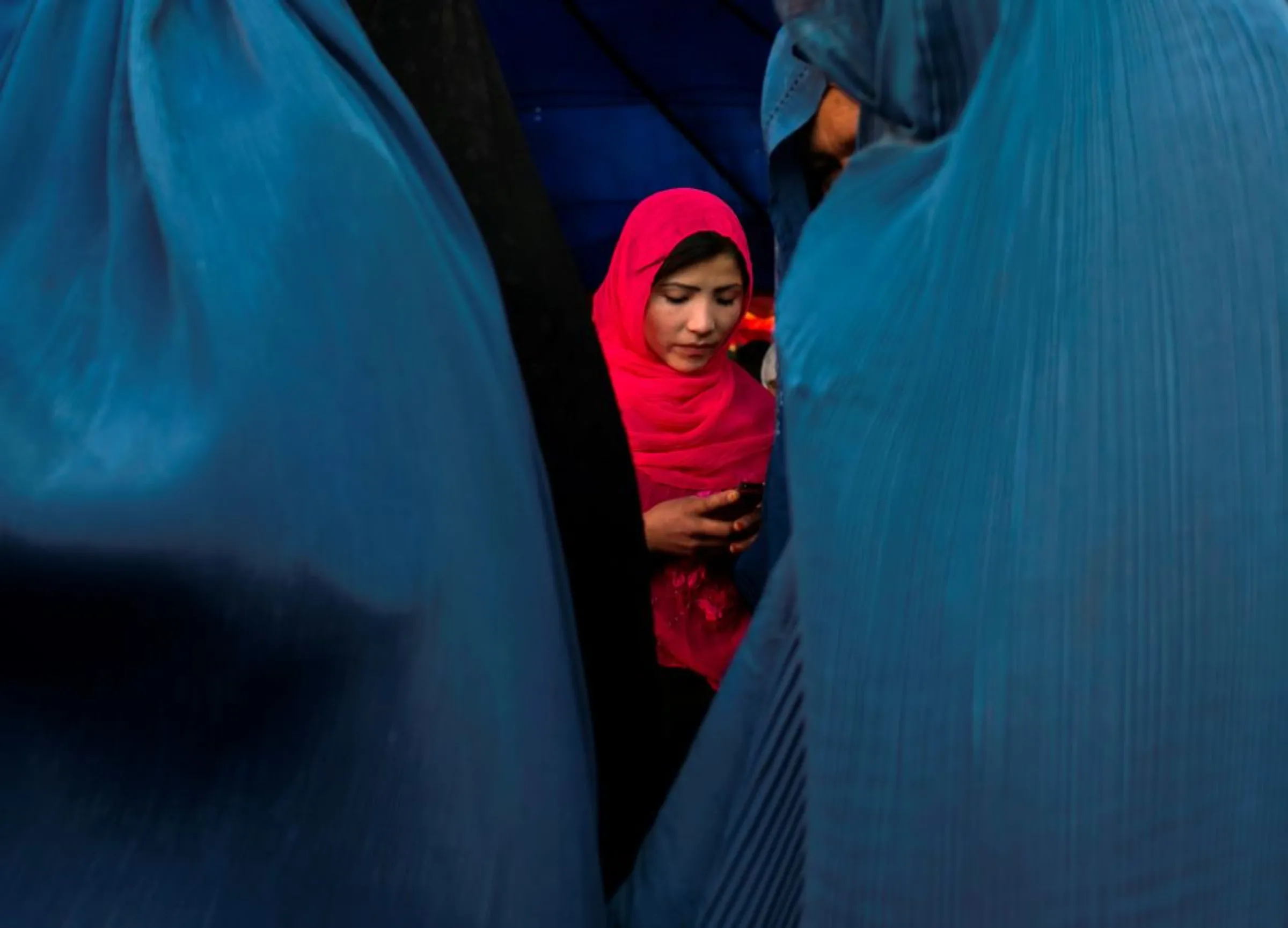 ---
Tags
Gender equity

Economic inclusion
---