At G7 meeting, nature needs as much focus as fossil fuel phase-out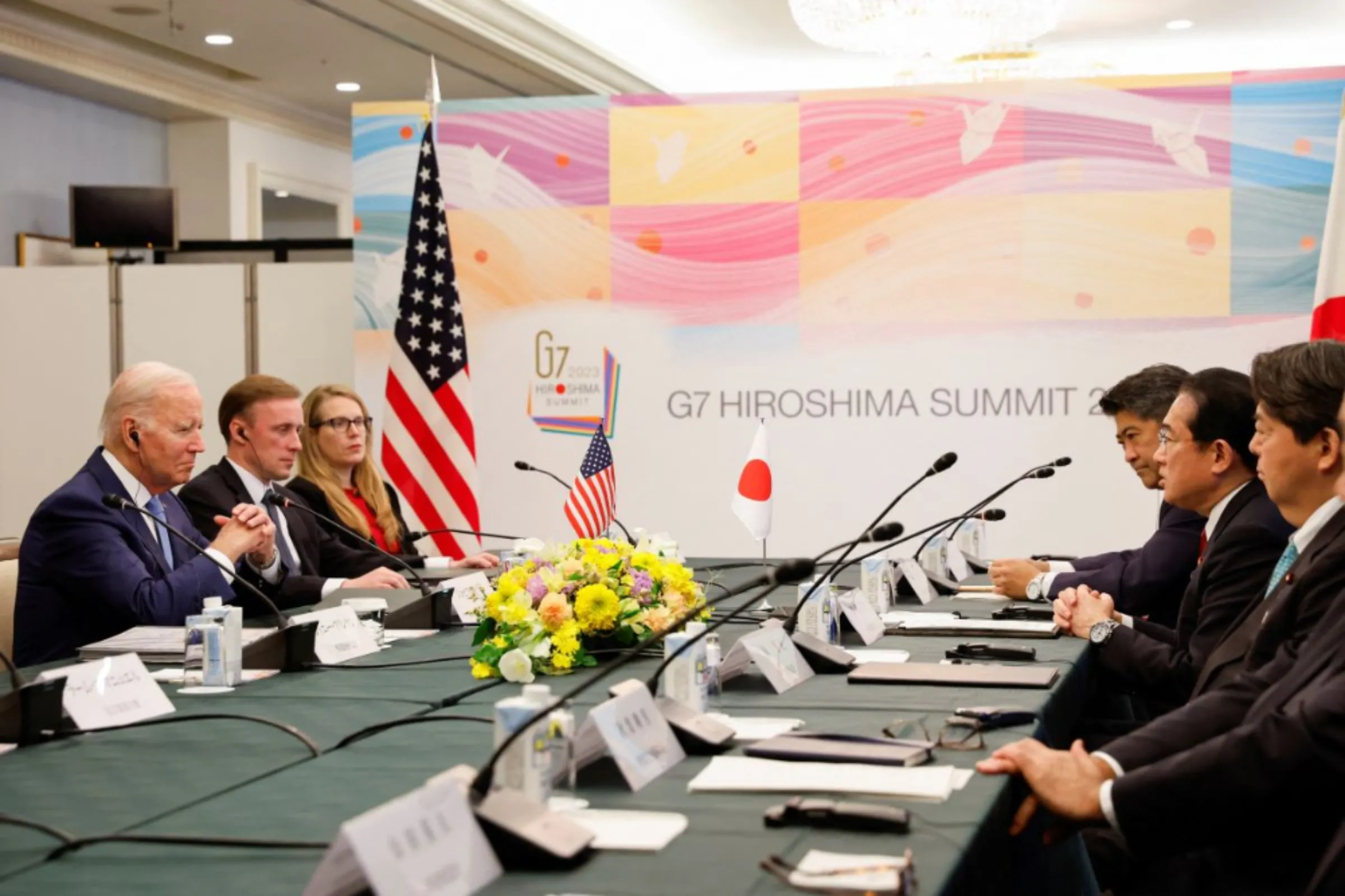 U.S. President Joe Biden attends a meeting with Japanese Prime Minister Fumio Kishida, ahead the G7 Summit, at RIHGA Royal Hotel Hiroshima, in Hiroshima, Japan, May 18, 2023. REUTERS/Jonathan Ernst
As G7 leaders meet in Hiroshima, governments must start delivering on biodiversity funding for developing nations
Brian O'Donnell is director of Campaign for Nature.
We are facing two parallel crises: climate change and global biodiversity loss. Climate change has captured most of the headlines, but scientists say the nature crisis is equally or even more important. We can't solve one without solving the other.
A landmark assessment of global biodiversity in 2019 warned that nature is declining at rates unprecedented in human history. Grave implications are predicted – including the extinction of one million species – unless transformational action is taken.
Biodiversity loss is not just a concern for species that are threatened. The destruction of nature threatens the services we rely on: our clean air and drinking water, our access to medication, our food supply, and our mental and physical health.
Furthermore, the destruction of nature directly worsens climate change's impacts and threatens our global economies – 55% of global GDP depends on high-functioning biodiversity and ecosystem services.
The good news is that governments have started to take notice. Last December at Montreal's COP15 U.N. summit, countries agreed on a landmark global deal to address the biodiversity crisis. If fully implemented, its centerpiece "30 by 30" target to protect at least 30 percent of the world's land and waters by 2030 will roughly double the amount of land and quadruple the marine area under conservation – the bare minimum required to confront the biodiversity crisis.
This promises to generate jobs and income – especially for those closest to nature, who often tend to be economically vulnerable populations. It will also assist in absorbing carbon dioxide emissions, and enhance food and water security in many communities which are currently pushed to the brink by unstable supplies.
Achieving 30 by 30 requires a significant increase in spending. At the COP15 nature talks, wealthy nations pledged to increase financial resources for developing countries to at least $20 billion a year by 2025 and $30 billion by 2030.
The figures might seem large, but they are achievable. For context, the world is already spending $1.8 trillion each year on subsidies that are driving the destruction of ecosystems and causing species to go extinct. The $20 billion package is equivalent to only 1.1%, or about four days, of those subsidies. It is also less than some oil companies' quarterly profits: Aramco made $31 billion in the first quarter of 2023 alone.
Crucially, we must recognize that this financial commitment is not charity. Delivering on the $20 billion is the responsibility of wealthy nations – whose consumption drives biodiversity loss beyond their borders – but it is also an investment in communities, clean water, pollination, storm protection, pandemic prevention and, of course, the incredible diversity of life on this planet.
It is also critically important that the finance committed reaches those who need it most: developing countries house the world's most important biodiversity hotspots; small island developing states face imminent threats; and Indigenous peoples and local communities have long served as nature's frontline defenders.
Unfortunately, despite the urgency of the biodiversity crisis and optimism after December's nature deal, details and transparency on how the $20 billion will be delivered have not yet materialized. With 2025 just around the corner, it is imperative that we see action at the highest levels of political leadership.
It is not enough for governments to pay lip service to biodiversity finance without saying precisely how much they're going to deliver and by when. For this reason, the upcoming G7 summit offers a crucial test. It is vital that G7 leaders discuss biodiversity finance. They must reaffirm their $20 billion commitment and demonstrate that they have a plan to deliver it.
Without this, we face an uphill battle to achieve the 2030 nature targets, and risk undermining the trust between nations. We are counting on G7 leaders to honor their responsibilities when they meet in Japan, and to stand up for nature – the basis of our economies and societies.
---
Any views expressed in this opinion piece are those of the author and not of Context or the Thomson Reuters Foundation.
---
TAGS
Government aid
Climate finance
Fossil fuels
Climate policy
Loss and damage
Biodiversity
Climate solutions
---