Somalia: hunger will haunt us until we fix humanitarian finance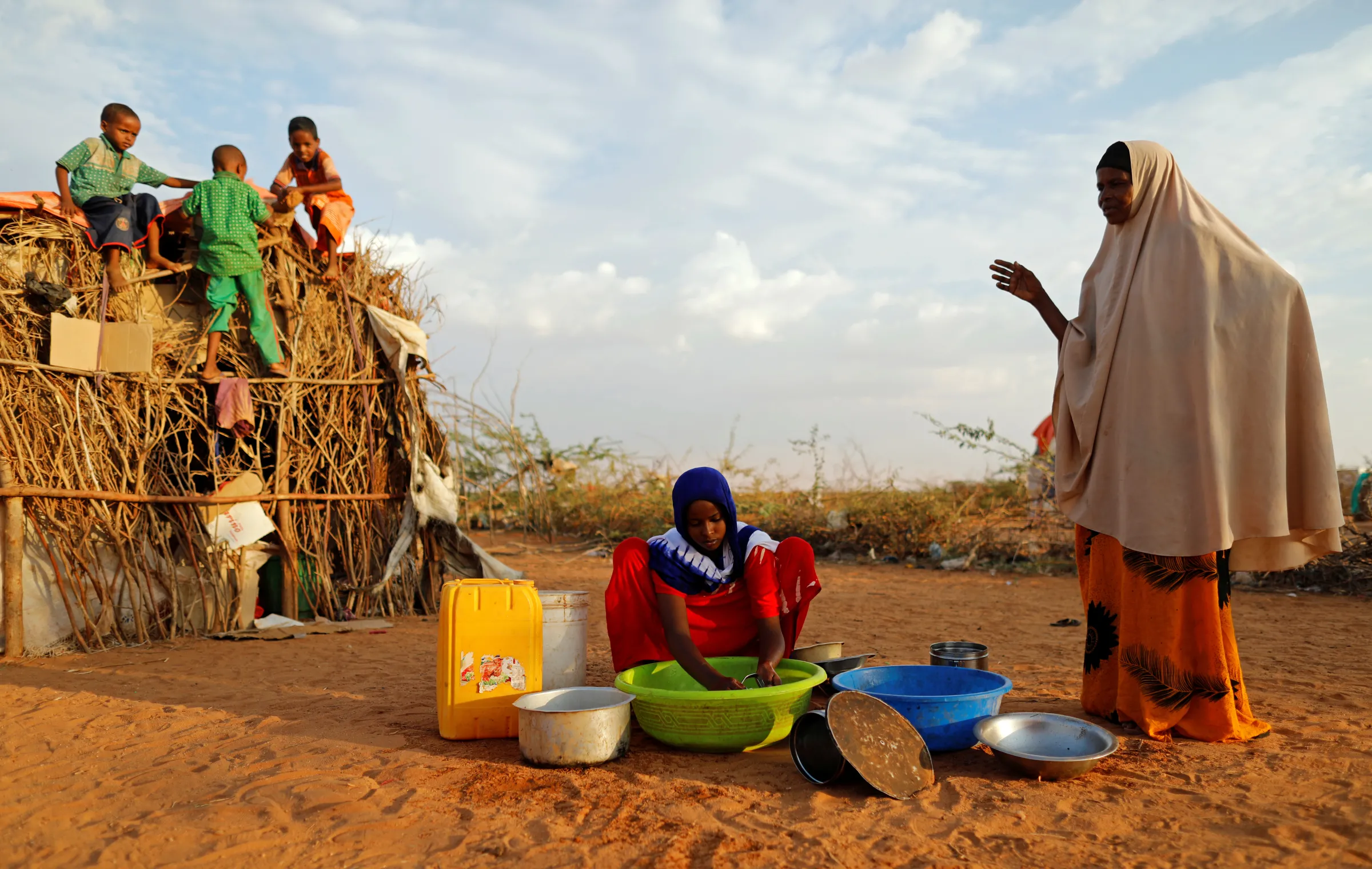 A girl washes dishes as her mother gestures and her nephews play at a camp for internally displaced people from drought hit areas in Dollow, Somalia April 3, 2017. REUTERS/Zohra Bensemra
I've just returned from East Africa where hunger is rampant. Without a new global financial system this will happen again
Danny Sriskandarajah is the Chief Executive of Oxfam Great Britain.
Back in May, we were predicting that hunger would claim a life in East Africa every 48 seconds by the end of year. Today, we think a person is dying every 36 seconds. Right now, the whole region stands on the brink of a devastating famine.
As world leaders and business moguls head to COP27 next month, I cannot stop thinking about the individuals I met on my recent visit to Somalia: men and women who have lost everything because of a climate crisis for which they are not to blame. And I cannot help but feel deep frustration that, in seeking to help them, we continue to pin our hopes on a broken, piecemeal humanitarian system and dysfunctional climate finance.
We have entered a dangerous new era: one in which extreme weather events are deepening inequality in pandemic-hit countries and making those who have contributed least to the climate crisis more and more vulnerable. My colleagues at Oxfam estimate that the number of people going hungry in climate hotspots has more than doubled in the past six years. The U.N.'s funding requirements for humanitarian appeals linked to extreme weather are eight times higher than they were 20 years ago. Yet nearly half of its appeal targets have gone unmet in the past five years.
Prime Minister of Barbados, Mia Mottley has been trying, ever since COP26, to make the link between climate crisis and the urgent changes we need to make to our global financial system. Why? Because without radical changes to our global financial architecture, to the World Bank and the IMF, poorer countries won't adapt to climate change; because life on her Caribbean Island – where climate change is making tropical storms more frequent and destructive – may well depend on it.
Ours is a system of faltering compassion. A 'disaster begging bowl' nearly always organised after the fact. We have known for months that, without urgent action, tens of millions of people across East Africa would suffer severe hunger. The United Nations and NGOs have sounded the alarm time and again, yet the world has responded with a collective shrug.
Nor is existing long-term climate financing quite what it seems. More than a decade ago, developed countries pledged $100 billion a year to help developing countries adapt to climate change and cut emissions. Yet our research suggests the majority of this public climate finance hasn't come in the form of grants. Instead, the world's poorest countries are being forced to take out loans to protect themselves from the excess carbon emissions of rich countries.
Before the start of Russia's war in Ukraine, 60% of the world's lowest-income countries were already in debt distress, or at high risk of it. At a time of spiralling food and energy costs, funds that were supposed to help developing countries invest in climate resilience are instead contributing to unsustainable debt.
This then is a moment for moral strategic, radical leadership. Eight decades ago, in the midst of World War II, Oxfam was founded at a similar moment of moral reckoning. The momentum behind our founders', and others', belief in humanity's duty to alleviate suffering around the world eventually led to the international humanitarian system we recognise today. It is a system that has achieved a great deal; only the turbo-charged complexity of today's global challenges has exposed its weaknesses.
The world is now in urgent need of a new system: one that tackles what the U.N. Secretary General has called the triple crisis of hunger, climate and inequality; one that can ensure accessible and sustained finance to compensate for loss and damage. A model that no longer requires different crises to compete for the attention of donors like some dystopian Dragon's Den. A new model based not on notions of compassion, but on an understanding of justice.
And there is no shortage of technical solutions here: reforming multilateral development banks, expanding definitions of climate vulnerability to ensure more countries get assistance, accelerating private sector climate-mitigation funding. But without the political will to deliver change, none of these ideas will be enough.
At a time when many are retreating into nationalism, we need an audacious new internationalism; not country-by-country commitments but a truly global civil society-led movement to protect our planet and build a fairer world.
Ideas like the global 2% windfall tax on fossil fuels, posited by Mia Mottley and others, are worth exploring. Ideas around world leaders committing to zero carbon and zero poverty, according to an outcome-based resourcing model, are worth exploring. They may seem radical, but this is a moon-shot moment; nothing should be off the table.
"We can't pretend, day to day that someone somewhere else is going to make that change", Mia Mottley said. "This is our time to make that defining difference." Having sat and talked with those who are living and dying on the front line of the climate crisis in Somalia, I think she's right.
---
Any views expressed in this opinion piece are those of the author and not of Context or the Thomson Reuters Foundation.
---
Tags
Extreme weather
Agriculture and farming
Climate and health
Climate inequality
Loss and damage
---