Bangladesh tea workers struggle as heat and drought scorch fields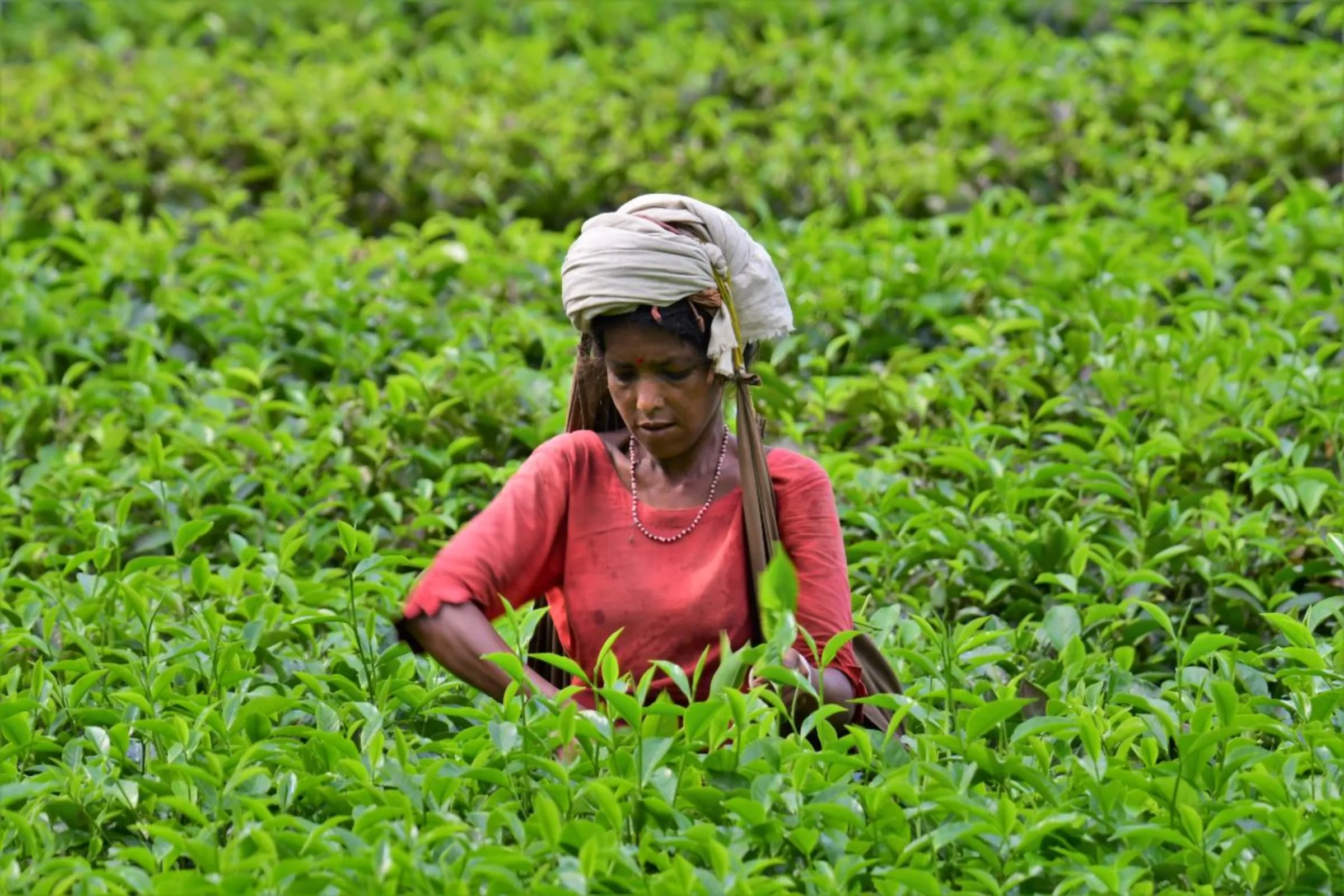 Worker Sibani Bhuyaian picks tea leaves at Jangalbari tea estate in Sreemangal, in northeastern Bangladesh May 27, 2023. Thomson Reuters Foundation/Mosabber Hossain
What's the context?
Climate change impacts from rising temperatures to lack of rain hit Bangladeshi tea harvest as pickers worry about pay and health
Soaring temperatures, drought slash Bangladesh tea harvest
Tea pickers stressed in normally mild, rainy region
Heat hits local incomes as tourists stay away
SREEMANGAL, Bangladesh - Phul Kumari has picked tea in northeastern Bangladesh for three decades, but the 45-year-old says she has never experienced heat and drought like that during this harvest season.
"It's too hot and I can't continue working," she said, as she took a break for water at the tea estate where she labours in Sreemangal, south of the city of Sylhet.
"I feel like I'm standing ... beside the cooker in the kitchen," she said. "I've never seen this situation in my entire life."
Sreemangal, Bangladesh's tea capital, traditionally has the highest rainfall in the country and temperatures that, while close to 30 degrees Celsius (86 degrees Fahrenheit) in the summer, feel milder because of the cooling rain.
But in recent years, as the planet heats up, temperatures have been rising, hitting a sweltering 39C in Sreemangal in May. Worse still, rainfall that month was half of the usual levels.
That is slashing the region's tea harvest - which is expected to be halved compared to last year - and driving away the tourists who normally throng to the hilly region to see its rainforests, lakes and picturesque tea gardens.
Around the world, worsening heatwaves fuelled by climate change are proving increasingly costly for businesses and their workers, raising questions about how economies and the people who depend on them will cope, especially as continued fossil fuel use further heats the planet.
Kazi Shamsul Haque, general secretary of the Sreemangal Tourism Service Organisation, said this season even 60% discounts were failing to pull in tourists scared away by the heat and drought, something he called "a great loss for us".
"Rainy season is the peak time for Sreemangal tourism," including the 60 resorts in the area, he said. "But this time tourists are not coming."
"We have heard about climate change many times and now we can see the impact in our area," he said.
High temperatures wreak havoc on workers and harvest
Perhaps hardest hit by the worsening drought and heat, however, are the legions of tea workers in the normally mild region, which was first planted to tea gardens during British colonial rule.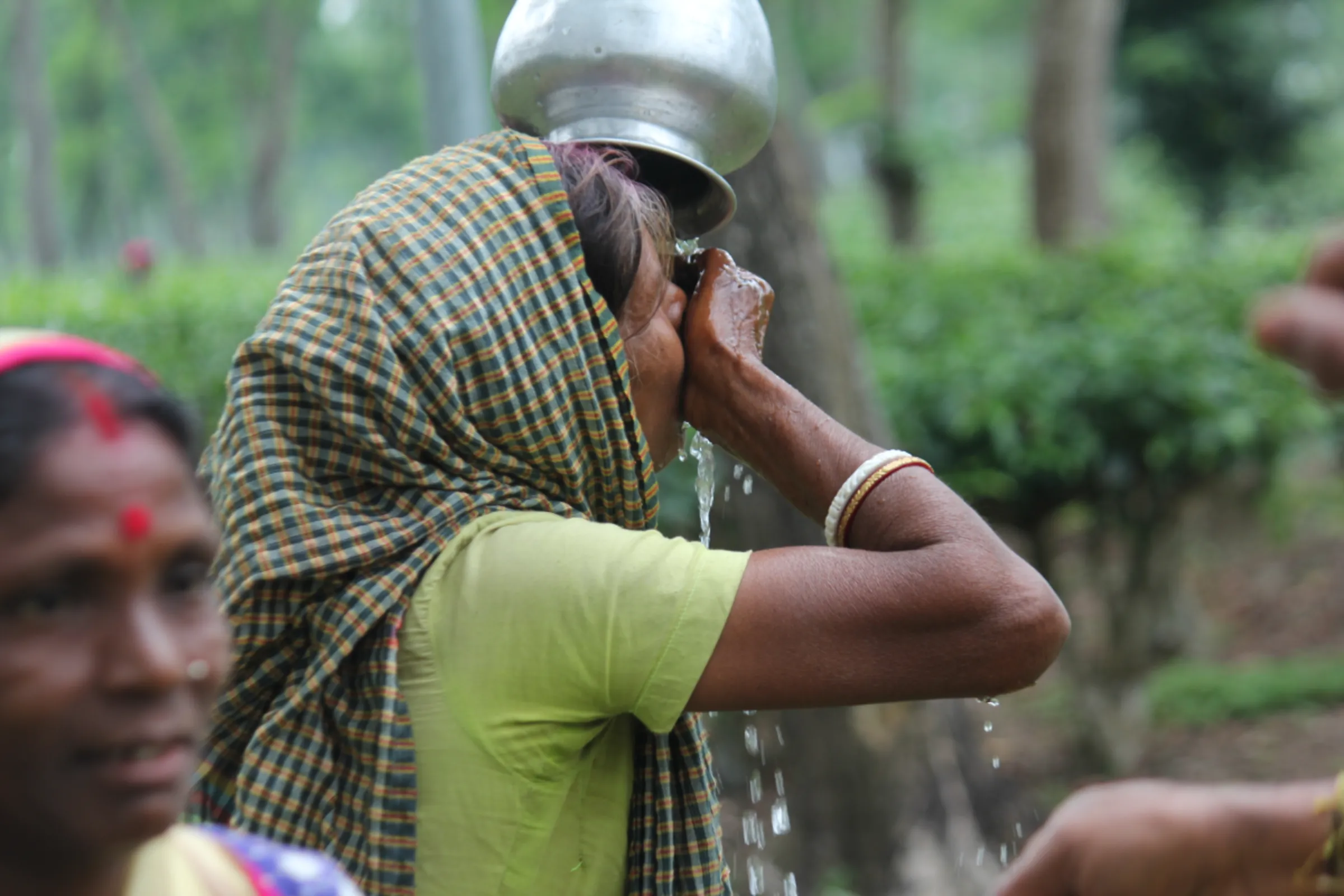 Mini Hazra, a tea picker at Barawura, one of the area's tea plantations, said she could normally pick 50-60 kg of leaves a day, but this year could manage only 15 kg a day before having to stop work, which has affected her income.
"After working in the heat, I feel like my skin is getting burned and I can't stop it even using water," she said.
The heat left her so tired, she added, that she struggled to get her own household chores done at home after arriving exhausted from work.
She cannot remember tea picking conditions ever being so difficult. "It was not the same before. Due to enough rain we could work easily in the summer," she said.
Hotter temperatures, meanwhile, threaten not just Bangladesh's tea workers but the tea plants themselves, researchers say.
Md. Abdul Aziz, principal scientific officer at the Bangladesh Tea Research Institute, said tea grows best at temperatures between 15C and 25C, but that plants can typically continue producing sufficient leaves up to about 29C.
However, as temperature peaks continue to creep up each year - from 36C and 37C in the last two years to 39C this year - "all the dimensions ... are exceeded," he said, with production now falling.
Romij Uddin, an agronomy professor at Bangladesh Agricultural University, said higher temperatures are also leading to worsening pest problems, particularly with red spider mites, which damage leaves and require pesticide applications to control.
With tea bushes facing high temperatures, a lack of rain, and pests, "new leaves of tea are not coming," he said.
Rony Bhowmick, manager of the Sreemangal Clonal tea garden, said the harvest there this time of year is normally 4,500 kg of tea leaves a day - but this year it has fallen to about 2,500 kg, a decline of nearly 45% .
The Bangladesh Tea Board, which oversees production in the country, believes this year's national harvest will also suffer.
"We are predicting the production will decline due to hot temperatures. For the last few years the temperature has been rising but this year it is worse," said Muhammad Madhul Kabir Chowdhury, the board's deputy director for trade.
Because most of Bangladesh's tea is consumed at home, the fall in production is not expected to affect world markets.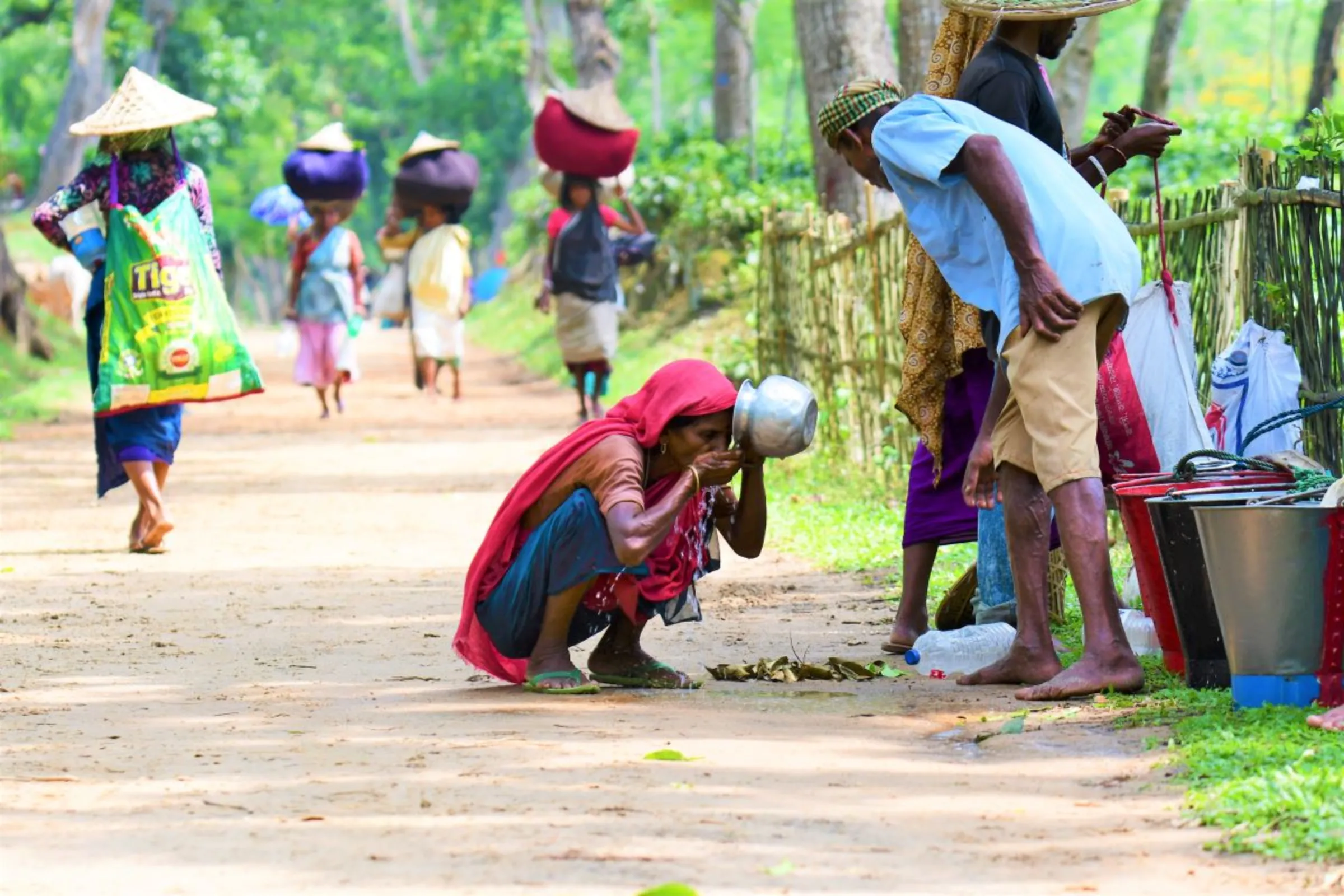 Tea pickers trying to stay hydrated
Faced with rising heat - a problem likely to worsen in future years as climate-changing emissions continue to rise - tea growers say there is little they can do to adapt beyond ensuring workers are offered more drinking water, rest and rehydration salts.
Tea pickers who once paused only for a drink provided by plantation authorities at noon say they now often carry pots of water with them to try to stay hydrated more frequently as they work in hot conditions.
Kazi Kamrul Hayder, a secondary school student and climate change activist at Sreemangal Government College, said reducing carbon emissions globally - and planting more trees - was the way to "save our area".
But Saleemul Huq, director of the International Centre for Climate Change and Development in Dhaka, said that Bangladesh must also do much more now to prepare for and adapt to fast-rising temperatures.
"High temperatures are one of the climate change impacts that Bangladesh is not used to and must learn to cope with urgently," he said.
"The exact impacts will be unpredictable - but it is certain that unusually high temperatures will become the norm going forward."
(Reporting by Mosabber Hossain; Editing by Laurie Goering)
---
---
Tags
Extreme weather

Agriculture and farming

Climate inequality

Loss and damage

Biodiversity
---