Can Nepal get to grips with worsening climate-fuelled wildfires?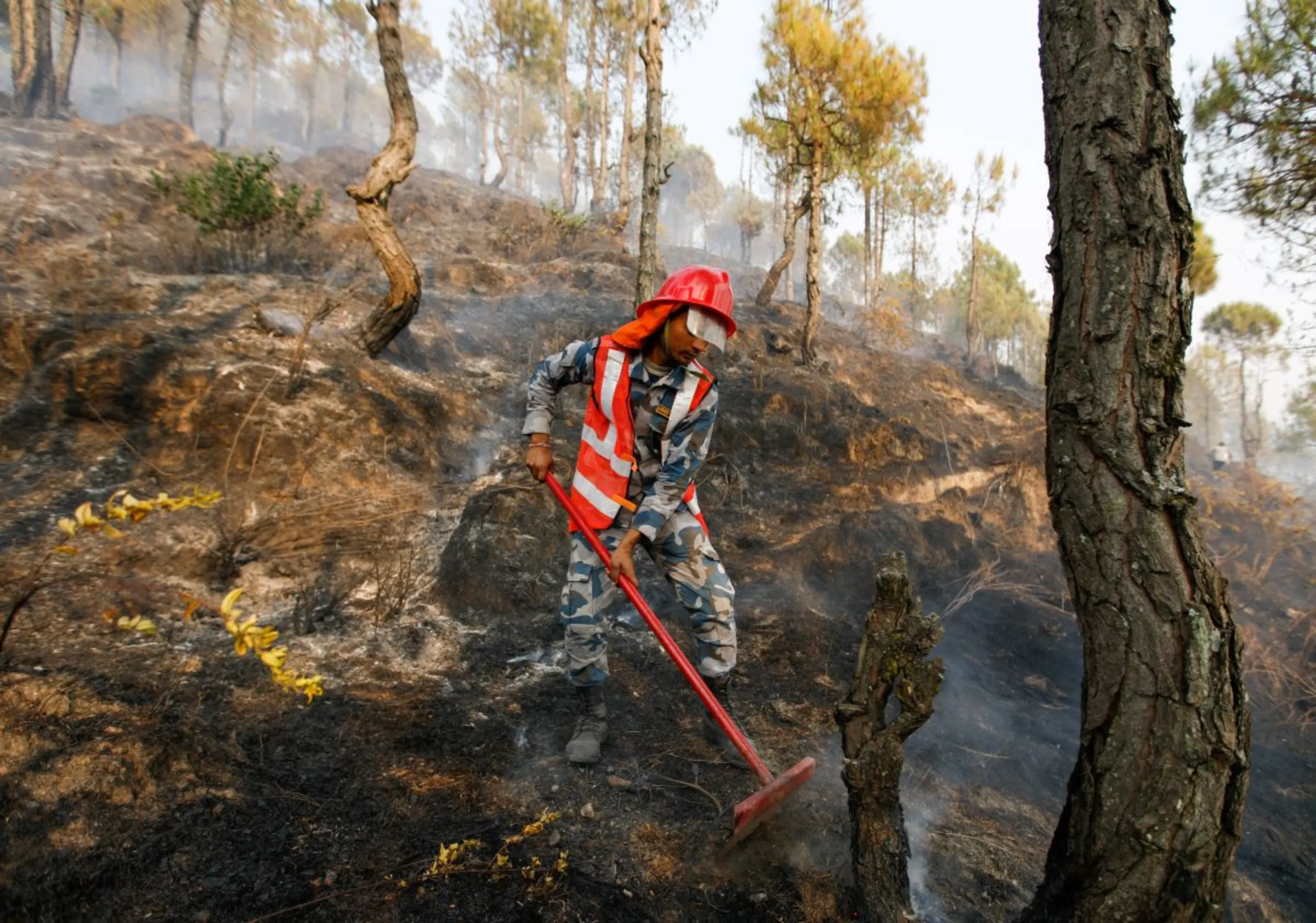 A member of the Armed Police Force works to control a forest fire at Shivapuri National Park overlooking Kathmandu, Nepal April 11, 2021. REUTERS/Navesh Chitrakar
What's the context?
Climate impacts from rising heat to drought fuel record wildfires in Nepal - raising concerns over the country's fire strategies
Forest fires growing more frequent, intense across Nepal
Firefighting tactics fall short as climate impacts worsen
Experts call for rethink and support for community groups
PYUTHAN/KATHMANDU, Nepal - As parts of Nepal recover from their toughest wildfire season to-date - fuelled by rising heat and drought linked to climate change - firefighters and officials fear that the tools and tactics they use to combat forest fires may no longer suffice.
Some districts have recorded a huge spike in forest fires this year, with experts and emergency responders saying the nation should review its approach to controlling the fires that are spreading ever-faster and proving much harder to extinguish.
More than 3,337 forest fire incidents were reported across Nepal from November 2022 to late-June, according to the forests and environment ministry, making it the dry season with the third highest number of such fires since records began in 2012.
Dipendra Yadav, information officer at the division forest office in eastern Ramechhap, said the fires had started earlier than usual in the district - which logged about 60 incidents this season, up from just three in the previous one.
"(It) is different from the previous seasons in the sense that the spread of the fire was very quick," said Yadav, who explained that wildfires are mostly started by people - either deliberately for hunting animals and clearing areas to grow fresh grass for their cattle, or as a result of accidents.
"Fire (this season) could cover a whole forest in a few minutes," he said, explaining how 2,000 hectares (4,942 acres) of forest were burned with orange and citrus orchards destroyed.
Rising temperatures and a lack of rain were two of the main drivers of the fast-spreading fires, according to Yadav.
Data from the Department of Hydrology and Meteorology shows Nepal received only about 13 mm of rain this winter, nearly 80% less than average. Indira Kandel, a senior meteorologist at the department, said the country's average temperature is rising by 0.056 degrees Celsius (0.1 degrees Fahrenheit) each year.
Ramechhap's forest office has distributed firefighting equipment, and worked with so-called community forest user groups to draw fire lines - strips of land that are cleared to stop fire spreading - remove dried leaves and branches, and build ponds to ensure water is available - yet it was still not able to control this season's wildfires, according to Yadav.
Government officials and academics said Nepal must be more proactive in tackling wildfires - be it through community groups or early detection systems - and called for a dedicated agency to be set up to focus on the issue nationwide.
From firefighting challenges to community-led initiatives
Hemraj Sharma has been a firefighter in central Pyuthan district for 34 years, but said this season was nearly his last.
"I almost lost my life ... a month ago, when the forest fire spread rapidly in a nearby village," said Sharma, 58, recalling how he had been surrounded by haze and smoke and only managed to escape because another firefighter dragged him away from danger.
Pyuthan faced about 133 forest fires incidents this season - up from 15 last season - as climate change impacts like longer dry spells hinder the forest division office's response.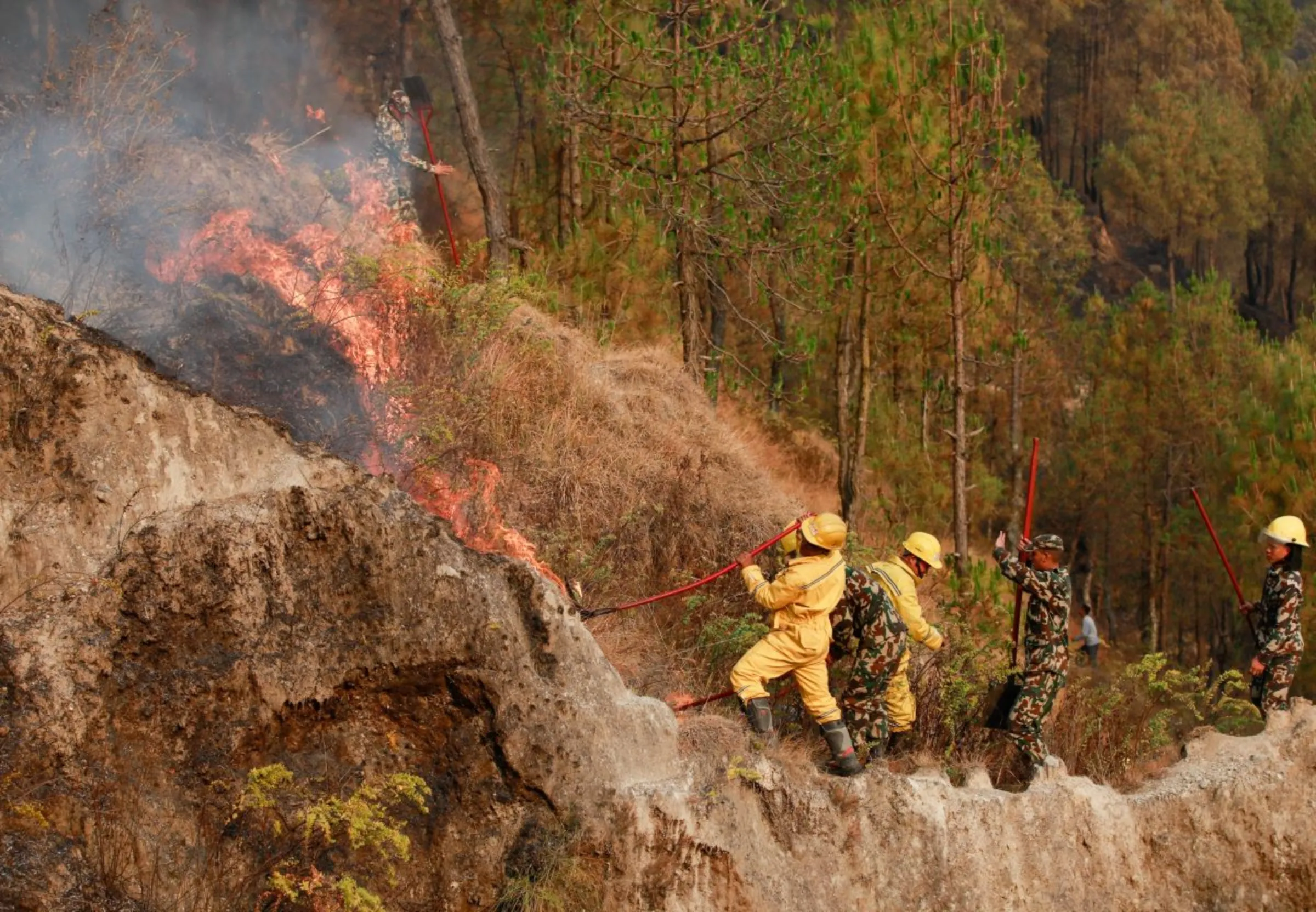 The office has built about 50 ponds across the area, but most had no water this season due to less winter rainfall than usual - rendering them ineffective during fires, Sharma said.
Other challenges include the fact that difficult terrain makes many forests hard to reach, while tools from water pumps to swatters - used to smother flames - are largely inadequate at controlling huge fires of ever-greater size and intensity.
Deepak KC, a forest officer in Pyuthan, said community forest user groups - who manage many of Nepal's forests - could play a bigger role in preventing and controlling fires - but would need support in raising more money in order to do so.
This could be achieved if such groups were able to better harvest and market products from the forests they governed, such as by selling timber from felled trees, Deepak KC explained.
In Sindhupalchowk district - just north of the capital Kathmandu - one community forest user group is doing just that, and says local forests have not had a fire over the last decade.
Ramesh Kumar Shakya, head of the Paatle Community Forest in Lisankhu Pakhar, said that at the start of each year, locals clear bushes and burn the collected material, then sell it to a company which turns it into briquettes for use by households.
In this way, the risk of fires is minimised while the community generates a steady income, according to Shakya.
"Previously, the fire would destroy forests every year during summer, but now the problem has disappeared," he said.
Concerns over health issues and economic losses
If such community initiatives were adopted more widely, this could help to reduce the number of fires, and subsequently decrease air pollution levels, said Bhupendra Das, a national technical expert for Clean Air Asia, an international NGO.
In mid-April, Kathmandu was ranked as the world's most polluted city by Swiss technology company IQAir, as forest fires raged across the country, producing lots of smoke and ash.
Sundar Sharma, undersecretary at the National Disaster Risk Reduction and Management Authority (NDRRMA), said Nepal was like a "gas chamber in April" when forest fires were at their peak.
They had severely affected people's health - with resulting air pollution linked to bronchial, lung and eye problems - and had also resulted in substantial economic losses, he said.
According to figures provided by the NDRRMA - which records wildfire data separately to the forests and environment ministry - a total of 125 people have died since 2005 in forest fires, which are estimated to cost Nepal millions of dollars annually.
Yet officials at the agency said these figures are likely to be an underestimate due to the fact that many fires are not officially reported, as well as poor record-keeping generally.
Sharma also said the estimates did not account for loss of biodiversity - from medicinal plants to trees - and called for this to change.
"All damages should be considered (when valuing losses) ... to gauge the urgency of mitigating these fires," he added.
(Reporting by Aadesh Subedi and Mukesh Pokhrel; Editing by Kieran Guilbert)
---
---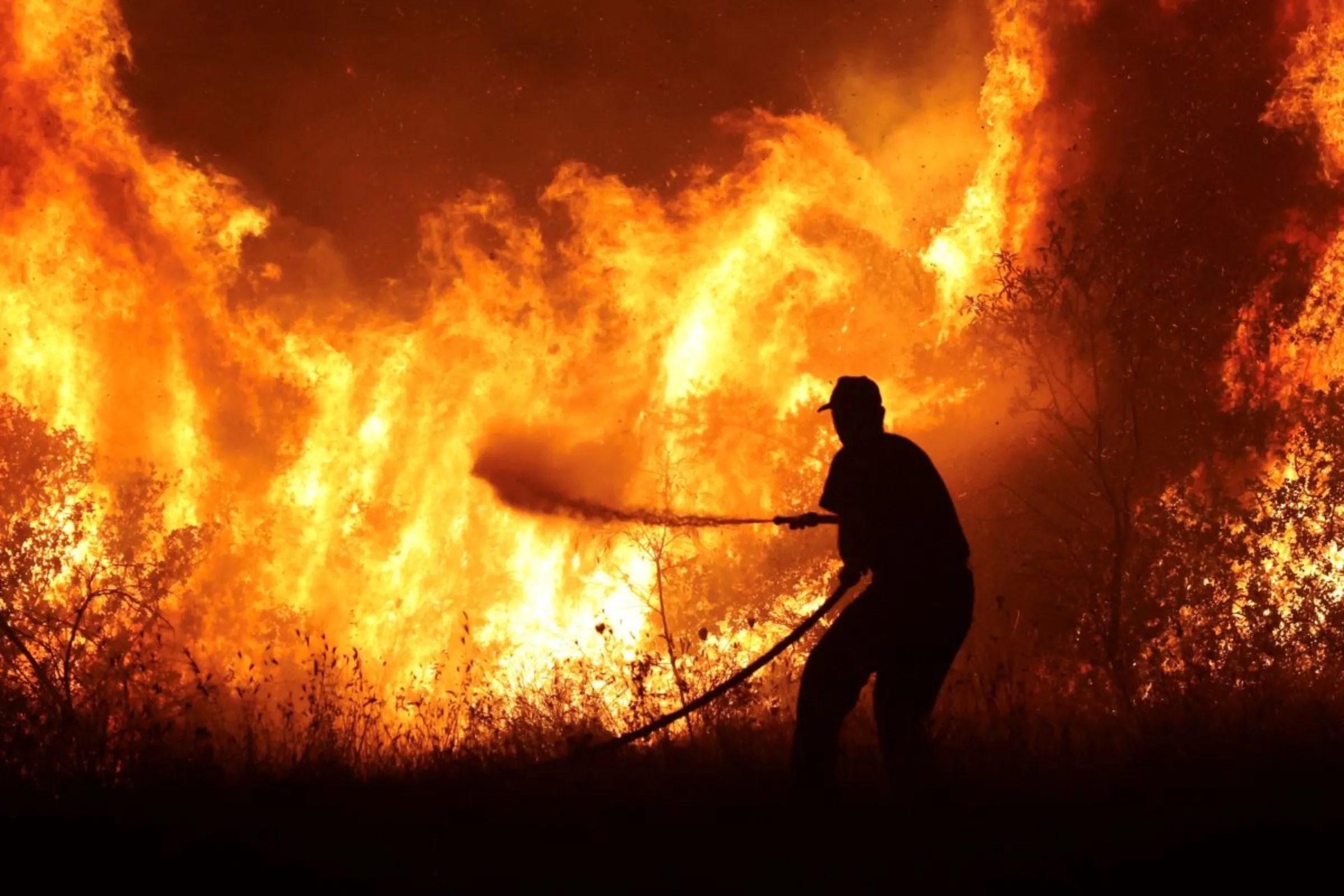 ---
Tags
Extreme weather

Adaptation

Climate policy

Forests
---