How can drought-parched Somalia break out of endless crisis?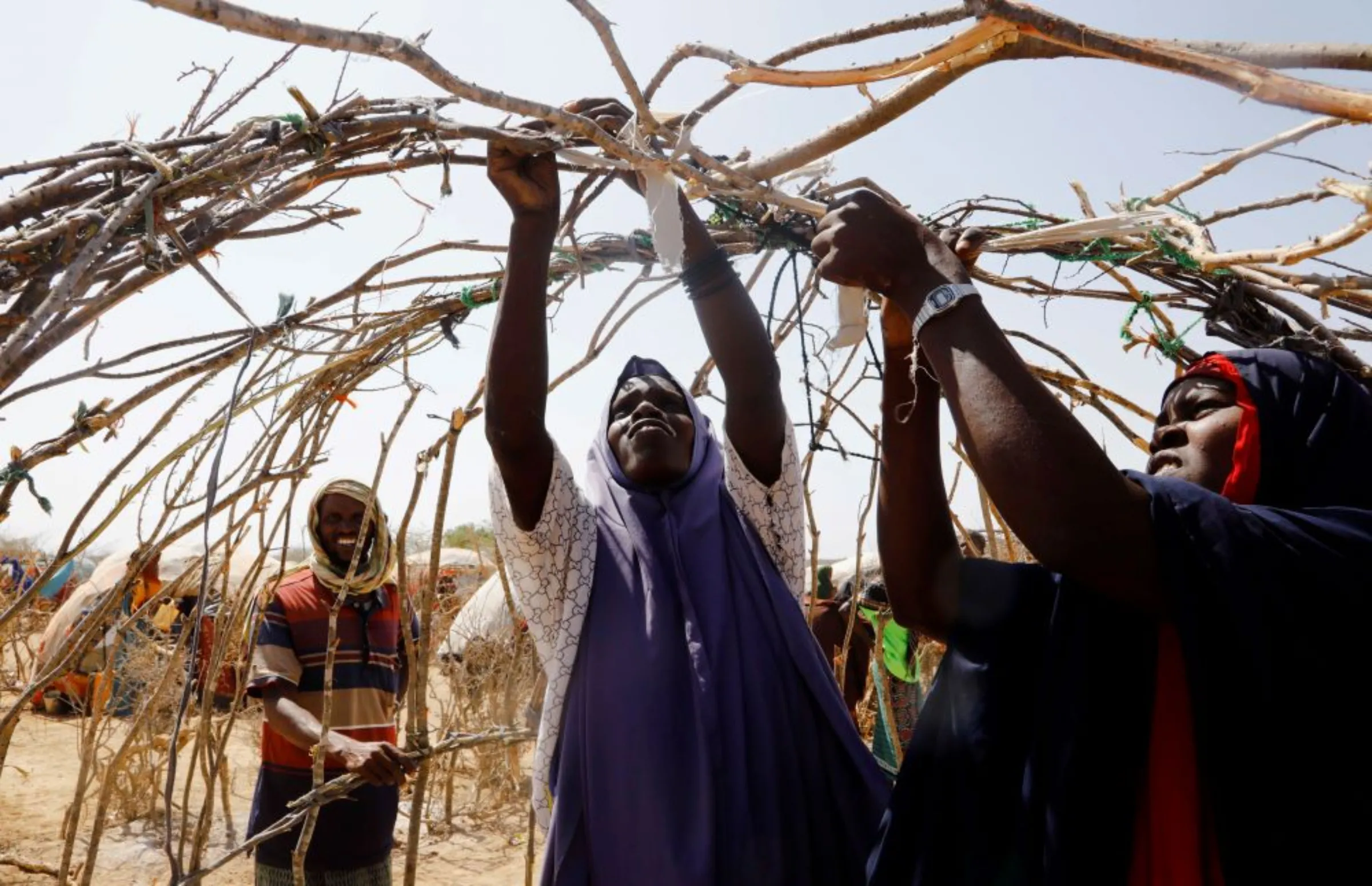 Somali women assemble a makeshift shelter within the Iftin Camp for the internally displaced people outside Baradere town, Gedo Region, Jubaland state, Somalia, March 13, 2022. REUTERS/Feisal Omar
What's the context?
Boosting drought resilience, in part by focusing on local priorities, could cut long-term need for humanitarian aid, experts say
After four failed rainy seasons, 44% of people face hunger
$2 billion annual spending has not built resilience
Focus on community priorities could cut need for food aid
Development cash and humanitarian aid have poured into crisis-mired Somalia in recent years, but Hassan Mowlid Yasin - the head of a climate change nonprofit - has seen little spending he thinks would build lasting resilience to worsening drought.
Emergency food supplies have arrived, he said, but not enough cash to fund the changes drought-hit pastoralists say they want, such as better rainwater harvesting systems and deep wells with solar panels to help pull up scarce water.
"It's better to be resilient than in an emergency," said Yasin, executive director of the Somali Greenpeace Association, a nonprofit that since 2019 has supported communities to better understand climate threats - and work out their own solutions.
Local people "often know much better how to adapt," the 30-year-old said in an interview.
"When we ask a farmer (what to do), he says a well needs to be constructed for him so he doesn't have to leave."
Over the last half-decade, Somalia has received roughly $2 billion a year in development aid and humanitarian assistance from abroad, United Nations figures show.
But after four consecutive failed rainy seasons, more than 7 million people - or 44% of the population - face acute food insecurity, with more than 200,000 on the brink of starvation, according to the U.N. World Food Programme (WFP).
The dry Horn of Africa nation - populated mainly by nomadic pastoralists and riven by decades of civil war, worsening drought and economic woe - has long struggled to extract itself from seemingly perpetual crisis.
But Yasin said he has a pretty clear idea why things are not changing, after working with about 2,000 young people in the country on efforts to build climate change resilience.
"It's about the money," he said.
"When you ask donors for help there are a lot of demands and conditions: 'Have you worked for 10 years on this'?"
The constraints, designed to ensure money is well used, effectively exclude local organisations from accessing the funds they need to make local priorities a reality, Yasin explained.
To build a more resilient Somalia, "we have to change the narrative that local people do not have the capacity to manage finance," he said.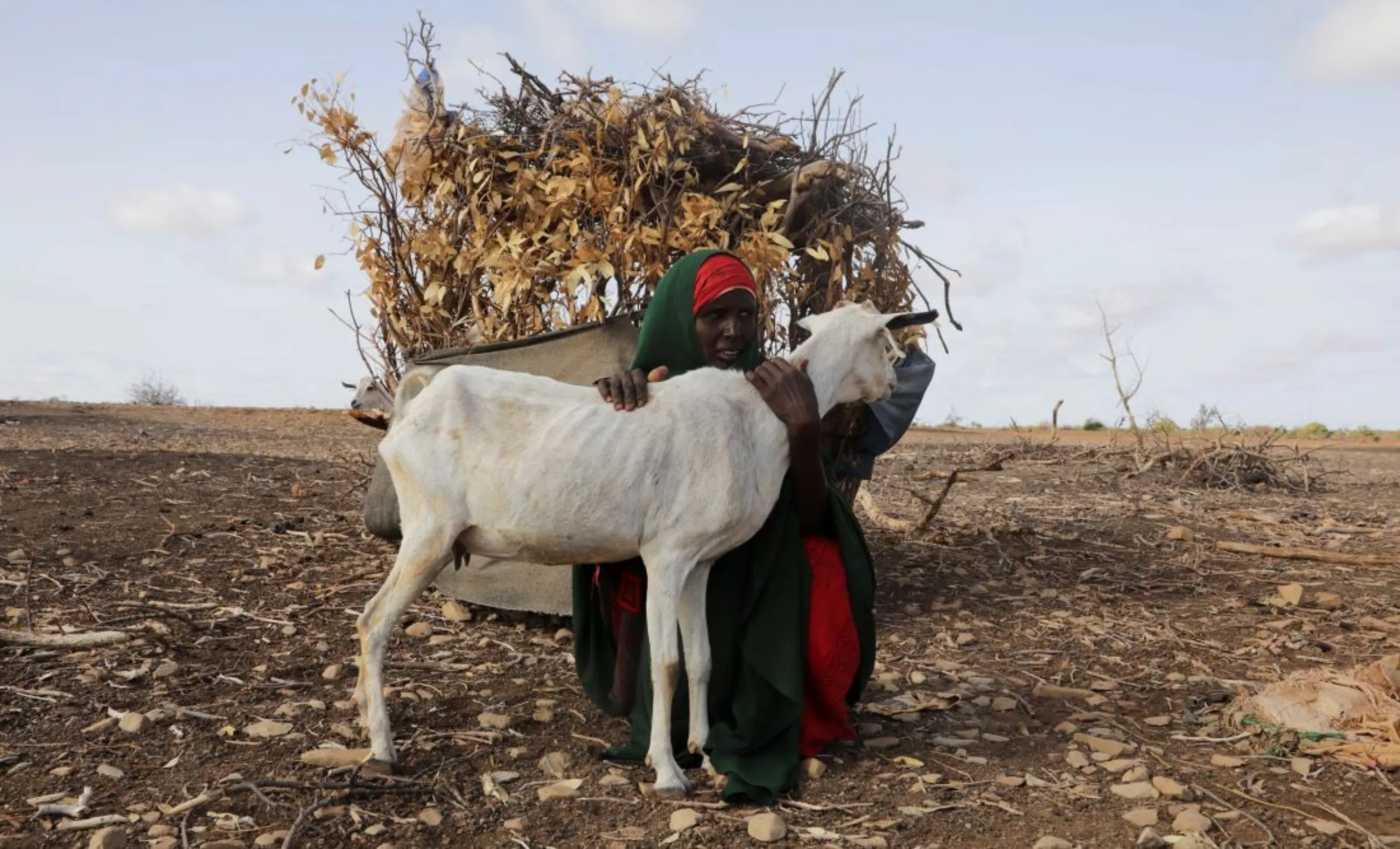 Cash in hand
One way to funnel more money toward local priorities is to offer direct cash transfers to those at risk during droughts, to help them avoid losing key assets - like their last animals - and falling into an unrecoverable downward spiral.
Such "anticipatory action" - or providing assistance when a crisis is still on the horizon - can help avoid heavy spending later on food aid and other support for those flattened by disasters including drought, according to resilience experts.
The U.N. Food and Agriculture Organization (FAO) has estimated that every dollar it has spent on anticipatory action has produced $7 in benefits, and avoided losses for families.
Such savings are crucial as climate disasters become more frequent and severe, with humanitarian aid falling increasingly short of meeting demand, and a new U.N.-backed fund to cover "loss and damage" from climate change still being established.
But funders are often reluctant to hand over cash in places such as Somalia out of fear it could be misused, said Clare Shakya, director of climate change research at the London-based International Institute for Environment Development (IIED).
"As soon as you get into conditions where it's considered to be fragile in any way, there's a sense you have to control it so no funding is lost or misused for things like terrorist activity," said Shakya, whose work focuses on making climate finance more inclusive and equitable.
"Donors ask: 'What will this funding buy?'. They don't want to provide a cash transfer and trust communities know what they need," she said in an interview.
The result, as early cash to help families weather worsening drought falls short, is that humanitarian aid spending on those flattened by disaster is surging and budgets for resilience-building are disappearing.
"The prevention agenda, the resilience agenda, is going to be left behind. There's no budget space to experiment," Gernot Laganda, WFP's climate and disaster risk reduction chief, warned in an interview.
Ahmed Amdihun, who coordinates disaster risk management efforts for a climate prediction centre under the East African Intergovernmental Authority on Development, said he also saw development and resilience efforts faltering amid unrelenting drought.
"We are dealing with the crises, the emergency response rather than (anticipating)," he said during an online event. "That has a consequence, always."
Ideas for change
Some efforts in the region to build greater resilience to climate threats might provide a model for action in Somalia, said Shakya of IIED.
Since 2005, Ethiopia has operated a Productive Safety Net Programme, which pays food-insecure rural communities to plant trees, restore degraded land and water channels and help build public infrastructure.
The initiative - designed to replace food aid handouts - has helped cut hunger, restore water supplies, build greater resilience to drought and shore up farming and local economies.
Kenya's government, in turn, has made a decision to drive much more climate and development cash to local authorities, leaving them to decide how best to use it.
That has led to some innovative efforts to, among other things, reduce conflict among water-short communities in arid northern Kenya, according to Shakya.
A range of aid donor countries - from the United States and the Netherlands to Norway and Finland - are similarly thinking about how to deliver more cash directly to local communities, she said.
In Somalia, finding ways to channel cash donations and remittances sent by a large overseas Somali population into a more effective social protection system could also be one approach to boosting resilience, Shakya added.
"Even in fragile contexts, you can still do things in a different way," she noted.
Yasin, of the Somali Greenpeace Association, said that with losses growing in Somalia, change could not come fast enough.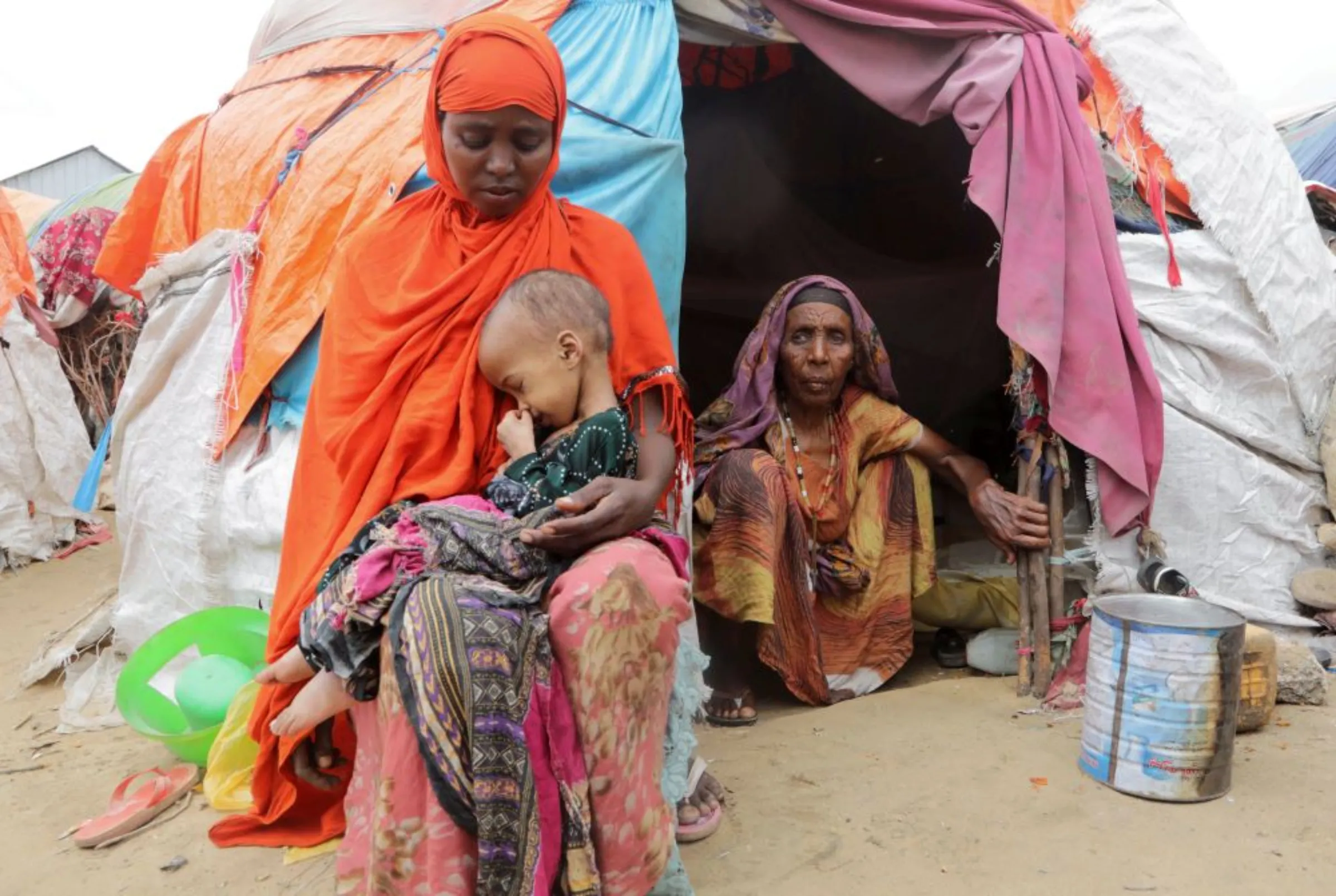 As livestock deaths, displacement and hunger surge, with the drought showing little sign of letting up, the country's basic livestock-based economy is at risk, he said.
"If we don't protect the livestock, most of the people will be jobless, many of the people will die of hunger," he warned.
"Our president says if we don't stop the climate crisis in Somalia it will not only affect Somalia, it will cross borders," he added - including as more families migrate and the need for internationally funded humanitarian relief soars.
Building greater resilience now, by focusing on what drought-hit local people think will best help them adapt, is crucial, Yasin said.
"If we don't put plans in place, we end up always in the same point: Needing international support," he said.
(Reporting by Laurie Goering; editing by Kieran Guilbert)
---
---
Tags
Extreme weather

Adaptation

Climate inequality

Loss and damage

Water
---