Zimbabwe looks to public to provide solar power amid energy crisis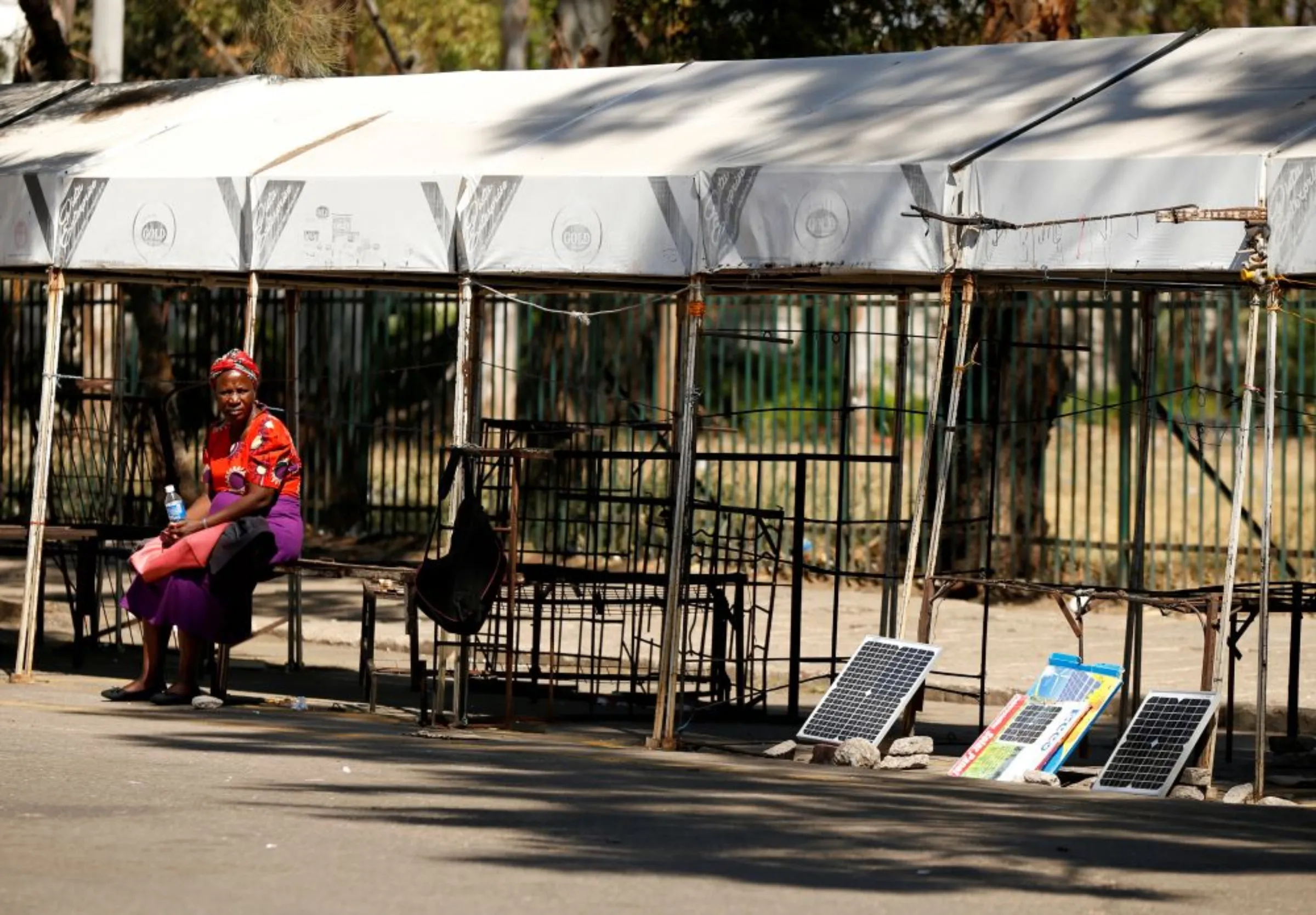 A solar panel vendor waits for clients at a market, after Zimbabwe police banned an anti-government demonstration in Bulawayo, Zimbabwe, August 19, 2019. REUTERS/Philimon Bulawayo
What's the context?
Zimbabwe wants to expand its net metering system to harness more renewable energy to the grid in the face of electricity shortages
Zimbabwe seeking solutions to worsening power crisis
Solar system owners encouraged to supply to the grid
High costs and logistical issues keep participation low
BULAWAYO, Zimbabwe - As lingering droughts hit southern Africa's hydropower dams, Zimbabwe faces growing electricity shortages - but connecting individuals and businesses that have installed private solar panels to the national grid could help fill some of the gap.
Farmer Kalani Ndlovu, for instance, wants to expand his 13 kilowatt (KW) solar mini-grid - used to pump well water to fill a farm reservoir - and sell the excess power to the state.
But Ndlovu - who has a farm in Umguza, in Matabeleland North Province - worries about the cost of the device he needs to connect his mini-grid to the Zimbabwe Electricity Transmission and Distribution Company (ZETDC), the state-owned distributor.
The grid-tied inverter would cost him at least $2,000, a significant outlay on top of the about $5,000 the commercial farmer spent on his solar power system back in 2019.
"Money to invest in solar equipment is lacking," he said in a telephone interview from his 840-hectare (2,000-acre) Mjayeli Farm, where he grows maize and soy and rears cattle.
"But I want to tap into the net metering project and supply the grid," he added.
Zimbabwe's net metering system, launched in 2020, allows people who produce private renewable energy to transfer their excess generation to the national grid in return for electricity credits they can use when they do not have sufficient renewable supply.
The southern African nation is suffering a prolonged power shortage, especially after its main Kariba hydropower plant last month cut electricity generation due to low water levels.
Today the plant is generating only about a third of its installed capacity of 2,000 megawatts (MW).
As climate change-fuelled droughts lead to water shortages at Kariba, the country's ageing coal plants also are frequently breaking down.
Blackouts of up to 20 hours a day are now common.
In response, the government has announced a variety of measures to boost power supplies - from harnessing more electricity from independent power producers (IPPs) to importing more energy from neighbouring nations.
The country has said it also wants more individuals like Ndlovu - as well as companies, IPPs, and even schools - to sell the excess power they generate via net metering.
However, Sosten Ziuku, director of renewable energy in the Ministry of Energy and Power Development, acknowledged the high equipment costs for net metering users - especially individuals rather than IPPs that tend to operate on a larger scale.
"So we are looking at a situation where we can do bulk procurement of those meters to reduce cost," he said, referring to solar smart meters that measure the flow of energy in both directions.
But some analysts and lawmakers have questioned whether the net metering system - with 117 active users and a total power capacity of 4.9MW at present - can be relied upon or scaled up sufficiently to genuinely address the worsening energy crisis.
"You can put as many meters as you want but if the power is not there it's a waste of time," Tendai Biti, a politician and former finance minister, said in an interview.
"The primary challenge is generation and Zimbabwe needs to create urgently 2,000MW of fresh power," he added.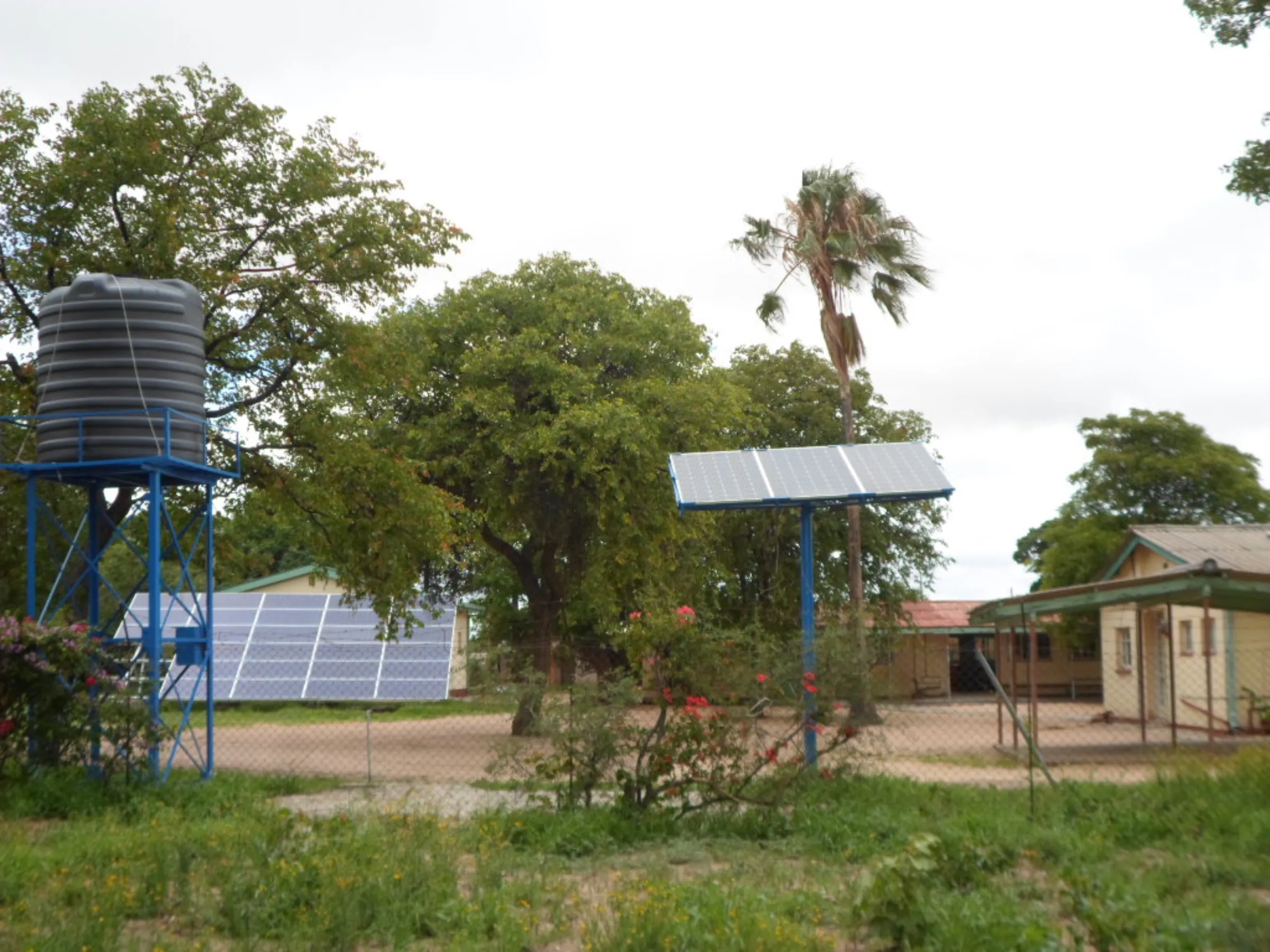 Costs and funding
Under the country's net metering regulations - first laid out in 2018 - domestic users were to receive an electricity credit of 0.9 kilowatt-hour (kWh) for each kWh of power they exported to the national grid.
But the regulations were updated last year, and the value of the credit was reduced to 0.8 kWh.
Some solar sector players have criticised both slow progress in expanding net metering and how the system functions.
Taona Jakachira, chief technical officer at Distributed Power Africa - a renewable energy firm - said net metering was "not fully functional" due to issues with the billing technology that determines how many power units suppliers should receive.
Still, the system "will go a long way in complementing the government's effort to provide power to its people", he added.
But high costs remain a major stumbling block.
Mihlayifani Ncube, a technician at the firm Solar Village Renewable Energy Solutions, said it was pricey for individuals to even install solar grid systems, let alone afford the additional equipment required to connect to the national grid.
"Load-shedding (power cuts) has driven a lot of people ... to install solar systems to power their homes as back-up systems to use when there is no electricity - but not to supply the grid because of costly inverters and solar meters," Ncube said.
Zimbabwe last month launched a $30 million renewable energy fund as part of a United Nations Sustainable Development Goals (SDG) initiative. The government said it would provide support to regular small and medium-sized firms for renewable projects.
Ziuku said the money was earmarked for loans for "private sector players ... (to) come into renewable energy" and would support government efforts to increase national power supply.
In a separate development, Zimbabwe last month announced incentives to support $1 billion worth of privately-owned solar energy projects by IPPs, covering 27 projects with a cumulative capacity of about 1,000 MW.
Zimbabwe has a target of generating 1,100MW of clean energy by 2025, and 2,100 MW by 2030, but this has been hindered by a lack of investment by IPPs with the nation's economy reeling.
Challenges ahead
Zimbabwe has in recent years sought to boost take-up of renewable energy through measures such as removing import duties on solar-energy-related products, requiring all new construction to include solar systems, and introducing net metering.
Biti, the politician, has been lobbying the government to remove all import taxes on equipment or components used for renewable energy, including the 15% value-added tax (VAT) rate.
But Abe Cambridge, chief executive of Sun Exchange, a South African renewables start-up that works in the region, said regulation was also a barrier to raising the nation's solar capacity.
There are challenges and costs associated with connecting to different municipal and network operators, Cambridge said.
He said solar system owners should be rewarded for providing "much-needed support to the grid at times of constraint", whether this was through electricity credits or money instead.
Potentially, the right incentives could pull in even smaller solar panel owners to help Zimbabwe's ailing grid, experts say.
In the southern city of Bulawayo, Buhle Siwela - whose husband has a business selling solar equipment - said their family had bought a system to power their home through blackouts.
"On a monthly basis I only use $15 worth of (grid) electricity for my home because I have a solar back-up system. You won't tell the difference when there is blackout at my house," she said.
Siwela said she was thinking about upgrading the system - bought in 2016 at a total cost of about $1,600 - to become a net metering user and supply excess energy to the grid.
"I'm considering adding two more batteries and some solar panels to one day feed into the power grid system. Solar energy has shown to be a dependable renewable energy source for me".
(Reporting by Lungelo Ndlovu. Editing by Kieran Guilbert and Laurie Goering)
---
---
Tags
Clean power

Adaptation

Energy efficiency

Net-zero

Energy access
---