Hockey or health? World Cup sucks cash from poor Indian mining hub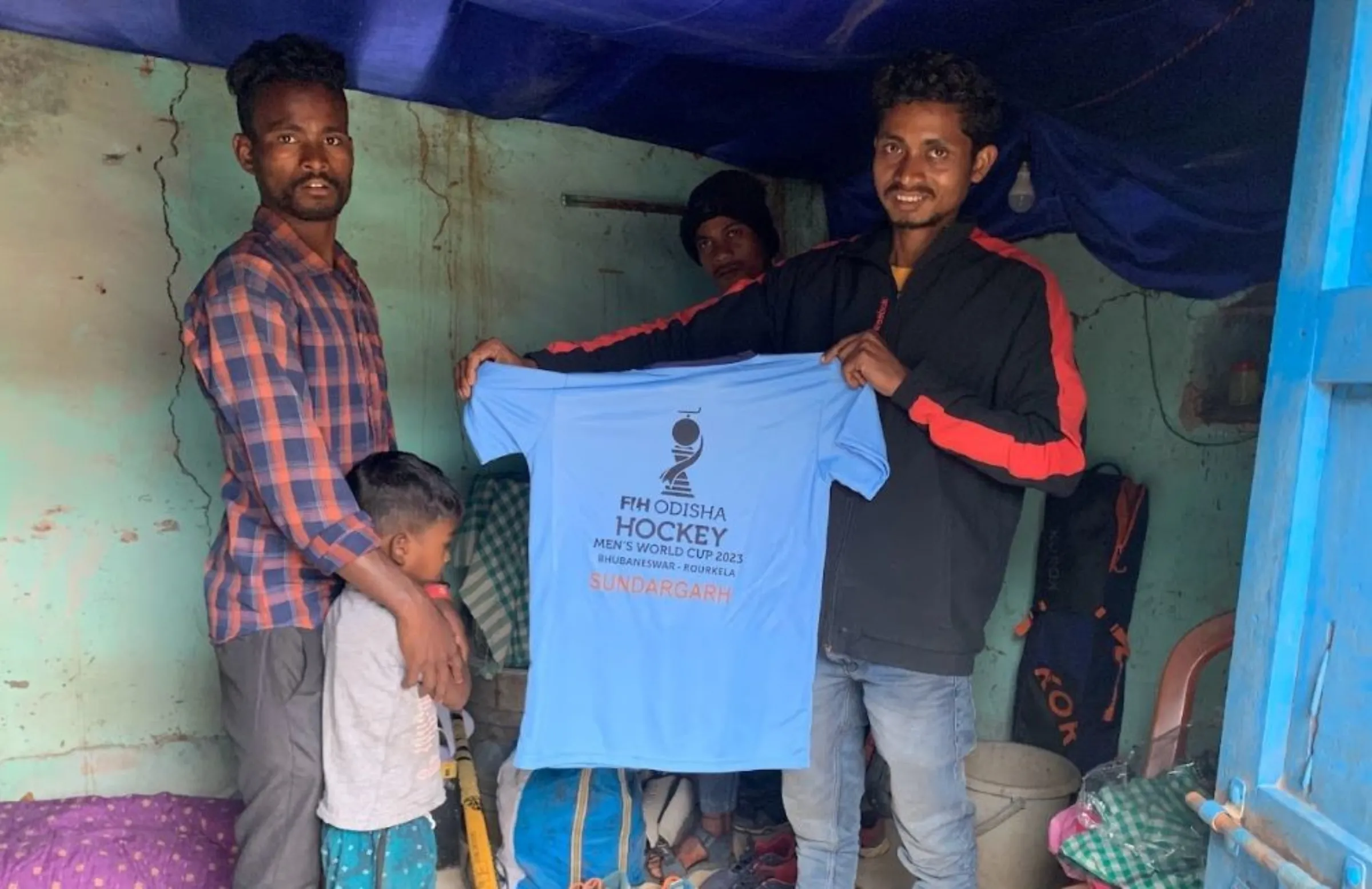 Mahesh Beck (left) and Bimal Ashok Minj pose with a t-shirt for the 2023 men's field hockey World Cup in Sumura village in eastern Odisha, India, December 10, 2022. Anuradha Nagaraj/Thomson Reuters Foundation
What's the context?
Millions spent on tournament in mining areas of Odisha state where people are demanding clean water, jobs, healthcare and roads
India is hosting the 2023 Men's FIH Hockey World Cup
Stadiums and grounds built using mining welfare funds
People in coal region struggle for clean air, water, jobs
SUNDARGARH, India - Every Sunday, Mahesh Beck plays field hockey on a dry patch of land near his village in eastern India. Yet he had not heard of the men's hockey World Cup happening in his state, or that a new multi-million-rupee pitch had been built 30 km (19 miles) away.
The field in Hemgir in Odisha state - which is hosting the 2023 Men's FIH Hockey World Cup this month - is one of 16 new pitches and a 20,000-capacity stadium funded with cash allocated to improve the lives of local communities impacted by mining.
Odisha's sports and youth services minister said in November that the state had budgeted about 11 billion rupees ($133 million) to host the tournament.
Given the affinity for hockey in the mineral-rich belt - where every village has its own team - regional officials have said the new infrastructure was built in rural areas to give budding hockey players easier access to world-class facilities.
Yet there have been recent protests in Odisha state - by villagers, charities and politicians - over the investment in hockey infrastructure using money set aside to boost local welfare, when communities are struggling with pollution, land degradation and water scarcity they say is caused by mining.
And many people, like Beck, say that the new 98 million-rupee ($1.18 million) Hemgir ground is unlikely to improve their lives - especially when there are more urgent issues to address.
"I didn't know about the new ground ... (that) such a big hockey event was happening," said Beck, 24, on the sidelines of a village meeting last month to discuss local forest rights amid growing fears of losing land due to mining expansion.
"Besides, I can't afford to buy a ticket and watch a single match," said Beck, who ekes out a living selling forest produce, growing a bit of rice, and working informally in coal mining.
Odisha's Sundargarh region - where Beck lives - is rich in coal and iron ore. The expansion of coal mining is considered key by the government to meeting India's rising energy demand, while iron ore feeds the numerous steel industries in the area.
However, charities have objected to the spending on the upcoming tournament, saying it is a "misuse" of funds meant for a "just social transition" that considers local communities' jobs and welfare needs in villages that are affected by mining.
They have called for more money to go to "high priority" social goals like healthcare, education and jobs, as mandated by rules governing the spending of funds collected from mining companies and handed out by District Mineral Foundations (DMFs).
DMF rules state that local communities must be involved in funding decisions, but villagers in Sundargarh said they were not consulted and that their consent for supporting the hockey tournament was assumed.
"This is a community-driven fund and they should have a say in what is essential for their development and well-being," said Oram Deme, president of Anchalik Surakshya Committee, a group working for indigenous people's rights in Sundargarh.
"People are told funds are there, don't you want to spend it and their nod is taken as an informed approval," Deme added. "Nobody knows what the plan is once the World Cup ends - who will maintain these grounds and who will really play here?"
State politician Shankar Oram, who sits on Sundargarh's DMF trust board, said that "money was allocated for hockey without discussion with the communities".
'Cradle of Indian hockey'
There are nearly 600 hockey teams in Sundargarh, which is often called the "cradle of Indian hockey" due to the number of players from the district who have played for the national team.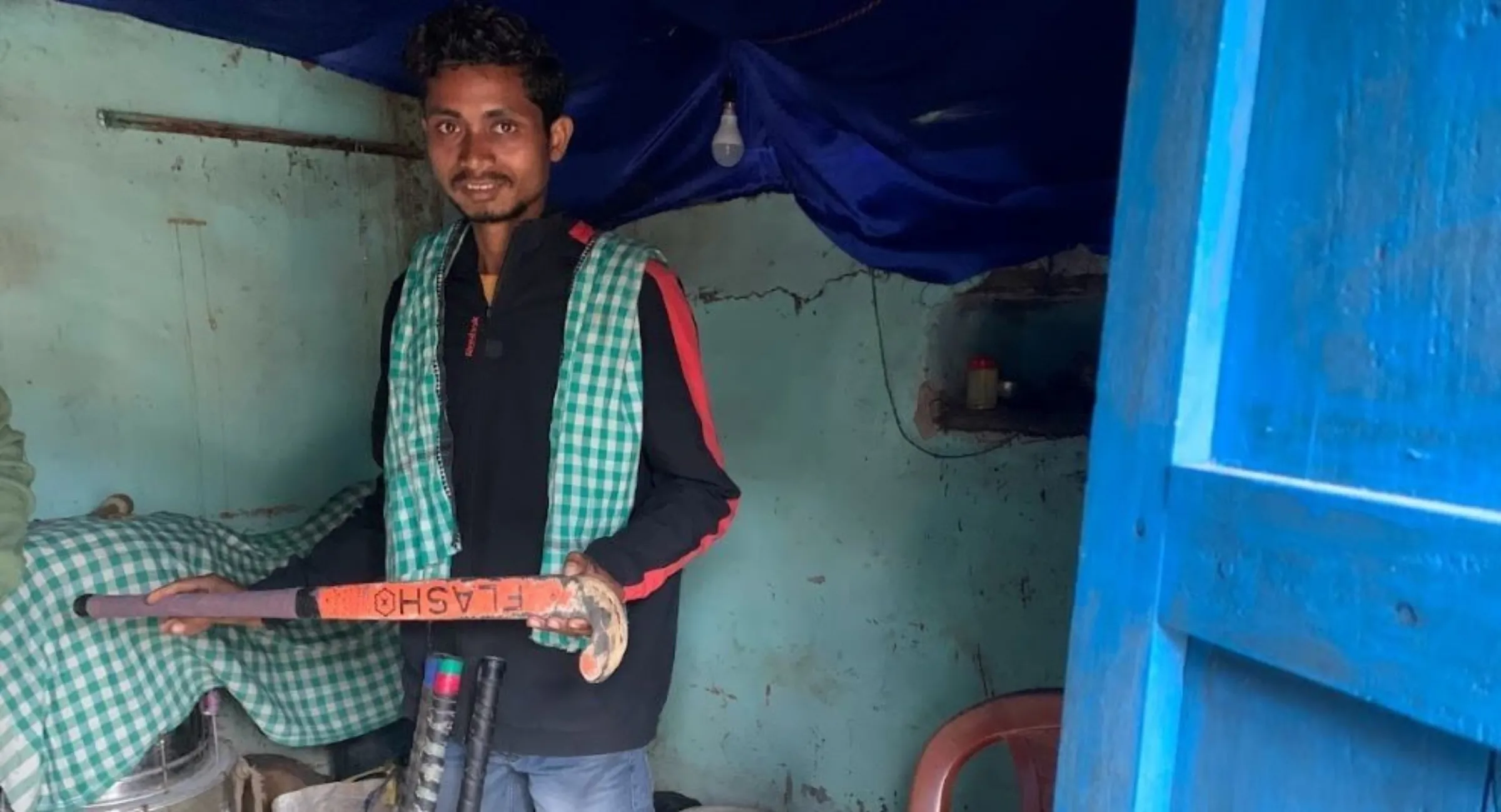 "Except for two months of monsoons, the game is played every week," said Susanta Behera, a sports writer who is working on a book to document the history of hockey in Sundargarh.
"You can gauge its popularity by the fact that at weddings, hockey sticks are gifted to couples."
The administrative head of Sundargarh, Gavali Parag Harshad, said the government was tapping into the area's love of hockey, and that using the welfare funds to build a stadium and the 16 pitches was in keeping with the DMF's rules.
"'Why not spend on sports?' has been my question to those who criticise the idea," Harshad said.
"Players in every administrative block in the district will get a feel of playing on an international field. There will be changing rooms and gyms attached to the fields. Investing in sports is good."
Last month, Sundargarh organised hockey tournaments to raise awareness about the upcoming World Cup, which starts on Jan. 13.
Beck's team played and lost, and he received a T-shirt bearing the logo of the event. He could not read what it said.
Coal jobs scarce
Beck lives on the fringes of open-cast mining operations run by Mahanadi Coalfields, a subsidiary of state-run Coal India, in Basundhara.
Through the DMFs - set up by the Indian government in 2015 - mining leaseholders like Mahanadi Coalfields must contribute 10-30% of their royalties annually to improve welfare and job opportunities in areas impacted by the industry.
DMFs, which have been set up in 600 districts across 21 states, held more than 600 billion Indian rupees ($7.2 billion) as of March 2022, according to mining ministry data.
Contributions to the funds rose by almost 25% compared to the previous year, reflecting an increase in mining activity, according to a October report by the Mineral Inheritors Rights Association and the Environics Trust, two NGOs.
Yet, report co-author Saswati Svetlana said the study across four states showed that "many projects that DMF websites indicate as sanctioned and completed do not even exist".
Villagers living around mines have not really benefited from DMF spending, and in the absence of audits, there is no check on how the money is spent, she added.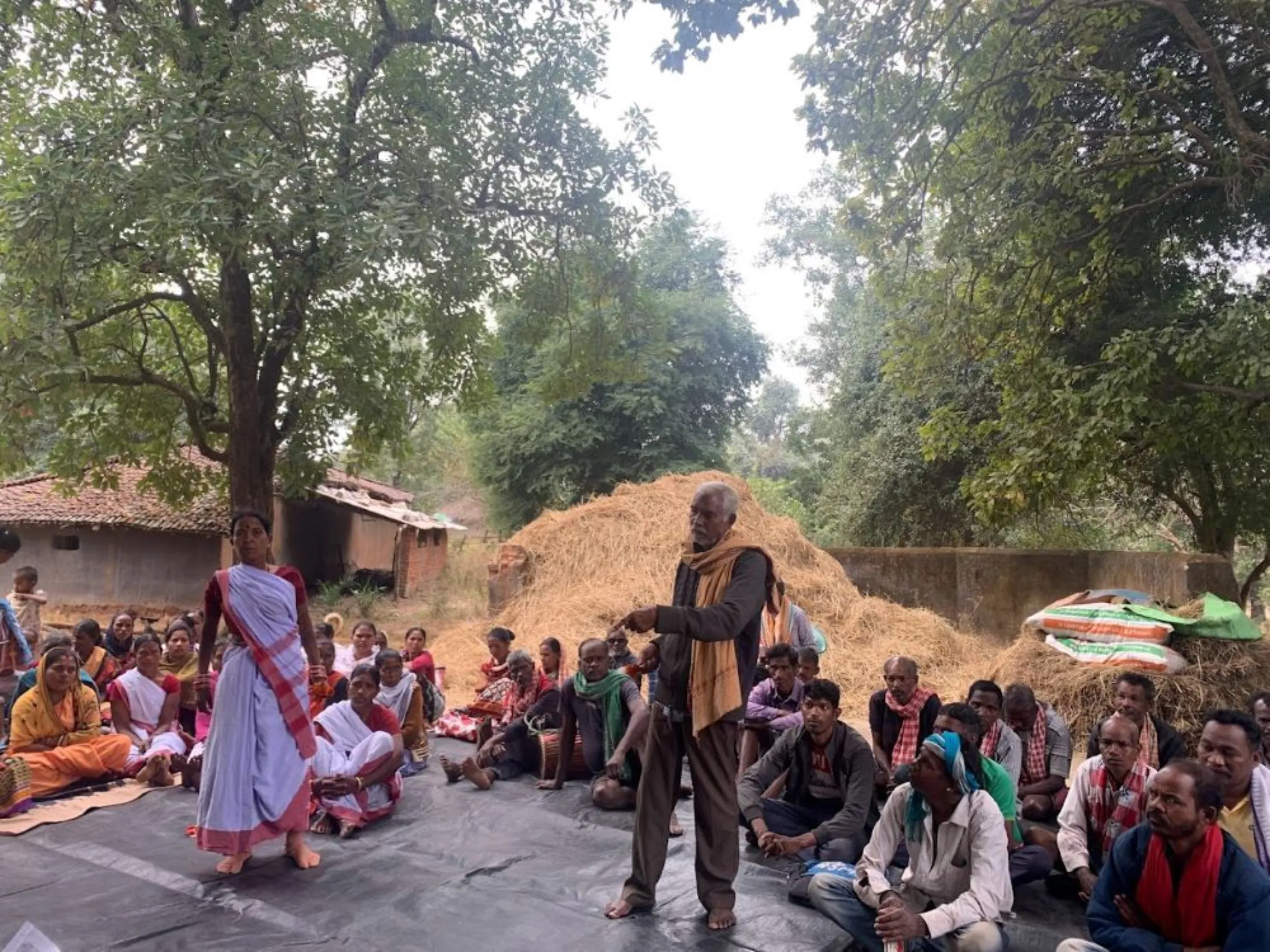 At the recent meeting in Beck's village, worried residents discussed the possibility of mining reaching their doorstep.
"We know there is coal buried deep under our land," said Beck's uncle Leious Kugur. "We are trying to understand our rights and how we can apply for land ownership certificates under the Forest Rights Act," the 55-year-old added.
"Laws are changing, being altered and mining is increasing. If we don't have our paperwork in order, we will get nothing."
At the heart of protests over mining and the perceived misuse of DMF welfare funds lies the fundamental fear "that everything will be lost and nothing gained", said Himanshu Upadhyaya, assistant professor at Azim Premji University.
Upadhyaya, who has tracked DMF audit reports and spending, said the fund was meant specifically for local development and not to build infrastructure in towns many kilometres away.
"There should be great concern about it being used to make hockey fields because it has a special purpose, and it is very hard to see how hockey can change the lives of people who have been displaced, lost land or have no sustainable job."
Beck earns 300 Indian rupees ($4) a day when he gets a chance to work at the coalfields, loading and unloading trucks.
"Our expenses are growing. But the forest produce we gather is reducing, as is the farm produce because of all the mining and pollution," he said.
"We see the mining expand, but there are no good jobs for us there. The mines have taken more than they have given us."
(Reporting by Anuradha Nagaraj; Editing by Kieran Guilbert and Megan Rowling)
---
---
TAGS
Fossil fuels
Wealth inequality
Carbon offsetting
Climate and health
Climate inequality
Future of work
Economic inclusion
---