Climate finance will only work if we gift power to the people, not governments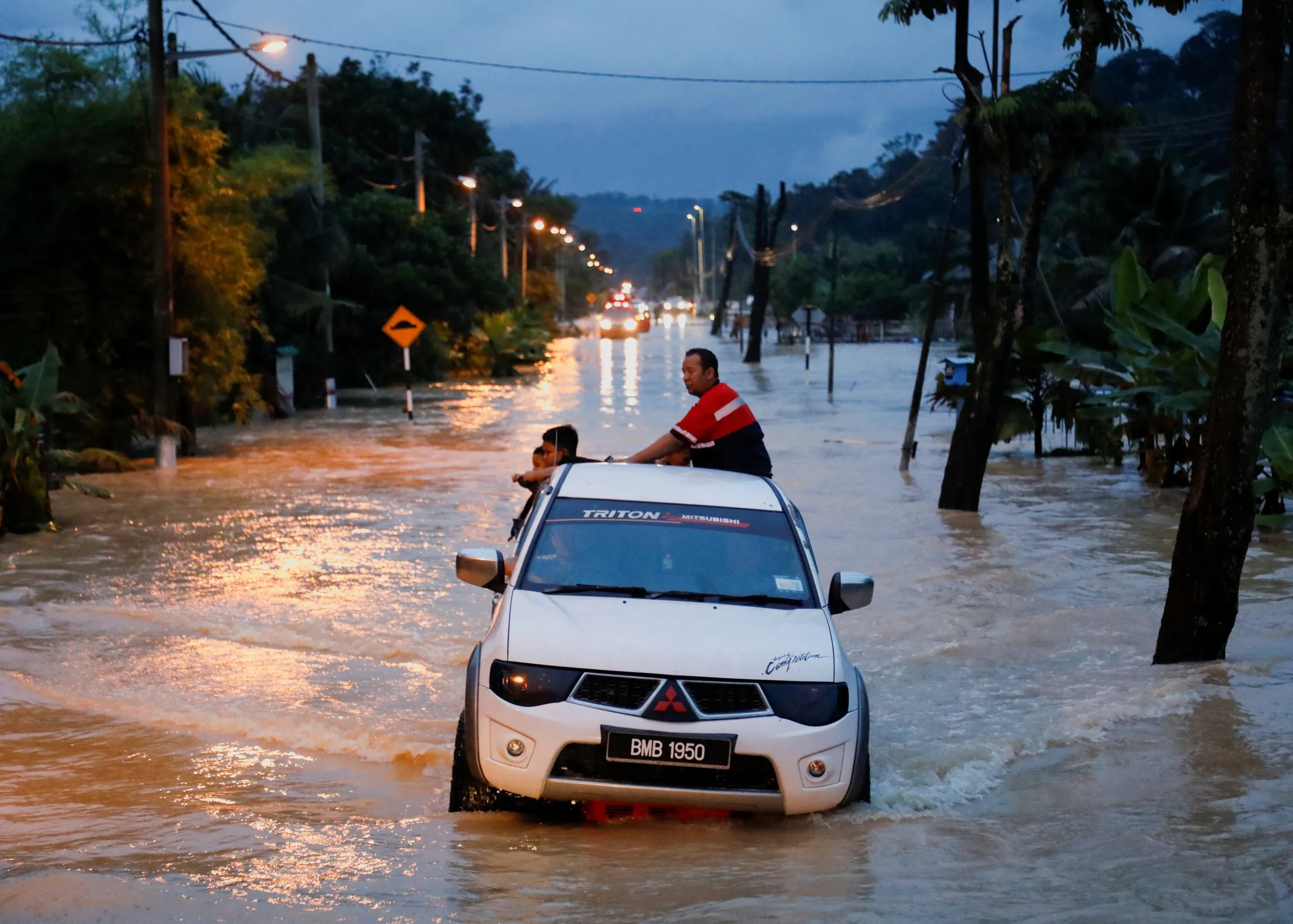 A pickup truck wades through a flooded area, following heavy rainfall in Klang, Selangor, Malaysia November 10, 2022. REUTERS/Hasnoor Hussain
As richer countries prepare to dig deeper for climate finance, such funds are vital but will only make a difference if handed to communities
Tim Flannery is the chief climate councillor at the Climate Council
In the year leading up to COP27, an extreme weather record has been broken on every continent on earth. The climate crisis is now so immense, it threatens the lives of millions, if not billions.
But there is hope. It's now clear that this is the COP when wealthy nations will finally seriously consider additional climate finance to help poorer countries deal with the devastation.
COP27 will not see big dollars committed, but countries may establish loss and damage as a new stream of funding and agree on a process to assess how much is needed and how it should be delivered.
It will also make progress on a new global climate finance goal to kick in from 2025 - a successor to the long-standing commitment to provide $100 billion a year in support for climate action in developing countries.
However, once this is worked through and the money starts coming in, we cannot allow a single cent of this money to end up in the wrong hands. To do so may forfeit the chance to improve and even save the lives of millions.
A war in Ukraine is being waged by an evil dictatorship that is fueled and funded by fossil fuels. Putin wants to disable Ukraine by attacking its energy sources, which are fossil based and therefore concentrated and vulnerable.
We must ensure that such wars are never possible again by distributing energy and water security to the people.
As COP27 negotiations progress we must focus, in the first phase at least, on helping people in the greatest need.
This means bypassing corrupt and self-serving governments. This is because independence from fossil fuels is power. Being free from the shackles of fossil fuels allows individuals to live with dignity.
The worst outcome from new agreements on climate finance would be if billions ending up in the hands of autocracies and dictatorships. They will use it to construct gas plants (as a supposed bridging fuel), massive hydro plants and mega wind and solar projects to power military industrial complexes.
And we can anticipate that they will skim money off at every level, so that actual progress is minimal. Challenging this outcome will be extremely difficult. But it is possible.
There are tens of thousands of non-government organisations working with local communities to grant people in the world's most impoverished places the gift of agency and autonomy over how they power their neighbourhoods, villages and communities.
Regrettably, far too many oppressive governments have banned the work of these vital charities in their countries because they fear the empowerment of their own citizens.
We should be distributing funding for every village in every developing nation to give them dignity, control over their lives and better health. All of this will provide a powerful protection against the ravages of a changing climate.
With access to money, communities might choose to install solar panels on every roof in their village, avoiding the fires that cause respiratory conditions, and allowing light so children can study at night.
They might opt to provide street lighting to protect women and the vulnerable. Or they could invest in community batteries so that refrigerators for vital medicines and charging for mobile phones is available.
Water tanks can greatly reduce diarrhoeal diseases and spare women and girls hours every day carrying water from distant, polluted sources. So, we must begin with asking the people what they need, rather than leaving it up to governments to decide.
There is also massive potential in establishing community associations with gender equal representation. I have seen this do wonders in Papua New Guinea and the Solomon Islands.
These associations have boards, they can open bank accounts and can convene to agree on what the community needs most. This is how we put money in the hands of the people, not oppressive governments.
I've heard some commentators say that this year's COP27 'isn't a big one'. But that's untrue - this year's COP is on the cusp of being totally transformative. Climate finance has the potential to change the world as we know it.
The new funding being considered at COP27 could improve the lives of billions of people. But only if we, who are fortunate to live in wealthy nations, are strong and determined in our negotiations at COP27, and refuse to put unprecedented power and money in the hands of those who may misuse it.
---
Any views expressed in this opinion piece are those of the author and not of Context or the Thomson Reuters Foundation.
---
Tags
Adaptation
Climate finance
Climate policy
Climate inequality
Loss and damage
---