Like Wakanda, the real Africa is rich in world-saving metals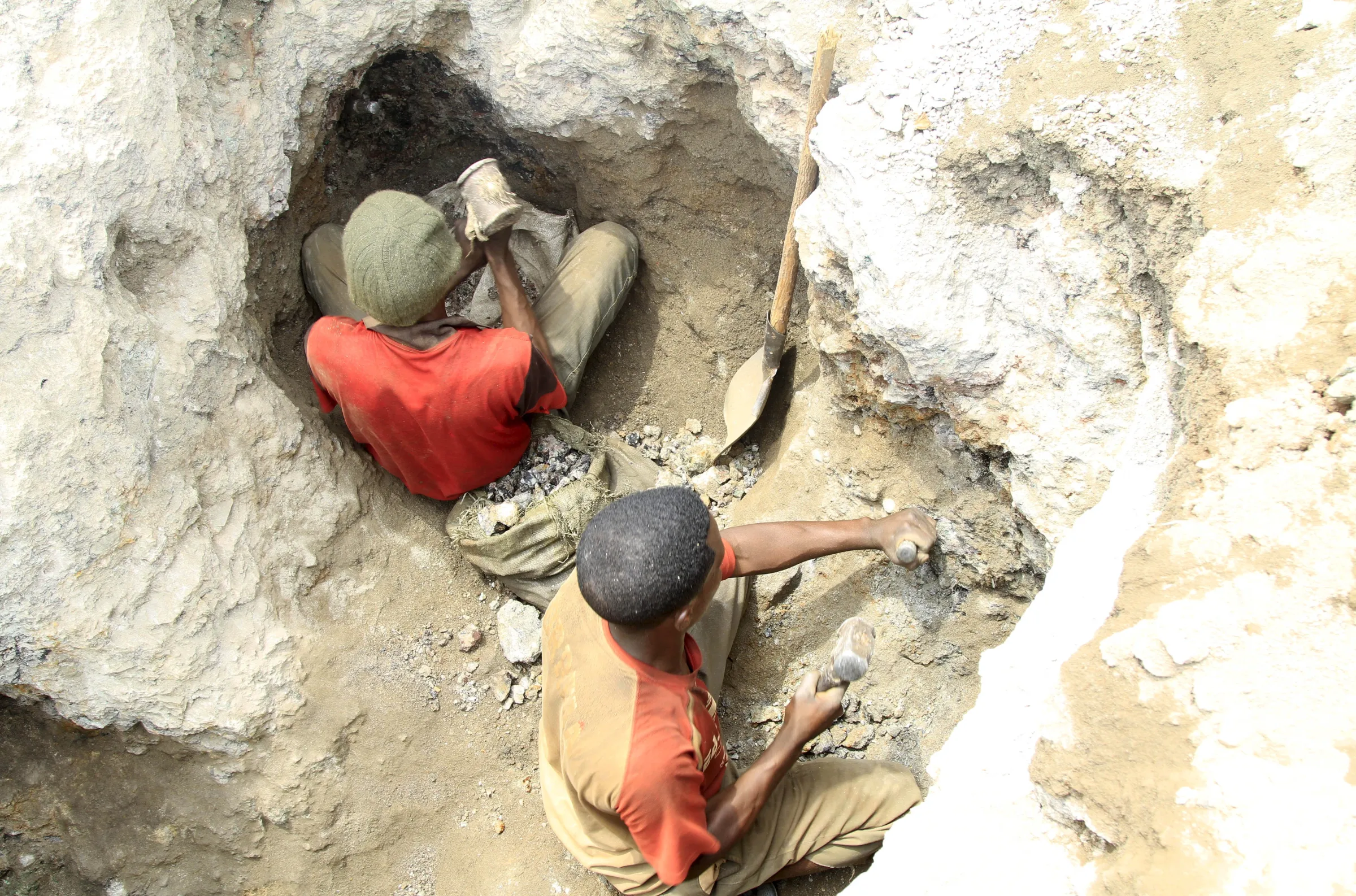 Artisanal miners work at a cobalt mine-pit in Tulwizembe, Katanga province, Democratic Republic of Congo, November 25, 2015. REUTERS/Kenny Katombe
COP27 must pay attention to Africa's crucial 'transition minerals', like Black Panther: Wakanda Forever's world-saving vibranium
Thomas Scurfield is a senior Africa economic analyst at the Natural Resource Governance Institute (NRGI), David Manley is NRGI's lead economic analyst for the energy transition, and Silas Olan'g is the Africa energy transition advisor at NRGI.
This month, cinemagoers will flock to see "Black Panther: Wakanda Forever", seeking thrills from superheroes in the fictional African country which is rich in a world-saving metal vibranium. Meanwhile, in the real Africa, world leaders have flocked to the COP27 climate conference in Egypt, aiming for progress on agreed emissions reductions.
While the top brass at COP are surely too busy to catch a movie, the return of the Black Panther should remind them that African mining is highly relevant to their goals: buried in the soil of the host continent are the metals critical to moving away from humanity's reliance on fossil fuels.
The main task of world leaders and climate negotiators in Egypt is to secure the path to emissions reductions. Yet they're paying scant attention to the metals needed to move away from high-emitting fossil fuels.
These are the so-called 'transition minerals': essential inputs to the electric vehicles and infrastructure upon which a greener world will depend. But, as the International Energy Agency has highlighted, miners must extract much more metal to meet demand – and quickly.
Increasing the metal supply in a sustainable way is a challenge. The mining and processing of metals itself generates about 10% of global emissions, destroys carbon sinks like forests, and pollutes adjacent communities.
Many of the metals needed for the transition are in Africa. African countries hold a fifth of the reserves needed to make electric vehicles. And because these reserves are underexplored, there are likely to be even more metals in the continent's soil.
Yet African mining has been riddled with injustice. If nothing changes, Africa's minerals will be used to decarbonise wealthy countries' economies, while most Africans will not themselves benefit from extraction – even as they bear the brunt of climate change. African officials and civil society actors have rightly voiced objections.
Everyone, including climate advocates, has an interest in ensuring that Africans benefit from their minerals. Even if the world's well-off reduce their consumption and industry increases recycling of metals, meeting climate goals may require mining companies to triple investment over the next 15 years. But companies have been reluctant to expand investments, partly because they are wary of the risks of operating in parts of Africa.
These risks include uncertain returns on investment, particularly given the continent's relatively uncharted geology. Weak regulation and bureaucracy in many African countries typically delay the development of mines. Tax disputes with authorities are common. Governments, including those of the Democratic Republic of the Congo and Tanzania, have in the past banned exports of unprocessed minerals with little notice. It is not a reassuring picture for foreign investors.
Humanity needs a suite of policies that benefit people in African mining countries, accelerate the global energy transition, and mitigate and minimise environmental damage from mining.
What's missing isn't policy ideas, but rather renewed will to legislate and implement them. Companies, African governments, their development partners, and other donors and climate finance providers must act in concert. The African Union and other regional bodies are developing the African Green Minerals Strategy, which is a good start.
Also essential are economic development programmes to ensure that Africans benefit from their minerals. Mitigation simply isn't possible without more metal, but rallying citizens behind the climate fight will be easier if those most affected by warming also see economic benefit from the technologies used.
At COP27 and beyond, climate policymakers and private and public donors should engage with mining governance. And they can do this while achieving climate goals in other ways too, as we explain in new research.
How? They can fund geological surveys – but only outside of environmentally sensitive areas – to reduce geological risk for companies while discouraging mining in areas of critical biodiversity.
They can finance and support governments and companies to establish battery and electric vehicle value chains in Africa. This will reduce costs for the global battery industry and help to expedite Africa's own energy transition.
They can fund the development of Africa's vast renewables potential to power these value chains with low-carbon energy. They can support African companies to become competitive suppliers to the mining sector, not only to create jobs and profits for Africans but also to lower mining costs and thereby further accelerate transition.
As with many issues in the climate fight, the time to act is now. Only 28 years remain until countries representing about two-thirds of the global economy aim to reach net-zero emissions, and mines on average require 17 years to mature from discovery to the production.
Humanity cannot afford to repeat the mistakes that have beset Africa's mining in the past, and no superheroes will come to save us.
---
Any views expressed in this opinion piece are those of the author and not of Context or the Thomson Reuters Foundation.
---
Tags
Climate

Clean power

Adaptation

Net-zero

Climate solutions
---