Climate-resilient homes in Bangladesh aim to put communities first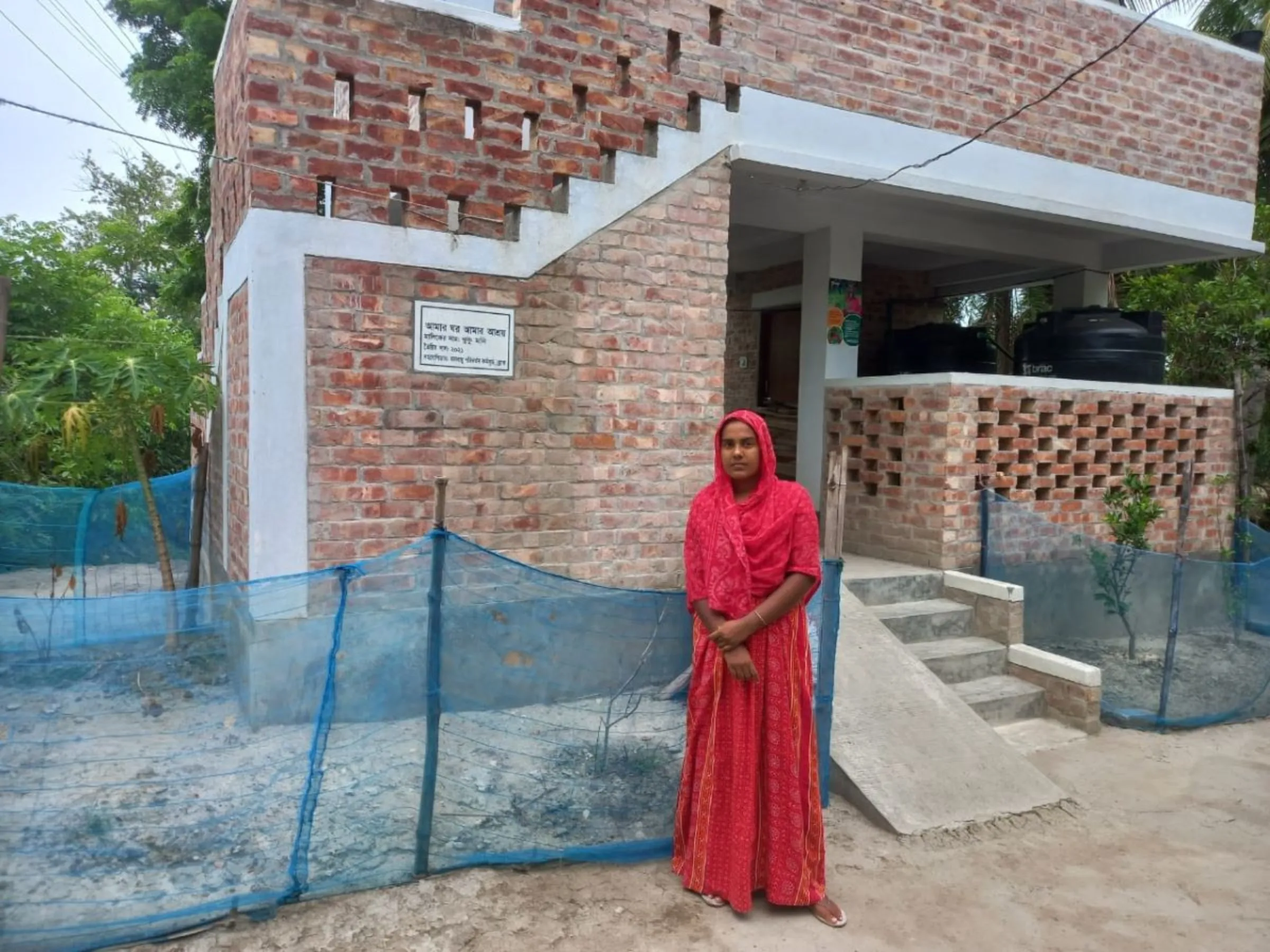 Khuku Moni, 35, poses before her house built with the support of the development organisation BRAC that protects her family as well as her neighbours from seasonal storms, June 8, 2023, Thomson Reuters Foundation/ Md. Tahmid Zami
What's the context?
Architects and aid groups invest in climate-proof housing to withstand disasters - but say the Bangladeshi government must step up
Various climate-proof housing models tested in Bangladesh
People share spaces and resources to protect themselves
Government lacks plan to guide, link standalone efforts
SATKHIRA, Bangladesh - Just a few years after Khuku Moni bought a small plot of land in southern Bangladesh and built a tin-shed house, Cyclone Amphan badly damaged it in 2020 - leaving only one room intact.
The 35-year-old said her family had been unable to move to a shelter for victims of the cyclone - her son is mentally impaired, her mother-in-law too elderly and they own livestock - leaving them no choice but to reside together in the one room.
However, three years on, Moni's family now live in a two-storey brick house - funded and built by Bangladeshi development agency BRAC - which was designed not only to withstand strong winds but also to provide shelter to neighbouring families during storms.
"We are much better off now in the new house," Moni said at home in the coastal district of Satkhira. "We are safer from dangers and my kid lives in a better place, while in the lower floor we have safe space for keeping our cattle and poultry."
Low-lying Bangladesh is particularly vulnerable to worsening climate change-fuelled threats - from floods to cyclones - and the homes of ordinary citizens regularly get damaged or destroyed when disasters strike.
When Cyclone Mocha battered parts of Bangladesh last month, for example, about 12,000 houses were damaged, with 2,000 totally destroyed, the government said in mid-May.
In a bid to avoid such devastation in the future, Bangladeshi architects, builders and NGOs are working on climate-resilient housing solutions that are affordable and sustainable, and crucially, meet the needs of local communities.
In Satkhira, Moni's house - one of 35 built by BRAC post-Amphan at the cost of about 700,000 Taka ($6,400) per home - is big enough to act as a refuge during storms, and is equipped with water tanks that collect and filter rainfall so drinking water can be shared with the wider community in the dry season.
"Climate-vulnerable people are quite community-oriented and tend to give shelter to neighbours during disasters," said Nasrin Jahan, a program manager on climate change at BRAC.
Globally, by 2030, an estimated 3 billion people - 40% of the population - will lack adequate housing, UN-Habitat says.
And as global warming increases the frequency and intensity of natural disasters, more people in substandard homes are likely to be displaced or left homeless - with architects and aid experts urging more investment in climate-resilient housing.
Bangladesh lacks a coordinated strategy on disaster-proof housing, and should do more to integrate local knowledge and involve communities, several academics and architects said.
"Local communities have substantial indigenous knowledge to cope with the disasters ... to devise sustainable and effective solutions," said Khandaker Shabbir Ahmed, architecture professor at Bangladesh's University of Engineering and Technology (BUET).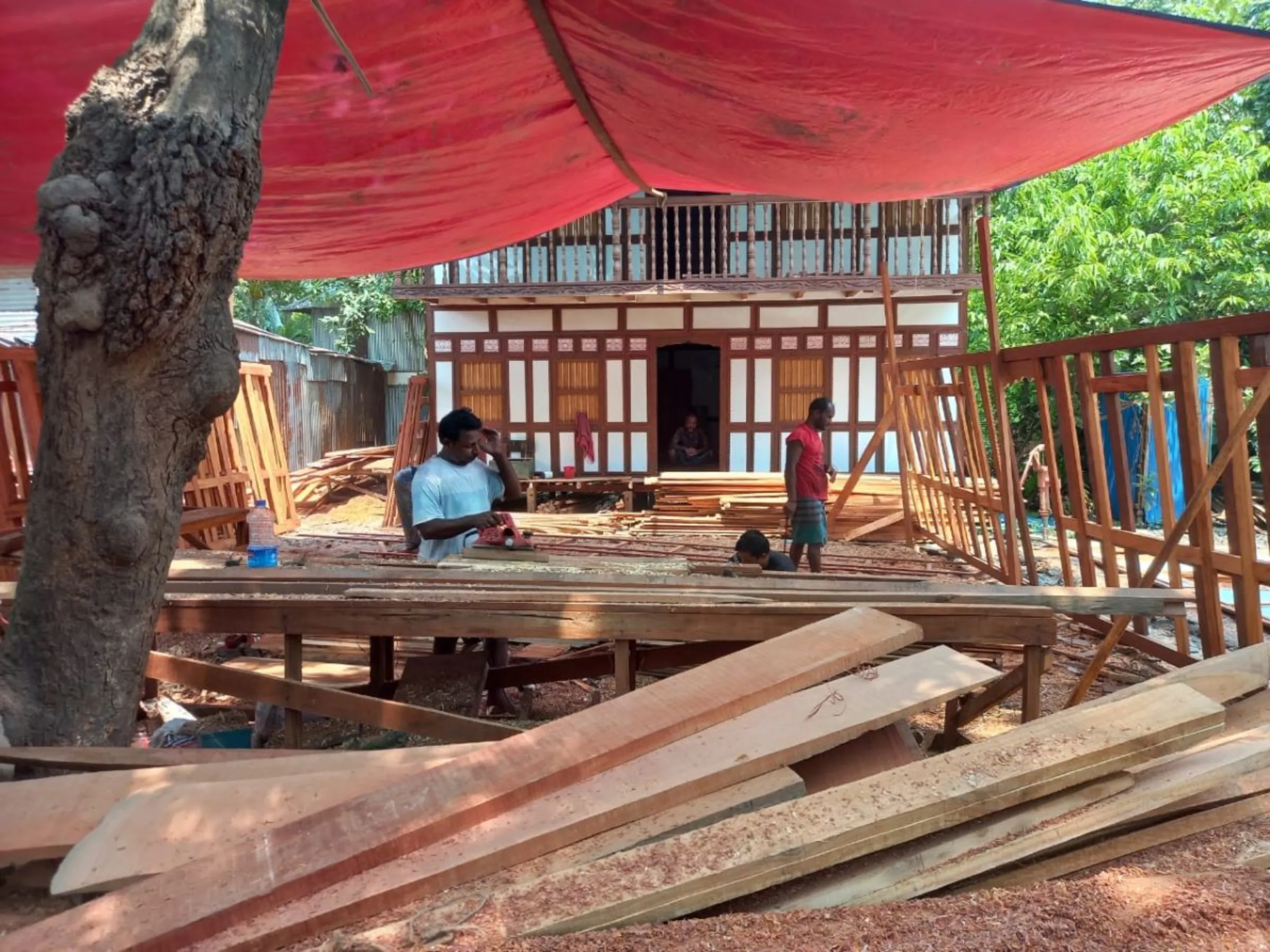 Designing buildings to withstand floods and storms
The challenge for Bangladesh is that different areas are vulnerable to different climate threats, meaning there is no one-size-fits-all approach to housing adaptation, said Shuchita Sharmin, a professor of development studies at Dhaka University.
Homes in the north and centre of the country are at risk of floods and river erosion, while those in the south are also exposed to rising salt levels in the water and tropical storms.
In the northern district of Gaibandha, where sandbar islands are affected by surging floodwaters during the monsoon season, the architectural firm Urbana has developed a model solution of creating raised settlements, said co-founder Kashef Chowdhury.
"In the flood-zone, it would be futile to elevate single homesteads over wooden or metal foundations, as floodwaters would create whirlpools around the foundations and pull those apart," said Chowdhury, whose company focuses on architecture tailored to the country's changing climate and weather.
Chowdhury said he had consulted with locals to find solutions for the whole community, and created elevated areas around a manmade body of water - which keeps the raised houses safe from flooding while providing safe access to rainwater.
"Because we are poor, we need the best solution," he said. "A low budget pushes us to think. We cannot just go for the (most) available but costly designs. We instead have to come up with effective solutions that are affordable for our economy."
Yet not all climate-resilient architecture projects have proved a success in Bangladesh, several experts pointed out.
For example, in the Savar region - near the capital, Dhaka - a floating school was built in 2015 on floodplains with local materials like bamboo, tires and drums so the entire structure could float above water during floods and operate year-round.
The school was developed by the Maleka Welfare Trust, a private foundation, at the cost of $50,000, and won the prestigious Aga Khan Architecture Award in 2019.
Yet during a visit to the South Kanarchor village in Savar last month, Context discovered that the floating school was gone - with residents saying it had been shut down last year.
Abdul Barek, a resident of the riverside village, said the biodegradable material like bamboo rotted away as water levels crept up - and that the structure was ultimately pulled down.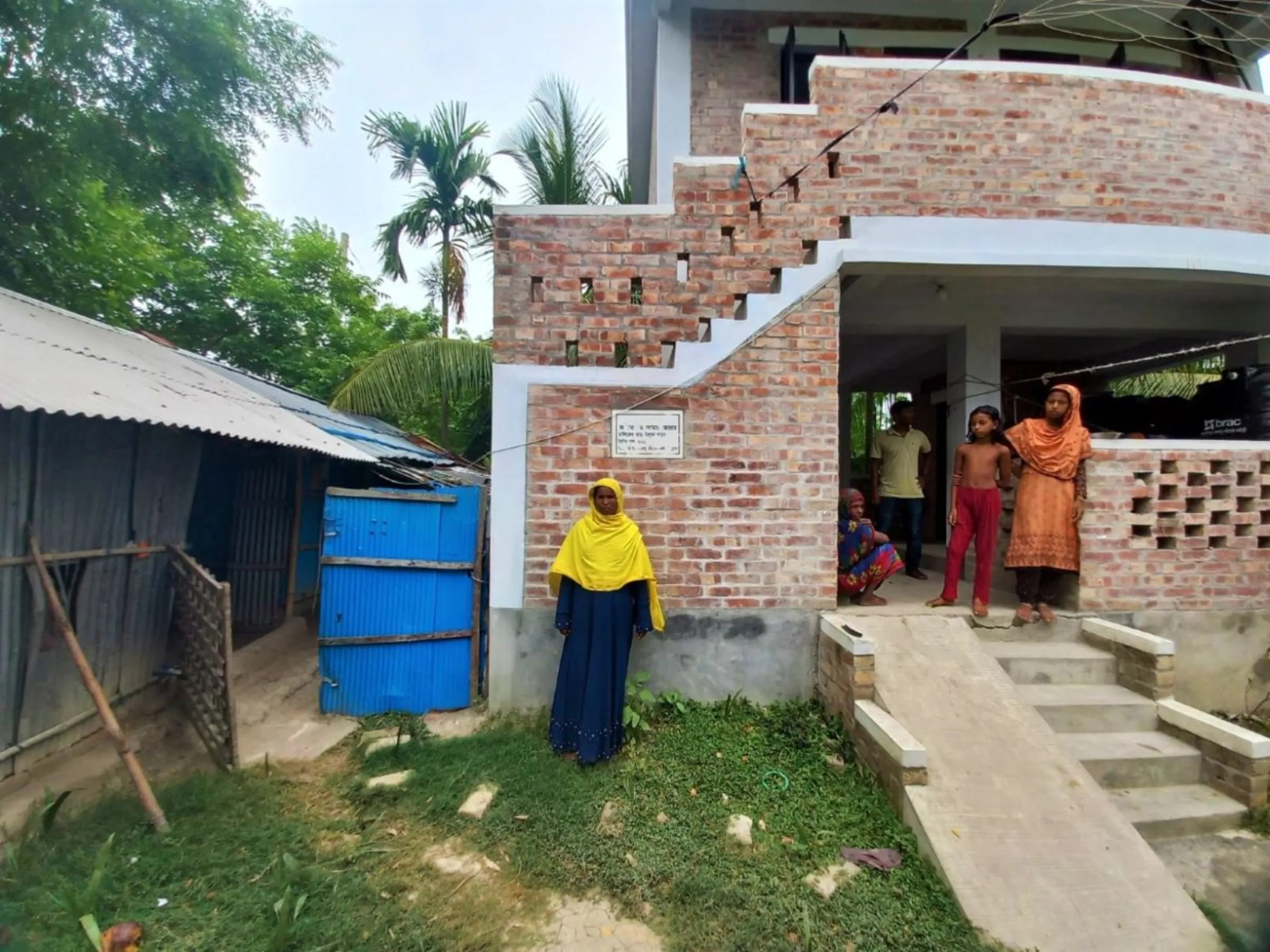 Local solutions and next steps
In some parts of Bangladesh, like the central district of Munshiganj, indigenous building techniques have long enabled locals to adapt to changing weather patterns and water levels.
Indigenous wooden houses built in Munshiganj can last for up to 80 years, as they are built on raised platforms to keep them above floodwaters, and when river erosion becomes an issue, the homes can be packed up and reassembled somewhere safer inland.
Local housebuilder Faysal Rahman said the designs of such indigenous homes had improved over the years - from the use of imported wood to metallic joints to make them more robust.
Yet there are still concerns over the safety of traditional houses - few use fire-resistant paint - and their impact on deforestation as Bangladesh does not have a system for tracing and certifying the origins of timber, according to Rahman.
"We need to improve upon our business model and technology to make it more sustainable," he said, urging the government to support the indigenous model of "climate-resilient housing".
Aid experts and architects from Jahan of BRAC to Urbana's Chowdhury said they had shared designs for their climate-proof projects with the government, but they had yet to be taken up.
"It is ... important to translate the local and academic knowledge into policies of the government, but there is still a disconnect," said Ahmed of BUET, who is also the president of the Institute of Architects Bangladesh, an industry body.
($1 = 109.2500 taka)
(Reporting by Md. Tahmid Zami; Editing by Megan Rowling and Kieran Guilbert)
---
---
Tags
Extreme weather

Adaptation

Climate policy

Loss and damage
---