Paris finance summit breaks new ground in climate, poverty fight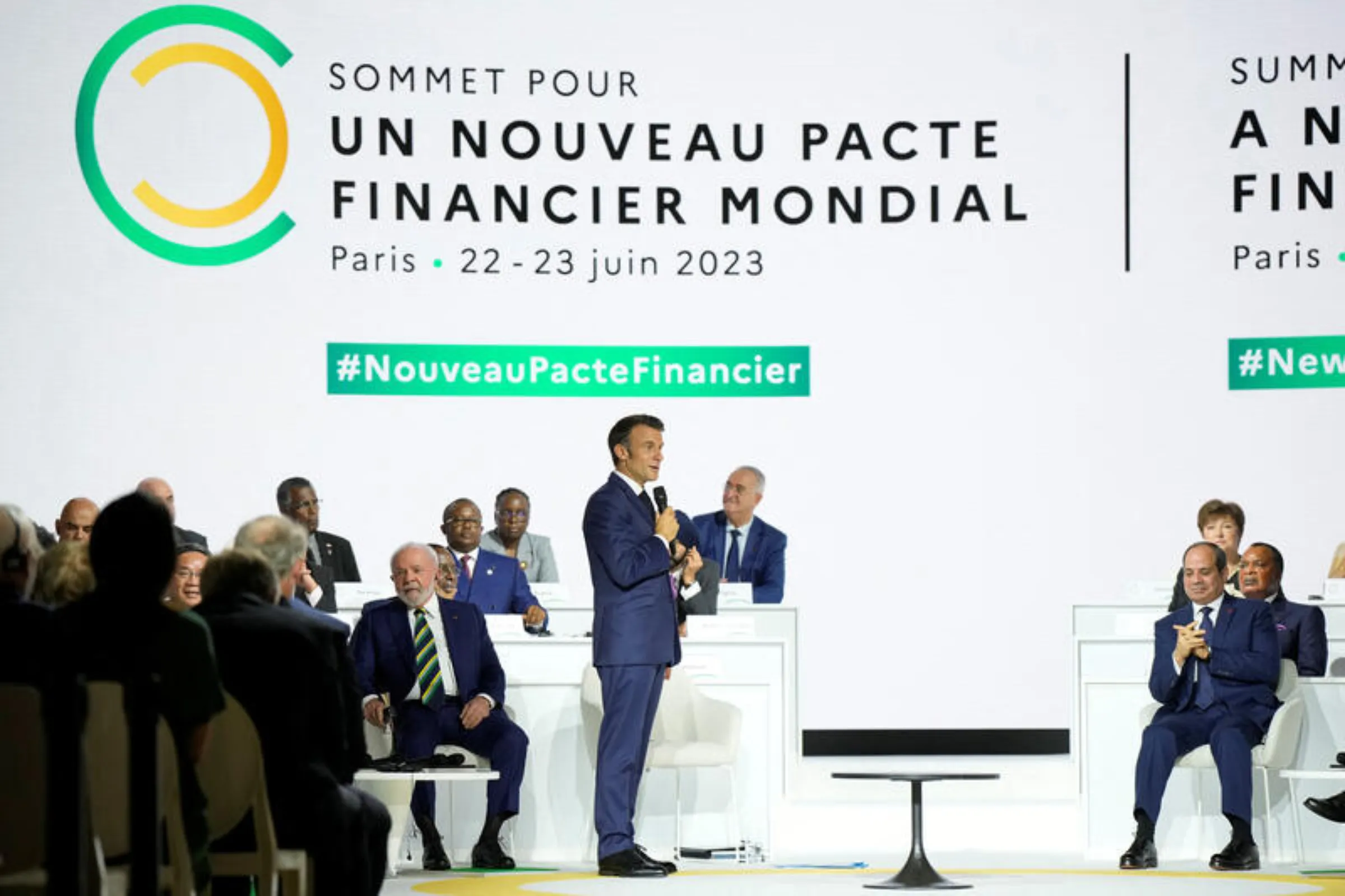 French President Emmanuel Macron, center, speaks while Brazilian President Luiz Inacio Lula Da Silva, left, and Egyptian President Abdel Fattah el-Sisi, right, listen during the closing session of the New Global Financial Pact Summit, Friday, June 23, 2023 in Paris, France. Lewis Joly/Pool via REUTERS
What's the context?
French President Emmanuel Macron said reforms should free up $400 billion for poorer nations to tackle issues like climate change
Development bank reforms free up at least $400 billion
African countries play large role in summit discussions
Debt suspension in disasters, shipping tax garner support
BARCELONA - A new patchwork of pledges from the world's biggest development lenders, set to release hundreds of billions of dollars for poorer nations, has raised hopes the financial floodgates are finally starting to open in tackling climate change and poverty.
This week's "Summit for a New Global Financing Pact" in Paris - organised by French President Emmanuel Macron - aimed to secure funding for climate action and the green transition, and to ease the post-coronavirus debt burdens of developing nations.
The event on Thursday and Friday was attended by more than 40 heads of state - including many from Africa - and the chiefs of the World Bank and the International Monetary Fund (IMF).
At the end of the summit, Kenyan President William Ruto said the leaders present had "confronted financial orthodoxy" and set aside "national interests", with the conversation moving beyond the Global North versus the Global South, or who was responsible for climate change.
"It's about all of us, big and small. It's about us in our diversity," he told journalists. "It's about crafting a 'win-win' outcome."
From the very start of the summit, the host nation France hammered home a key underlying principle for the reforms and financial innovations under discussion - that "no country should have to choose between fighting poverty and fighting for the planet".
Mavis Owusu-Gyamfi, executive vice president of the African Center for Economic Transformation, said the summit had been effective in "putting to bed" a longstanding division between international funding for climate action and development aid, and differing approaches to the thorny problem of raising money.
"We had a very clear sense from leaders that we don't want to have these tensions anymore," she said, adding that united African messages about the need for immediate action and a seat at the table in dealing with these challenges had been heard.
The outcomes from the summit included a range of deals for individual nations - notably a debt restructure package for Zambia and a $2.7-billion "just energy transition partnership" for Senegal - and changes to the way the World Bank and the IMF operate, which will have global impacts.
Summarising the summit's results, Macron said "concrete measures" agreed or advanced at the event should amount to at least $400 billion in new financing - largely cheap loans - to help countries tackle poverty and climate change.
There were also moves by the World Bank and others to free up more finance for vulnerable nations to recover from climate disasters, through suspending debt repayments when extreme weather strikes.
And more than 20 countries committed, behind the scenes, to back an international tax on the shipping industry - which may be adopted by the International Maritime Organisation in July - some of which is likely to be earmarked for dealing with the growing losses and damage caused by global warming.
Many of the financial reform measures had been proposed by Barbados, whose leader Mia Mottley said governments were leaving Paris with "a commitment to get down into the granular details to make sure that what we agree here can be executed".
Climate and development finance experts pointed to a series of international summits and meetings ahead of the COP28 U.N. climate conference in Dubai in December, at which the ideas endorsed in Paris could be driven forward, starting with an African climate summit in Nairobi in September.
"We have seen a huge shift in the level of the conversation as a result of the political attention that has come from this (Paris) summit," said Alex Scott, climate diplomacy lead at think tank E3G.
"We can turn that into scrutiny of what has been promised from leaders (here) ... Overall this has raised expectations for much more radical change to the international financing system than we would have thought possible a year ago."
Rich nations side-step?
Many campaigners for climate justice said that while the summit had made some progress in improving how development finance giants operate, rich nations had not stepped up sufficiently in Paris, with the leaders of the U.S., Canada and Britain conspicuously absent.
Macron said donor nations were this year set to meet an outstanding pledge to deliver an annual $100 billion in climate finance to poorer nations to help them adopt clean energy and adapt to a warmer planet, a goal they were due to have delivered on since 2020 - and which has become a source of mistrust.
But Rachel Cleetus, lead economist and policy director for the climate and energy programme at the Union of Concerned Scientists, said far more was needed beyond fulfilling existing promises.
"While leaders at the Paris Summit acknowledged the significant shortfalls in climate finance and offered some new proposals, the event did not deliver the transformative breakthroughs that are desperately needed," she said in a statement.
"Global South leaders offered bold, innovative solutions but did not get the response they deserved from those in power."
Others lamented that industrialised nations had passed the buck in terms of providing more funding to those who are suffering on the frontlines of a climate crisis they did little to cause.
Harjeet Singh, head of global political strategy for Climate Action Network International, said the summit's outcomes leaned too heavily on raising more money from the private sector and the coffers of multilateral development banks.
"Private investments often neglect adaptation efforts in developing countries and are inadequate to address climate-induced loss and damage," he said.
"Wealthier nations bear the responsibility of urgently funnelling significant public finance towards vulnerable countries, a move that will aid them in weathering the escalating impacts of climate change and bolster their resilience. This is at the core of climate justice."
But Barbadian economist Avinash Persaud, a key architect of the so-called "Bridgetown Agenda" proposals put forward by Mottley, said the summit had avoided promoting solutions such as carbon offsets and insurance, which could not provide the large-scale reliable funding needed in his view.
"These childish toys have been put away and we now have an adult roadmap," he said. "Yes, we haven't hit all the things on the roadmap; we have not got anywhere near the key numbers (of finance needed) - but we have a roadmap."
(Reporting by Megan Rowling; Editing by Kieran Guilbert)
---
---
Tags
ESG

Finance

Adaptation

Climate finance

Climate policy
---