Indian fishermen use smartphones to map a vanishing way of life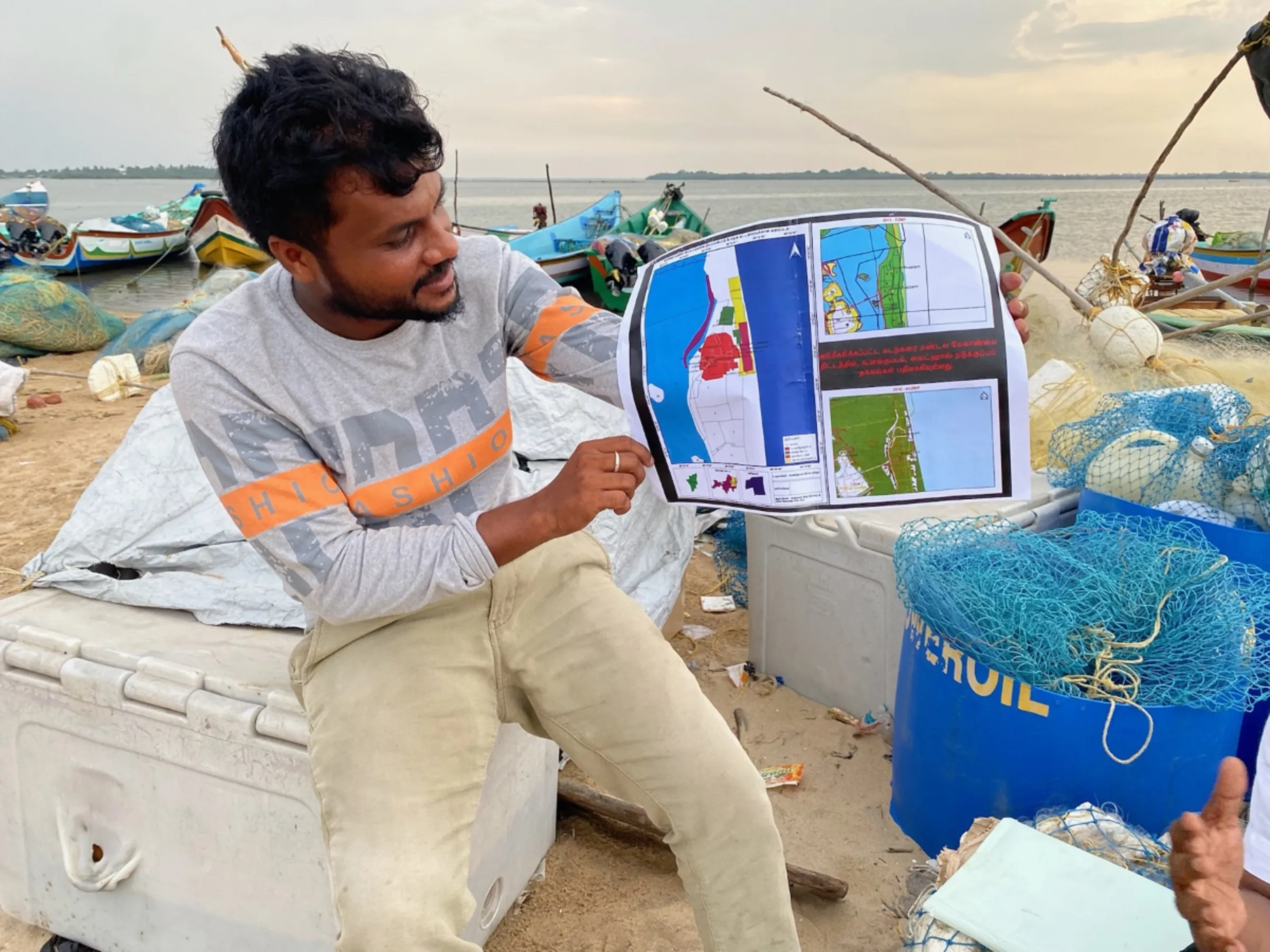 Bharath S Raji poses with a printed map created by fishermen volunteers in Gunankuppam, near Chennai, India July 14, 2023. Thomson Reuters Foundation/ Vidhi Doshi
What's the context?
Fishermen in Tamil Nadu are using apps to map their ancestral lands and protect old ways from new development
Fishermen say official maps mark their villages as "wasteland"
Using cheap smartphones, fishermen pick their own landmarks
Apps can prevent industries from polluting land and water
Gunankuppam, INDIA - Official maps show the roads, the power stations, the lighthouse - but skip all the special spots where generations of Indian fishermen have moored boats or dried their silvery catch, prayed for the living and buried their dead.
So now the fishermen of southern India are learning a whole new skill: mapping their ancient land by app - plot by precious plot - to stop industry from swallowing life on the lagoon.
"I am just a fisherman. I knew nothing about mapping. But I had to learn this so that our livelihoods are not destroyed tomorrow by the government," said Bharath S. Raji, whose family has trawled Pulicat Lake in Tamil Nadu for generations.
Smartphone in hand, Raji navigated the sandy lakeside banks to capture places of special interest - docks, drying areas for nets, shrines to local deities. He pointed out the holes left by the goverment's latest coastal maps, blank spaces he said are villages brimming with life.
With a new government zoning map three months off, Raji fears his industry and whole way of life will become the next black hole of Lake Pulicat.
"We always owned the land. But the government keeps changing the [zoning] rules not realising that our customs and our livelihood here is older than their rules," said Raji, a 33-year-old father of two.
Raji and his fellow fishermen of Gunankuppam have captured the co-ordinates of hundreds of special places on Google Maps and other apps, none of them designated as landmarks in official government maps.
Industrial proposals to develop the creek around Gunankuppam label the places the fishermen most cherish as "wastelands", Raji said, fearing the rapid industrialisation that is tranforming much of India is about to slap him in the face.
Proposals for the creek include a port and power plant, developments that could beach the flotilla of hundreds of gaily painted boats that trawl the lagoon for mackerel and sea bass.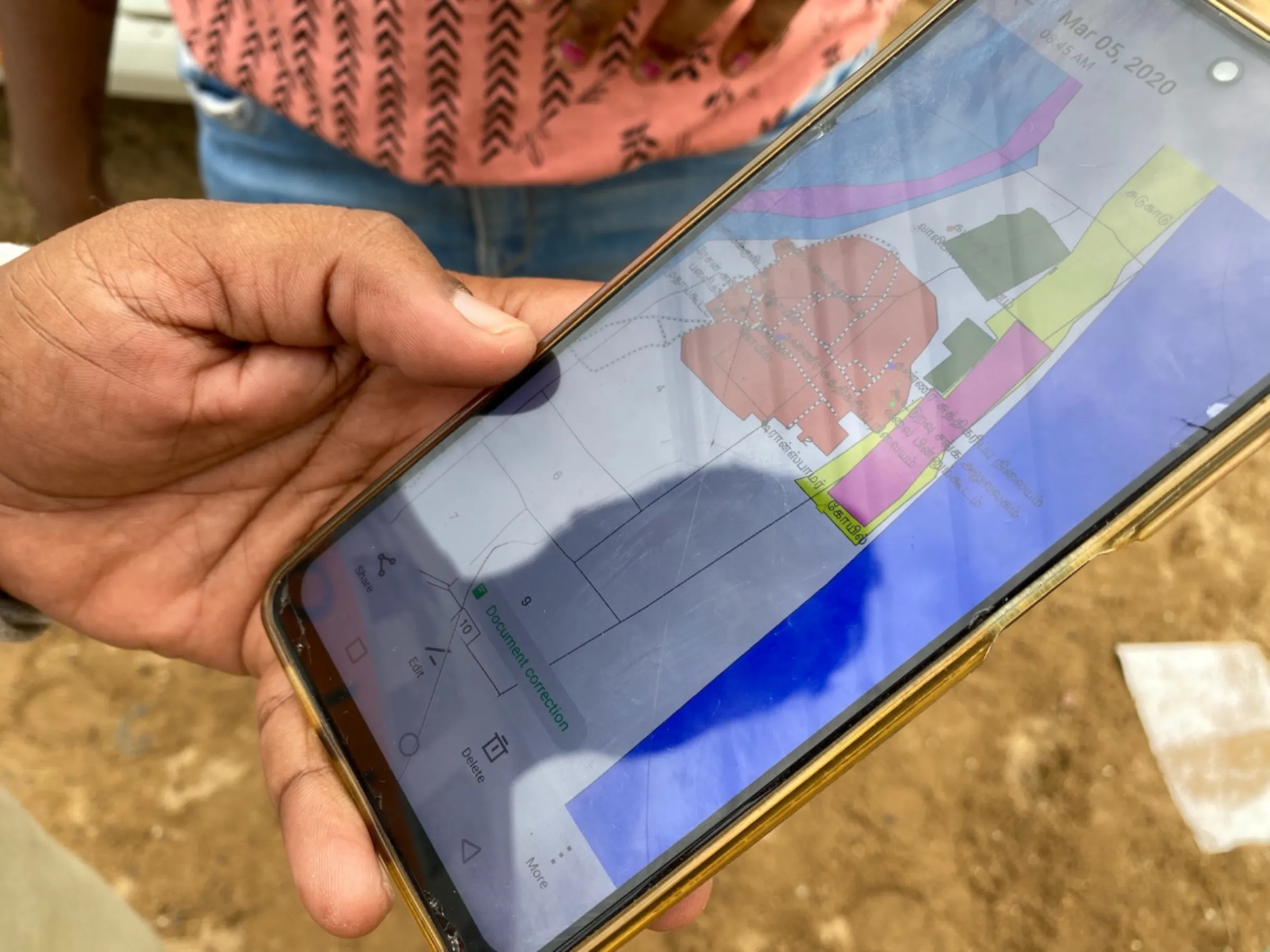 Old v new
"The maps released by the Tamil Nadu coastal zone management authority have agitated the fishermen community as they are not detailed," said Ajay Anand, assistant director of fisheries in Thiruvallur district, a key member in the government agency that will determine the fate of the lake.
"So, the fishermen community took it upon themselves to do the survey."
"There have been many attempts of industrial encroachment but the local fisherfolk used the maps as a guide to fight them," he said.
The fishermen's maps will be independently cross-checked by the fishing department, Anand said.
"Eventually, the government will use the maps prepared by us," he said.
India's ministry of environment, which oversees coastal zoning, did not respond to a request for comment.
The fishing villages around the Ennore peninsula, where the village of Gunankuppam and lake are located, slip between India old and new.
Around the creek, wooden boats and loinclothed fishermen wade through sludgy waters surrounded by foundries, thermal power plants and ship yards.
The dissonance between timeless life on the lagoon and naked ambition for a high-tech future is underscored by a rumbling speck on the horizon - India's national space station - visible from the lake.
Locals have seen India launch satellites, even as they struggle to feed families from their rich waters and fertile soil.
"I don't feel any pride about the country," said fisherman Magimairaj D., whose earnings total 20,000 rupees ($243.25) a month. "You think India is developing? Not at all."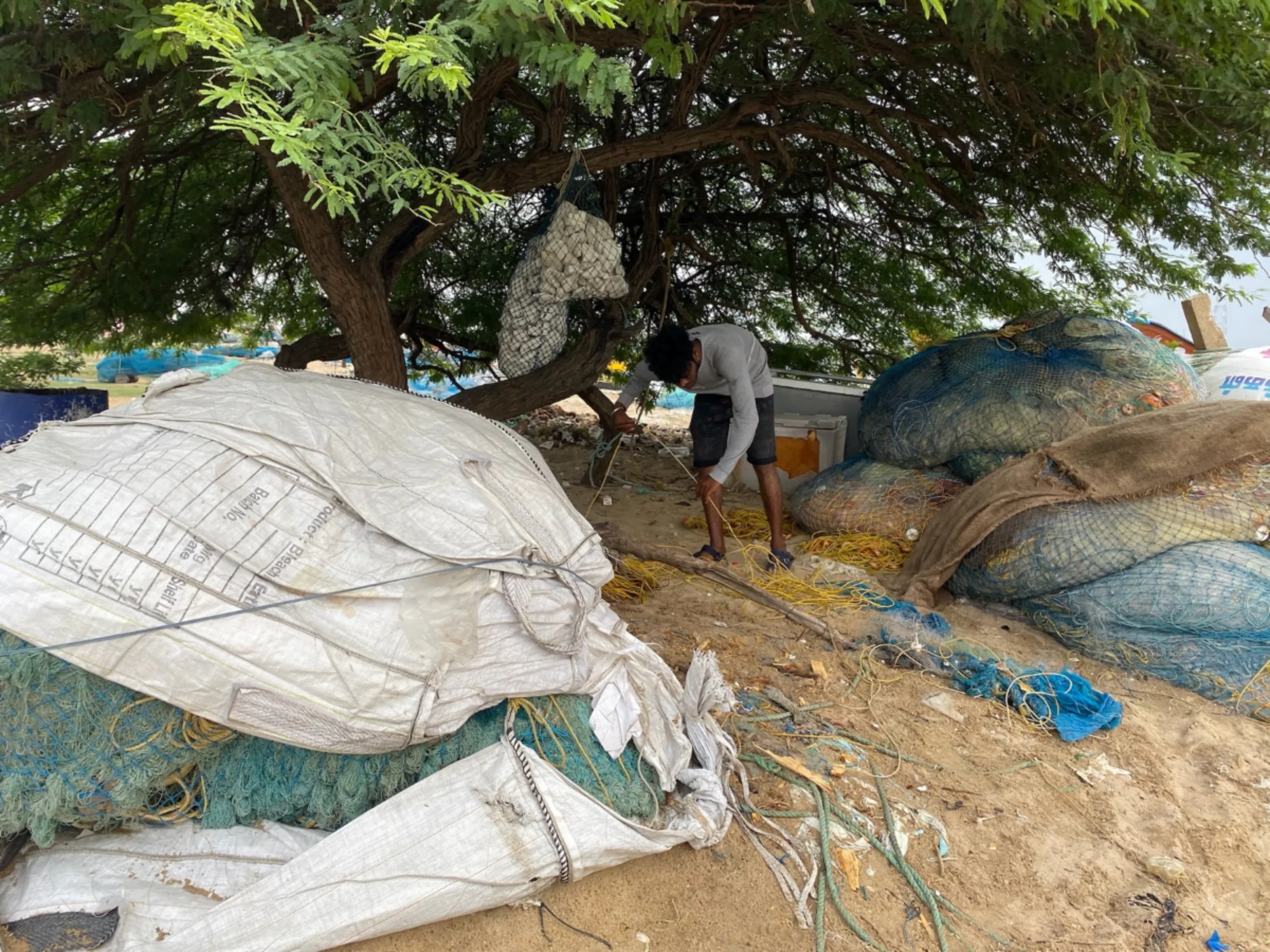 Mapping drive
"Fishermen lose their lives and livelihoods in the process of this development," said Saravanan K., a coordinator at the Coastal Resource Centre, a local environmental activist group.
"Our lands are being used to generate electricity. But we are deprived. The sea, the river – which were sources of our livelihood - are polluted in the process," Saravanan said.
Saravanan opened his laptop and pulled up the GIS software he uses to map hundreds of villages in his area, cross-checking the sites designated by fishermen such as Raji against satellite images of the entire area.
Saravanan said he learned how to use the software from a friend who had studied software engineering and from YouTube.
Next he recruited statewide volunteers to map the land.
"The technology is the same [as what the government uses] ... it's just that they don't do it and we do," he said.
Given that mobile phones only came to Gunankuppam in 2006, the rapid takeup of mapping apps seems all the more striking.
Raji was among the first three villagers to own a Nokia phone, and would travel 20 km by road to pick up a signal.
Access to cheap smartphones has since skyrocketed, even in the hinterlands, with a billion smartphone users predicted across India by 2026, according to a 2022 Deloitte report.
And the fishermen look at past successes to motivate future mapping missions.
They cite appeals lodged with the National Green Tribual, a government body that enforces environmental protections, that have curbed industrial activities in protected coastal areas.
Their efforts helped block a thermal power station from expanding into ancient fishing zones, and stymied a private takeover of public waters, Saravanan said.
Durai Mahendran, state president of the Tamil Nadu fisherman association, credited local mapping efforts with saving his village from a development drive that is reshaping swathes of the fragile coast.
Watching the sun set over Pulicat lake, fisherman Dayalan D. is a convert to new tehcnology to preserve his old way of life.
"Whenever the government comes up with a proposal to construct a road or any structure, it is easy for them to encroach on our land," said the 39-year-old fisherman.
"But with the right documentation in the form of maps, we can prove our claims on the land."
($1 = 82.2210 Indian rupees)
(Reporting by Laasya Shekhar and Vidhi Doshi, Editing by Lyndsay Griffiths)
---
---
Tags
Tech and inequality

Data rights

Tech solutions
---