Abortion rights in Europe - legal rollbacks and progress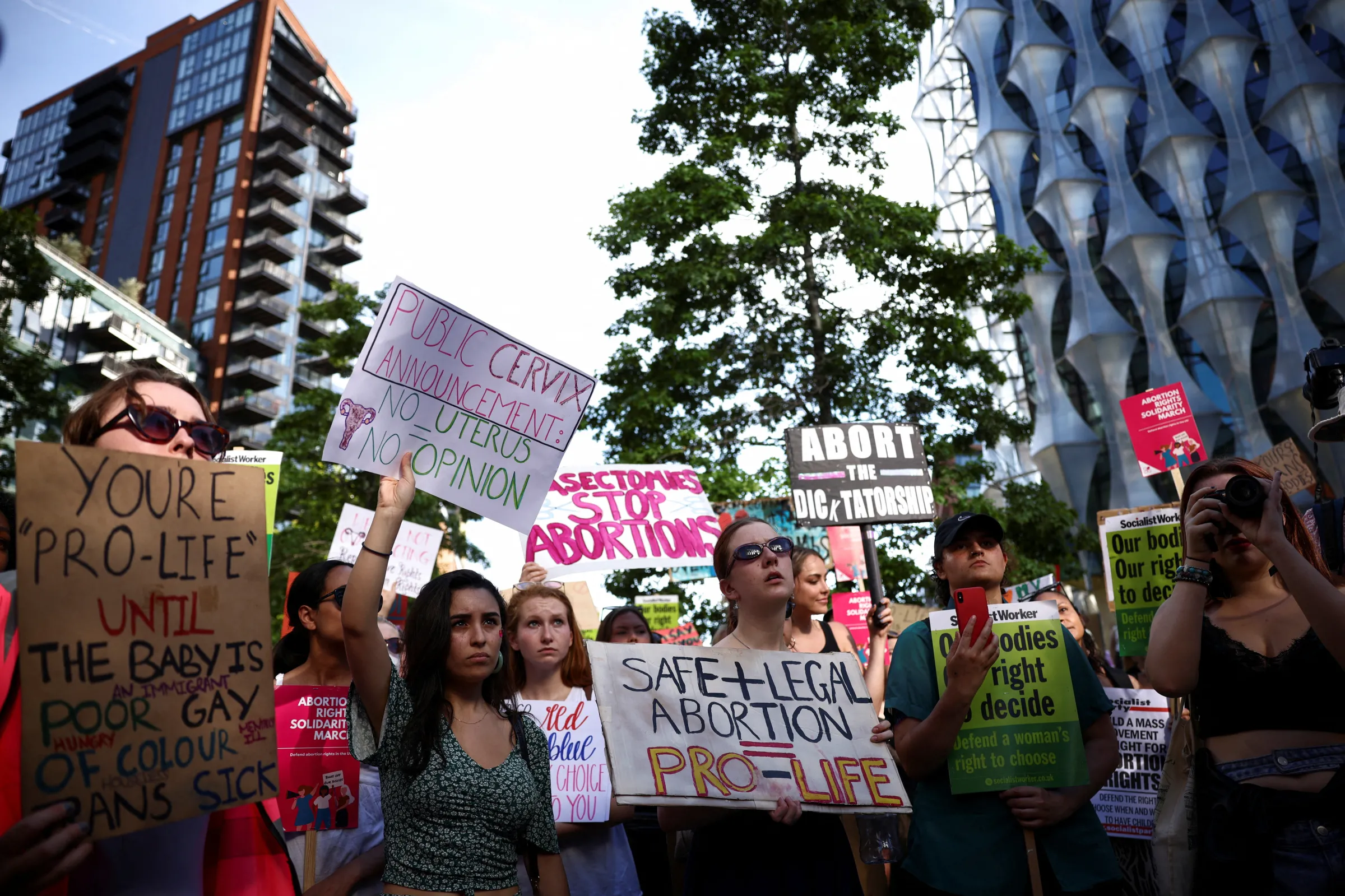 Protesters hold banners during Abortion Rights Solidarity demonstration, after the U.S. Supreme Court overturned Roe v Wade decision that legalised abortion, outside the U.S. embassy in London, Britain July 9, 2022. REUTERS/Henry Nicholls
What's the context?
As the world marks International Safe Abortion Day on Thursday, here is a round-up of key developments across Europe
Numerous European leaders condemned last year's U.S. Supreme Court decision to gut the country's federal abortion rights, which quickly led to a flurry of states banning terminations.
For decades the trend in Europe has been towards liberalising laws and expanding access to abortion.
Almost all countries allow terminations in the first trimester and often far later.
However, a handful of countries - such as Malta - retain strict abortion bans. Poland has outlawed it in most cases, and Hungary has recently tightened its law.
Here is a snapshot of abortion laws in Europe.
BRITAIN - Abortion is permitted up to 24 weeks of pregnancy, but there is no limit in cases where a woman's life is at risk or there is a serious foetal abnormality.
Britain introduced a "pills-by-post" scheme during the COVID-19 lockdown, allowing women to end pregnancies at home at up to 10 weeks. Later abortions must be carried out in clinics.
The jailing of a woman this year who terminated a late-term pregnancy with pills sparked calls from some politicians and women's rights campaigners to decriminalise abortion.
The woman was tried under an 1861 act which makes it a crime to administer drugs to procure an abortion outside a hospital or clinic. Her 28-month prison term was cut to a 14-month suspended sentence on appeal.
The British Pregnancy Advisory Service says the number of women and girls facing police investigations under abortion laws has risen in recent years.
Anti-abortion protesters across Britain have also become bolder, targeting dozens of clinics. Some local authorities have set up "buffer zones" to protect staff and visitors.
MALTA - The tiny Mediterranean island eased its blanket ban on abortion in June to allow terminations if a woman's life is in danger.
The government backed down on an earlier version of the bill that would have also allowed abortion when the mother's health was at serious risk.
Anti-abortion campaigners in the staunchly Roman Catholic country said the definition of a health risk was too vague.
However, reproductive rights experts say the new law could delay emergency treatment and endanger lives.
The move to amend the country's abortion ban followed the case of an American woman who started miscarrying while on holiday in Malta last year, but was refused a termination because the foetus still had a heartbeat.
She was eventually flown to Spain and is now suing the Maltese government.
The maximum penalty for women who break the law is three years in jail.
Despite Malta's ban, hundreds of women seek abortions every year and buy pills online, or travel overseas.
Elsewhere in Europe, Liechtenstein, Monaco, Andorra and the Faroe Islands also retain strict abortion laws.

POLAND - A 2020 court ruling outlawed all terminations due to foetal defects, leading to a de facto abortion ban.
Terminations are only permitted in cases of rape, incest or threat to the mother's life.
Several pregnant women have died after being denied emergency care since the law was tightened, according to the Center for Reproductive Rights, a legal advocacy organisation.
Poland's anti-abortion laws have provoked protests, the latest in June sparked by the death of a pregnant woman from sepsis.
Many women in Poland travel to neighbouring countries for terminations, while others import abortion pills.

FRANCE - French President Emmanuel Macron supports moves to include the right to abortion in the constitution and both houses of parliament have approved the proposal.
France legalised abortion in 1975, extending the 10-week limit to 12 weeks in 2001, and to 14 weeks last year. In 1988, it became the first country to legalise the use of mifepristone as an abortion drug.
Supporters of the proposal to "constitutionalise" abortion say it would protect women's rights as it is harder to change the constitution than the law.
Macron has called abortion "a fundamental right for all women". Polls show about 80% of the population support the right to abortion.

ITALY - The mainly Roman Catholic country has allowed terminations within 90 days of conception since 1978, but accessing an abortion is another matter.
Two-thirds of gynaecologists refuse to perform the procedure on moral or religious grounds, according to Health Ministry data.
Italy's right-wing prime minister, Giorgia Meloni, is anti-abortion, but has said she will not seek to change the law. She says she wants to provide women with alternatives.

SPAIN - Parliament approved legislation in February allowing girls aged 16 and 17 to have abortions without parental consent.
The new law also removed a mandatory three-day "reflection" period for women seeking terminations.
Spain's 2010 abortion reform allowed women to end unwanted pregnancies on demand within 14 weeks, or up to 22 weeks in cases of severe foetal abnormalities.
However, most women face problems accessing abortion services due to doctors refusing to perform the procedure.
The reforms also aim to boost the availability of abortion in public hospitals.

GERMANY - Women can have an abortion until 12 weeks after conception, but must undergo counselling beforehand.
However, abortion remains in the criminal code in Germany and can technically lead to jail sentences of up to three years.
In June, Germany scrapped a Nazi-era law banning doctors from providing information about abortions.
In 2021, the coalition government said it would look at decriminalising abortion, but changing the law could be difficult as the right to life is enshrined in the constitution.
Some reproductive rights experts say pressure from anti-abortion activists has led to fewer medics conducting the procedure.
BELGIUM – When the country legalised abortion in 1990, King Baudouin, a devout Catholic who opposed the measure, abdicated for a day so it could pass without the need for his signature.
Abortion is legal in Belgium up to 12 weeks after conception. It is also allowed later if the woman's life is at risk, or the foetus has a serious abnormality.
HUNGARY - Abortion in the first 12 weeks has been legal since 1953, but Hungary tightened its rules last year.
The new restriction is widely understood to mean that women seeking abortions will have to first listen to the foetal heartbeat.
Hungary is also among a dozen European countries that require women to undergo mandatory counselling before ending a pregnancy, a measure criticised by the World Health Organization.
Hungary adopted a new constitution in 2011 guaranteeing that the life of a foetus would be protected from the point of conception, but did not outlaw abortion.
IRELAND - The Catholic country lifted an almost total ban on abortion in 2019 following a landslide referendum in 2018.
Until then, about 3,000 women a year travelled to Britain for terminations.
The issue was thrust into the spotlight in 2012 when a woman who was miscarrying died from sepsis after doctors refused to end her pregnancy.
Abortion is now allowed up to 12 weeks of pregnancy, and later where the foetus has a terminal condition, or the woman's health is at risk.

This article was updated on September 27, 2023 with edits to the introduction and United Kingdom.
(Reporting by Axelle Rescourio and Emma Batha; Editing by Jon Hemming)
---
---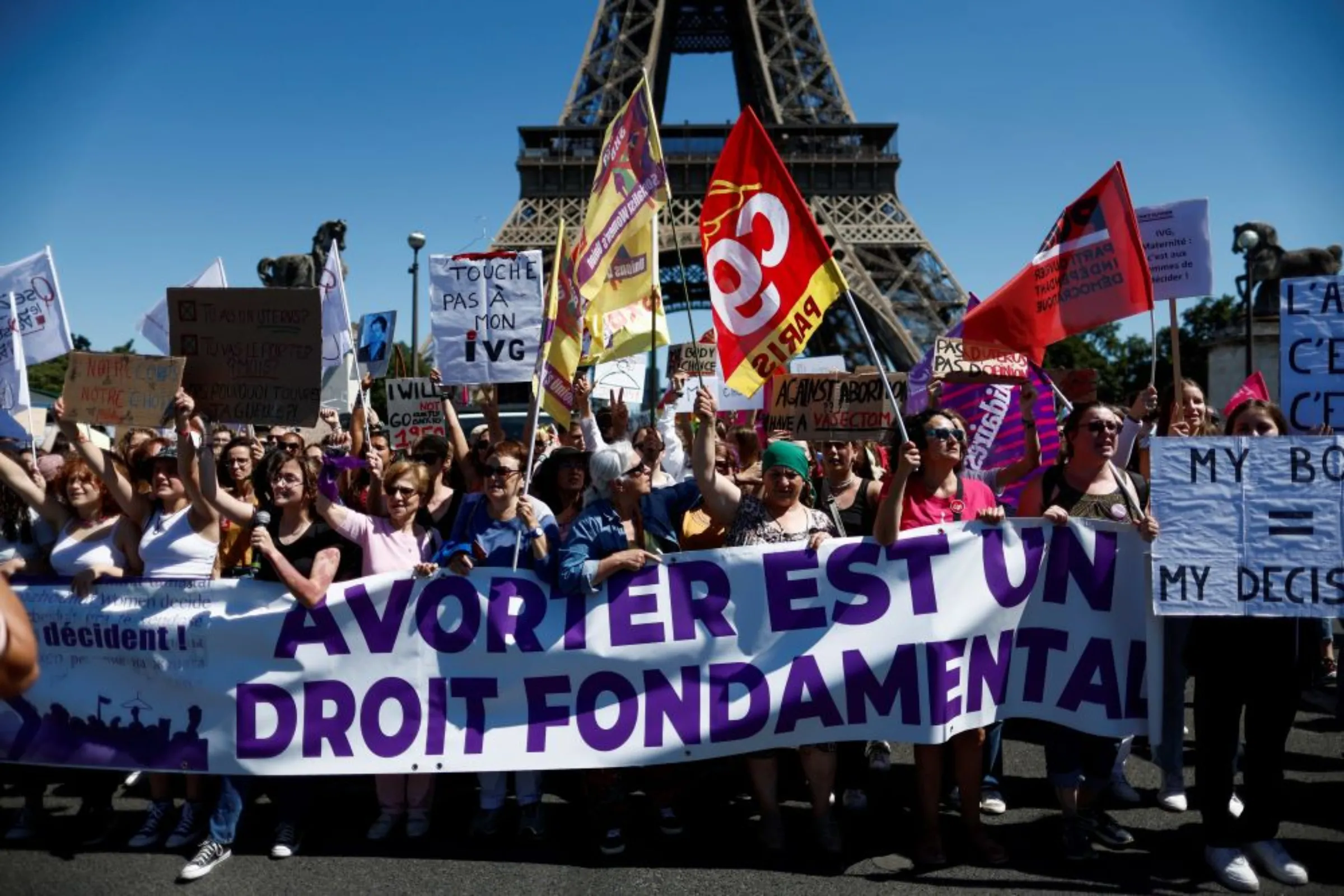 ---
Tags
Gender equity

Government aid

Economic inclusion

Underground economies
---