Libya flood deaths expose climate chasm in conflict-hit states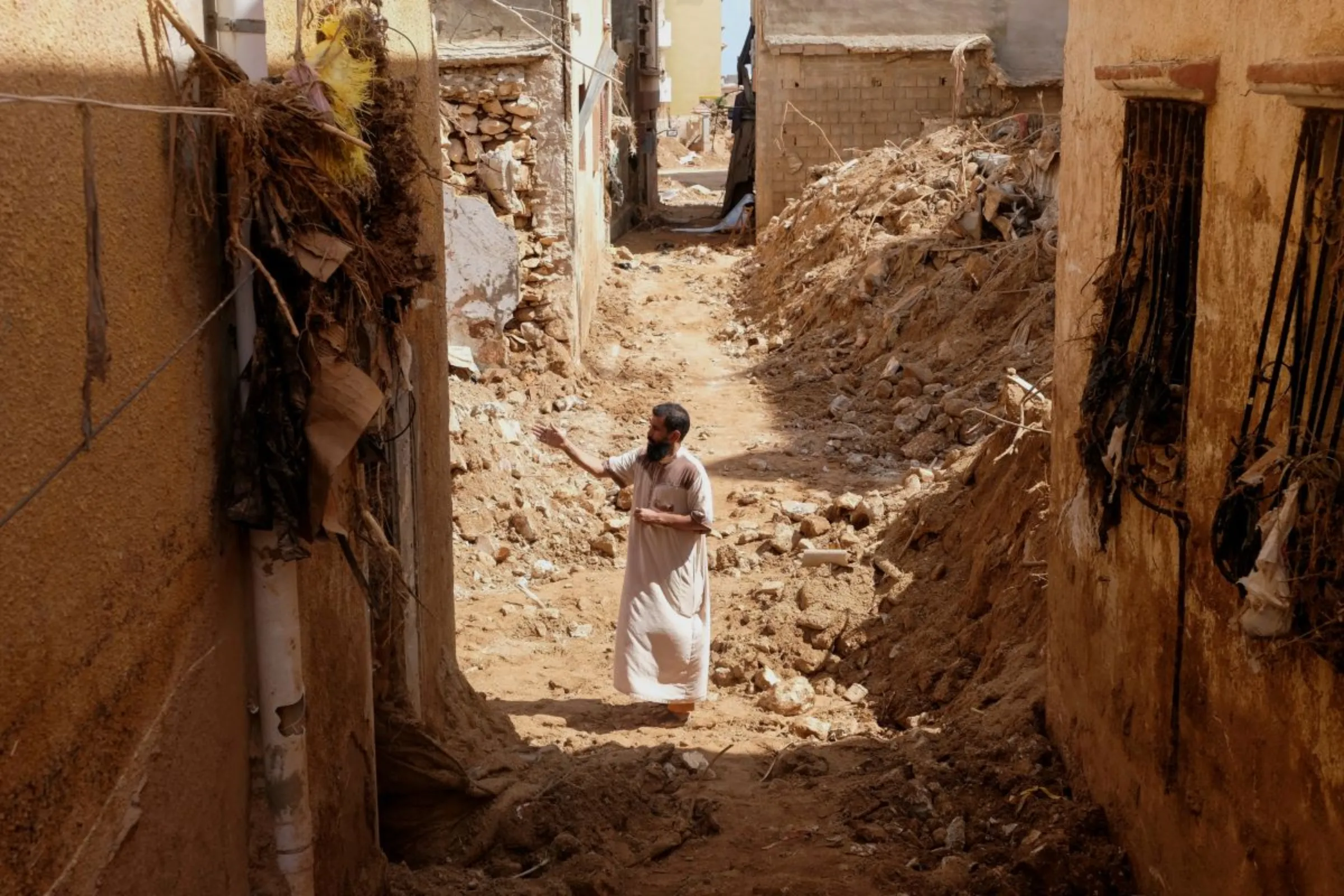 A man inspects damaged buildings, in the aftermath of a deadly storm and flooding that hit Libya, in Derna, Libya September 20, 2023. REUTERS/Esam Omran Al-fetori
What's the context?
'Adaptation apartheid' is preventing fragile states from accessing finance to protect their people from global warming
Floods in Libya highlight 'adaptation apartheid'
Conflict-torn nations struggle to access climate finance
Lack of protection measures perpetuates vicious cycle
MISRATA, Libya/BEIRUT - Over a month ago, Asmahan Balauon, a member of Libya's eastern-based parliament, requested that it should establish a climate change committee.
She was told a date would be set to discuss the issue - but her efforts were overtaken by the fatal floods that struck the city of Derna this month after heavy rains caused the collapse of two dilapidated dams, unleashing a torrent of destruction.
"Unfortunately, our attention to... laws and elections and these things was a hindrance," said Balauon, who is based in the coastal city of Benghazi.
Storm Daniel moved far faster than the conflict-torn nation's politicians, triggering flooding that overwhelmed infrastructure and swept away parts of Derna, destroying hundreds of buildings.
The U.N. has confirmed more than 4,000 deaths from the disaster, while over 8,500 people remain unaccounted for.
A further 40,000 were displaced across northeast Libya, including at least 30,000 residents inside Derna, the U.N. said.
Scientists working with World Weather Attribution, a research collaboration that examines the role of global warming in specific weather events, said climate change made the heavy rainfall that led to Libya's floods up to 50 times more likely and caused up to 50% more rain during that period of the year.
They also blamed other factors including building in flood plains, the poor condition of infrastructure, and years of armed conflict.
Libya's situation echoes that of other turbulent countries like Afghanistan and large parts of Africa's Sahel region, which face growing climate-related threats while grappling with political instability and weak governance, making it harder to access funding for measures to protect people and assets.
Back in 2007, South African Archbishop Desmond Tutu, a Nobel peace prize laureate, described this situation as "adaptation apartheid".
"Leaving the world's poor to sink or swim with their own meagre resources in the face of the threat posed by climate change is morally wrong," he wrote in a U.N. report. "Unfortunately... this is precisely what is happening."
That observation about the lack of finance for vulnerable people on the frontlines of a warming world - repeated many times since by a growing chorus of climate justice activists - appears to have changed little on the ground.
Ciaran Donnelly, a senior vice president for international programmes at the International Rescue Committee, a global humanitarian agency, pointed to "an emerging kind of tiered system".
He identified about 15 countries simultaneously suffering from climate volatility and conflict-driven political fragility, including Yemen and Somalia.
Much of the donor cash available for building resilience to more extreme weather and rising seas depends on having an effective government to receive the money - a requirement that risks excluding politically unstable states, he said.
"Countries... where you have this kind of weak public sector, just won't be able to access (climate funding) and they'll get further behind," Donnelly said. "It really becomes a kind of self-reinforcing, vicious cycle."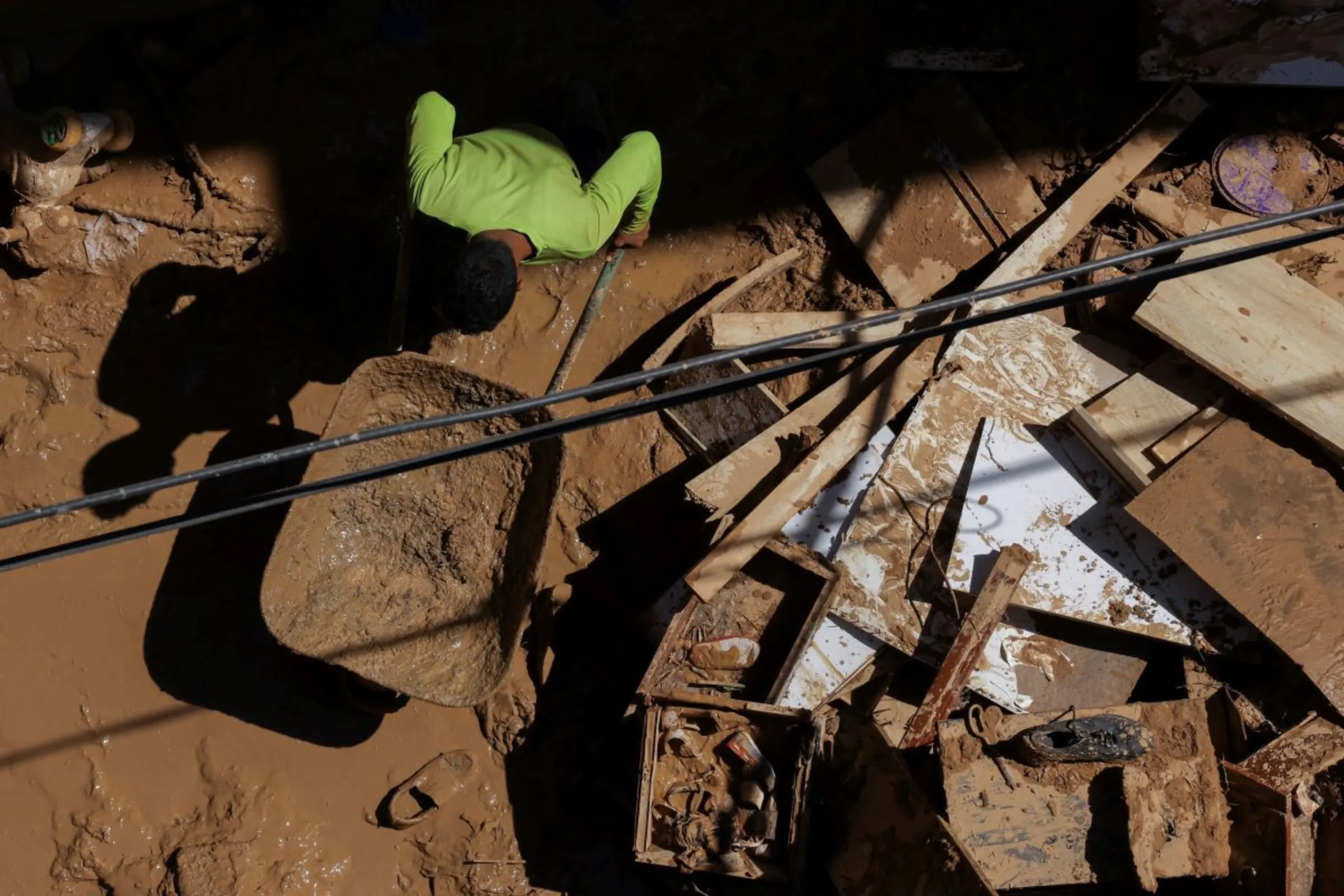 Bureaucracy and corruption
Climate change - while all but absent from the political narrative in Libya - has had a pronounced effect on the life of Walid Fathi, a 34-year-old government employee living in Al Bayda, a city west of Derna.
The floods swept away the back wall of his home and killed his neighbours, a family of seven.
What meagre savings he can muster from his salary will go towards fixing his house. He now lives in uncertainty and fear, afraid of the weather and what winter might bring.
"We do not know what to do," he said. "We are afraid - we do not have anywhere to go."
Neither the internationally recognised government in Tripoli nor the eastern authorities that have controlled Derna since the Libyan National Army (LNA) ousted jihadists from the city in 2019 had attempted to repair long-known weaknesses in the dams or tried to evacuate people before the forecast storm hit.
In addition, people living in different parts of the city were given different instructions by the authorities, said local families. Those living by the shore were told to evacuate, while others in the centre were told to stay put, they noted.
The LNA under Khalifa Haftar is the dominant player in the eastern half of Libya, a nation that has been divided since a NATO-backed uprising toppled Muammar Gaddafi in 2011.
Mohamed Manfour, commander of an airport near Al-Bayda in the east, blamed the flood disaster on the international community and on governments ruling the two halves of the country.
"There are mistakes in the infrastructure, mistakes in the construction and architecture, mistakes in the lack of maintenance of dams," he said in a phone interview.
In the hours after the catastrophe, LNA chief Haftar said on local television that the flood-hit area was suffering "difficult and painful moments", adding he had issued orders for necessary support to be provided.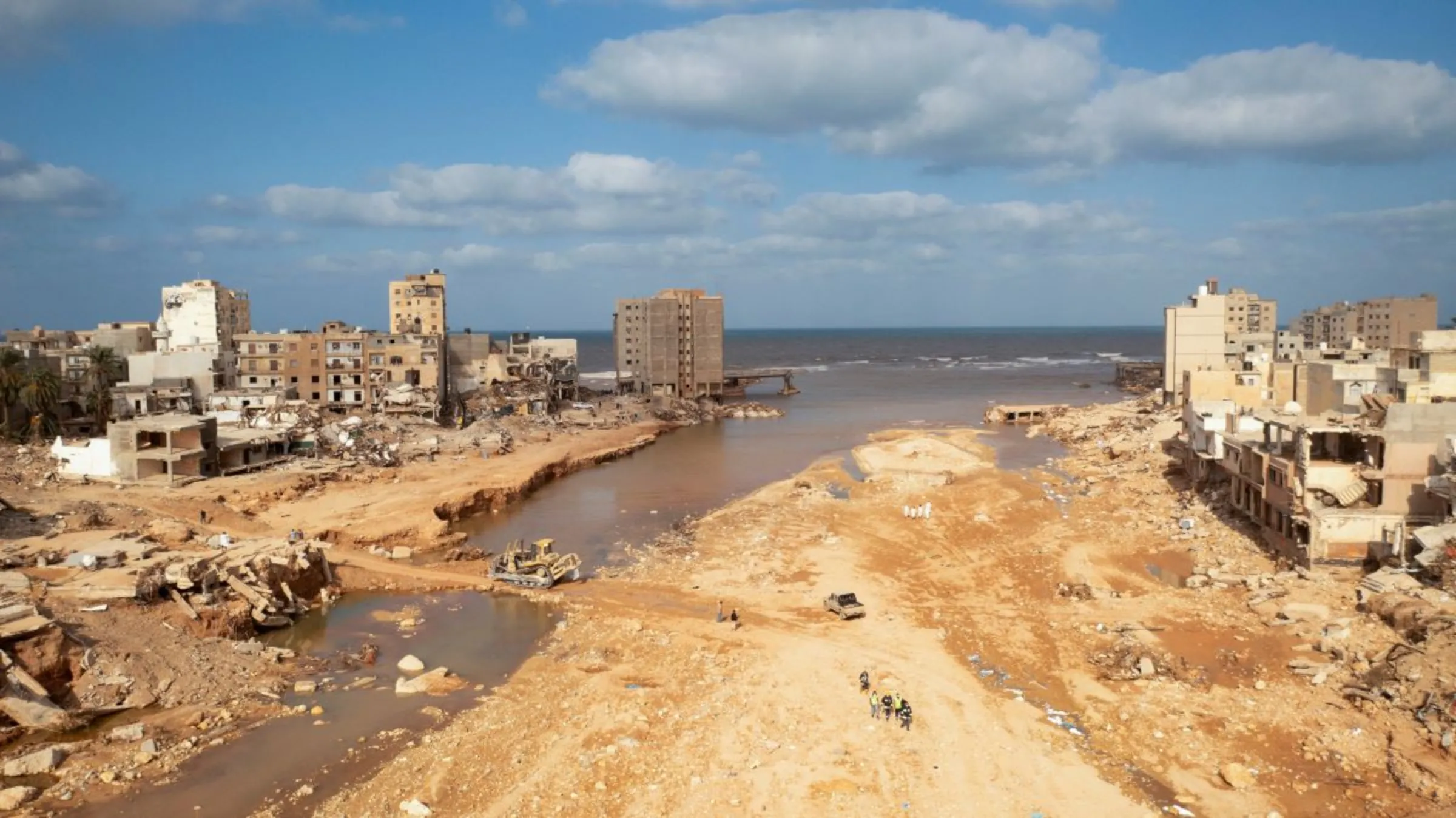 Tim Eaton, a senior research fellow on the Middle East and North Africa with Chatham House, a London-based think-tank, said the focus of many who have managed to gain power in Libya "has been staying in power", rather than working to protect the population from external threats like climate change.
"You are definitely not going to be able to do these things and access these (climate) funds if nobody is really thinking about them and it's not part of the political discourse," he added.
Earlier this month, the head of the World Meteorological Organization said casualties could have been avoided in Libya's floods if the divided country had a functional weather service.
Weak weather services, infrastructure
Over in the west, at the Meteorological Centre in the capital Tripoli, the number of people with technical expertise in climate change "can be counted on your fingers", spokesperson Mohieddine Bin Ramadan told Context.
The centre, which falls under the transportation ministry, lacks radars that can accurately measure rainfall across the country. Bin Ramadan said the public administration is corrupt - and bureaucracy often delays orders for months and years.
"If the government does not take care of the centre, then we cannot keep up with climate change," he said. "We are missing a lot of things; it is not easy."
The transportation ministry did not immediately respond to a request for comment.
The same issue affects climate services and infrastructure in other places around the world.
Depending on how they are managed and funded, they can either expose people to the impacts of climate change - as in Libya - or help protect them if well-maintained and planned to stand up to future climate risks.
Most of the Earth's dams were built in the 1960s and 1970s, said Caitlin Grady, an engineering professor at George Washington University in the United States, adding that many are now reaching the end of their lifespan, threatening disaster.
"We're still going to have extreme rainfall events all over the world," she said, adding "I would expect this to keep happening in multiple locations unless something changes in our fight" against climate change and for climate adaptation.
(Reporting by Fahmi Igwianan in Misrata and Nazih Osseiran in Beirut; editing by Megan Rowling)
---
---
Tags
Extreme weather

Adaptation

Government aid

Climate finance

Climate inequality

Loss and damage

Climate solutions
---