How one Indian village is lighting the way in green energy drive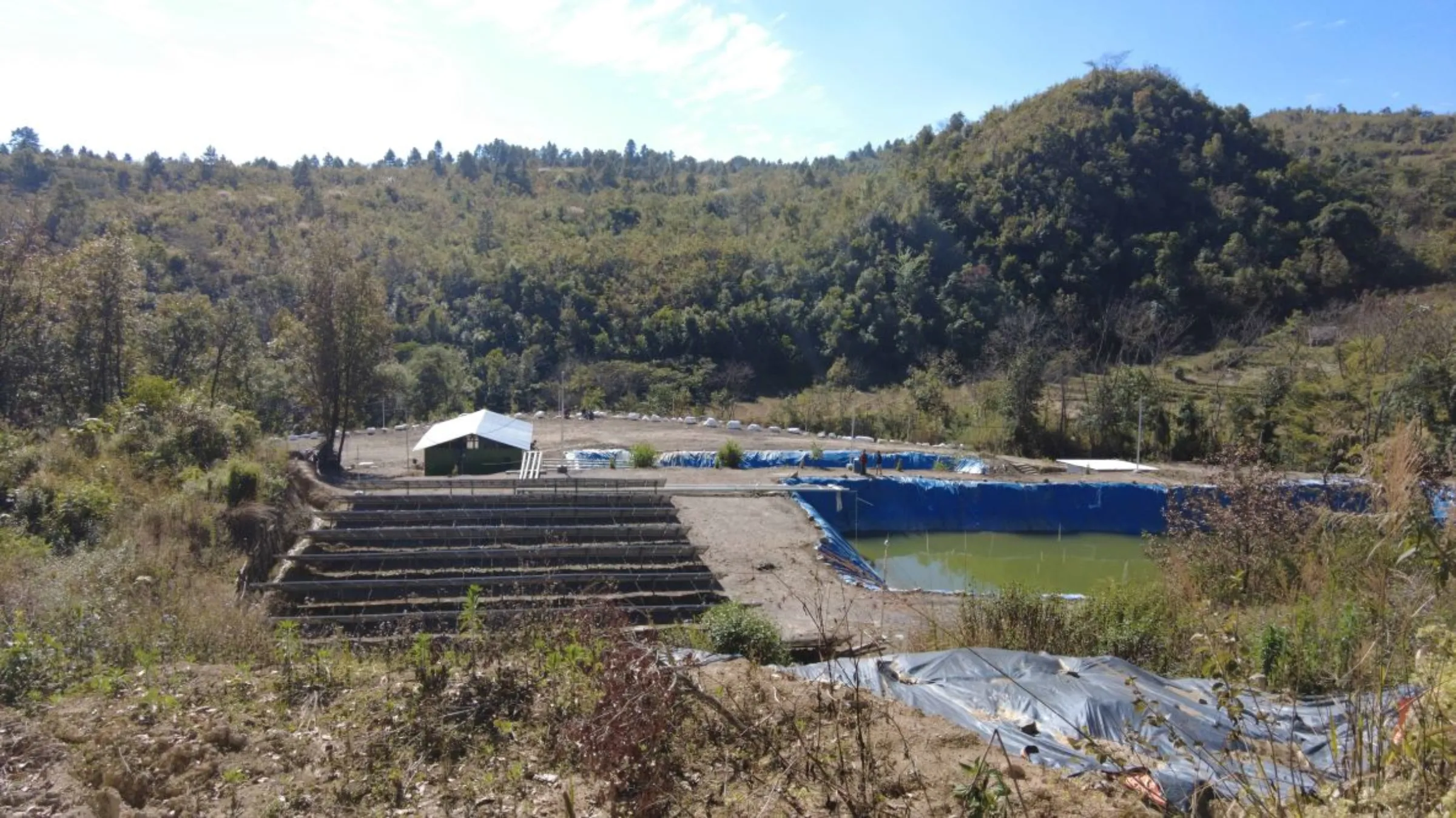 The solar-driven pumped storage hydropower project in the Hengbung village of Manipur, India, September 14, 2022. Foundation for Environment and Economic Development (FEEDS)/Handout Via Thomson Reuters Foundation
What's the context?
A pumped hydro storage project in Manipur state is the first in India to power the tech with solar pumps
India is seeking to boost its renewable power capacity
Pumped hydro storage systems seen as vital technology
Landmark project integrates hydropower with solar pumps
MANIPUR, India - Tucked away in the Himalayan foothills of northeast India and frequently battered by strong winds and landslides, the isolated village of Hengbung is well-accustomed to prolonged power cuts.
But the village's challenging terrain - it is mountainous, hard to reach, and criss-crossed by streams - is now proving an opportunity to ensure reliable electricity for the community.
A pumped-storage hydropower system fitted with solar-powered pumps started operating in the village last July - the first such project in India to integrate hydro with solar.
Built on a stream, the facility features two interconnected reservoirs and essentially acts as a giant water battery, which stores renewable power for release later during grid outages or when demand is higher.
At least 350 people in Hengbung - located in Manipur state - now have consistent lighting in their homes and streets as a result of the system, said the Foundation for Environment and Economic Development Services (FEEDS), an NGO involved in the initiative.
"The project has made a sea change in the lives of our villagers by fighting out darkness while keeping the environment clean," said FEEDS founder, Haokholet Kipgen, who is a Hengbung resident and the wider area's local political representative.
The project - a collaboration between FEEDS, the NB Institute for Rural Technology (NBIRT) and Visva-Bharati University, with central government funding of 29 million rupees ($353,195) - is part of a drive to boost India's renewable energy capacity.
One of the top global emitters of greenhouse gases, India wants to increase its renewable generation to 500 gigawatts (GW) by 2030, from an output of about 120 GW, government data shows.
Hydropower has been earmarked as a key part of this, as it can provide continuous power when other green power sources - such as solar and wind - are limited by poor weather conditions.
But as renewable energy generation grows, particularly from solar power, energy storage is also needed to ensure the nation's grid remains stable around-the-clock and outages are avoided.
India's total operational battery storage capacity is about 50 megawatt hours (MWh), according to the India Energy Storage Alliance (IESA). A recent study by the Council on Energy, Environment and Water (CEEW) estimated that the country's need would be 327 gigawatt hours (GWh) by 2030.
Energy experts say that pumped-hydro storage projects (PSP) could be a key solution, and India's power ministry recently published draft guidelines to promote the technology.
Currently there are eight operational PSPs in India with about 4.7 GW capacity overall, most drawing their main operating power from the national grid.
But India's government has identified about 120 sites for the technology, with the total storage potential of 103 GW.
Nine further PSPs have been commissioned, with three now under construction, and energy analysts said private power firms are now looking to combining hydro power with clean energy, following the example of the landmark system in Hengbung.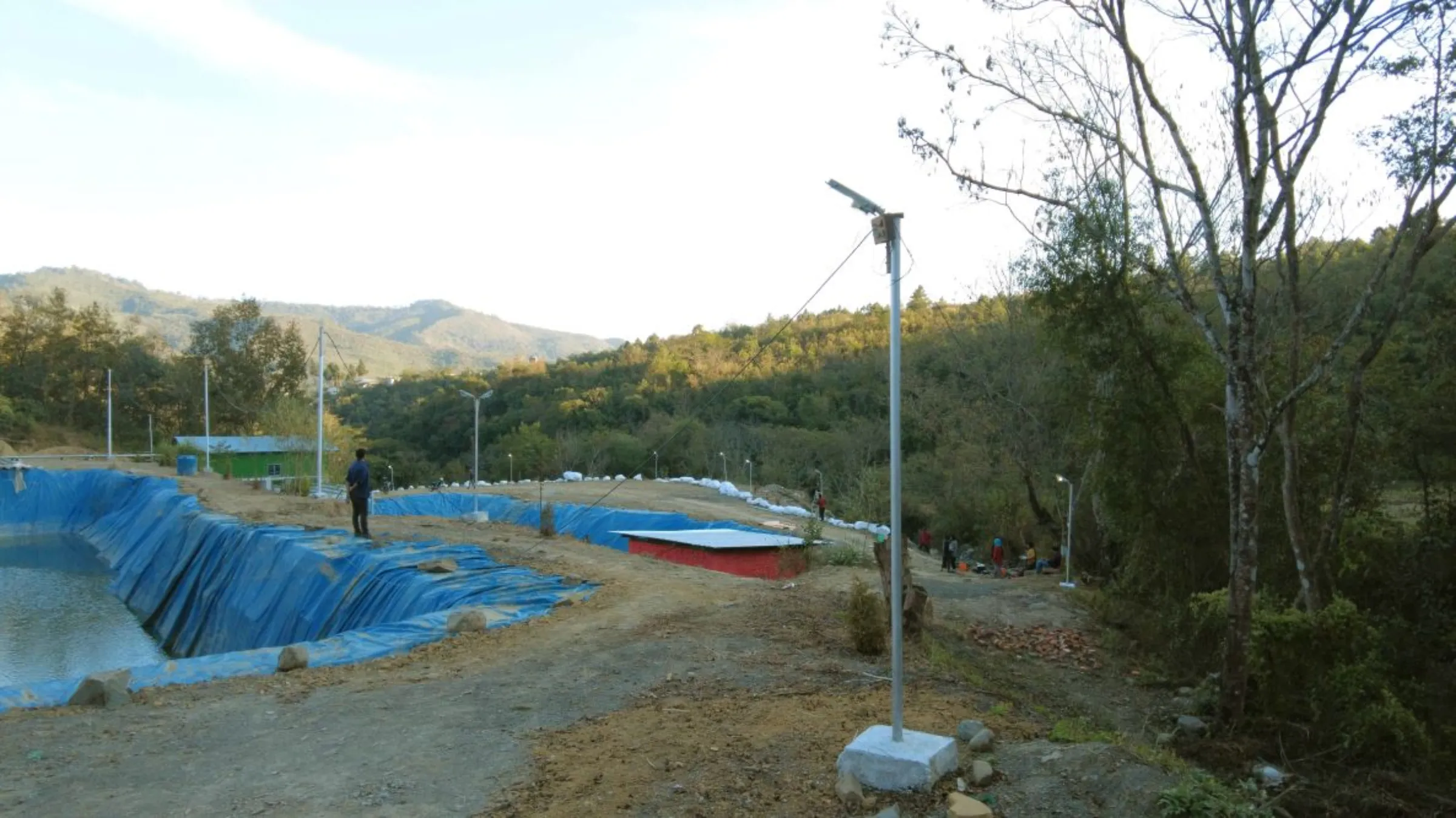 "Such projects show the way in transitioning to a sustainable energy future by integrating renewable energy with hydroelectric power and storage," said Santi Pada Gon Chaudhuri, NBIRT's founder and an energy advisor to the central government.
India promotes pumped hydro storage
The PSP in Hengbung has two interconnected reservoirs with a total capacity of 1.9 million litres of water, equivalent to about three-quarters of an Olympic swimming pool.
During power outages - which are often caused by snapped transmission wires or transformer breakdowns during monsoon rains and in winter - the upper reservoir releases stored stream water to operate a turbine, feeding green power to the grid.
That released water then accumulates in the lower reservoir, until it is later pumped back upstream, using solar power, to make it available for power generation again.
During monsoons, when there is plenty of stream water to drive the turbine and restock the upper reservoir, excess solar power is fed into the national grid.
Energy experts said PSPs have a longer lifespan, lasting for at least six decades, than lithium-ion or lead-acid batteries.
"Pumped water storage systems can be a dependable option ... especially when renewable sources such as the sun or the wind may not be available to match the electricity demand," said Disha Agarwal, senior programme lead at CEEW, a think-tank.
Major hydroelectric facilities being built across other Himalayan areas and regions of India have sparked huge protests from residents due to the environmental and social impacts.
Yet Arun Kumar, a professor of hydro and renewable energy at the Indian Institute of Technology Roorkee (IITR), said PSPs require far less space than big hydro plants and tend to be located away from rivers and communities or settlements.
Nevertheless, he acknowledged that PSPs faced challenges including maintaining required water levels, getting land clearances and attracting investment.
The power ministry's draft guidelines on PSPs say Indian states should consider concessions, subsidies and tax relief for such projects, and call for the use of climate finance options including sovereign green bonds.
Kumar said his team of researchers reviewed more than 50 PSPs in different stages of development, and found that their average cost per kilowatt unit stored was about 3 rupees ($0.04) - around half that of other storage options.
Although the systems need capital investment of between 50-60 million rupees ($608,000-730,000) per MW of capacity, he said they are cost-effective storage solutions in the long run.
Sustainable energy transition
The Hengbung project has lit up the homes of between 350-400 people so far and powered 84 street lights in the village. The next phase aims to cover a further 1,100 inhabitants.
Residents said power supplies are now far more stable than in previous years when bad weather and landslides led to power cuts, with repairs taking days to carry out in the village.
FEEDS said it has trained local young people to maintain the system, and pays villagers to do repairs when problems arise.
"The system is in our hands now; we can run and maintain it ourselves," said Romi Rai, a 32-year-old who makes a living farming poultry.
Rai and his wife Jeena said the system had improved their family life by giving her light to do stitching and household chores more hours of the day, and helping their 6-year-old son do his homework without worrying about the lights going out.
The couple said they are also proud their community is providing an example for the rest of the nation.
"We are happy to be a part of the country's green energy drive, even from our remote village," Rai said.
(Reporting by Moushumi Basu; Editing by Kieran Guilbert and Laurie Goering)
---
---
Tags
Clean power

Carbon capture and storage

Adaptation

Energy efficiency

Net-zero

Energy access
---