From new jobs to cheap power, community renewables show a better future is possible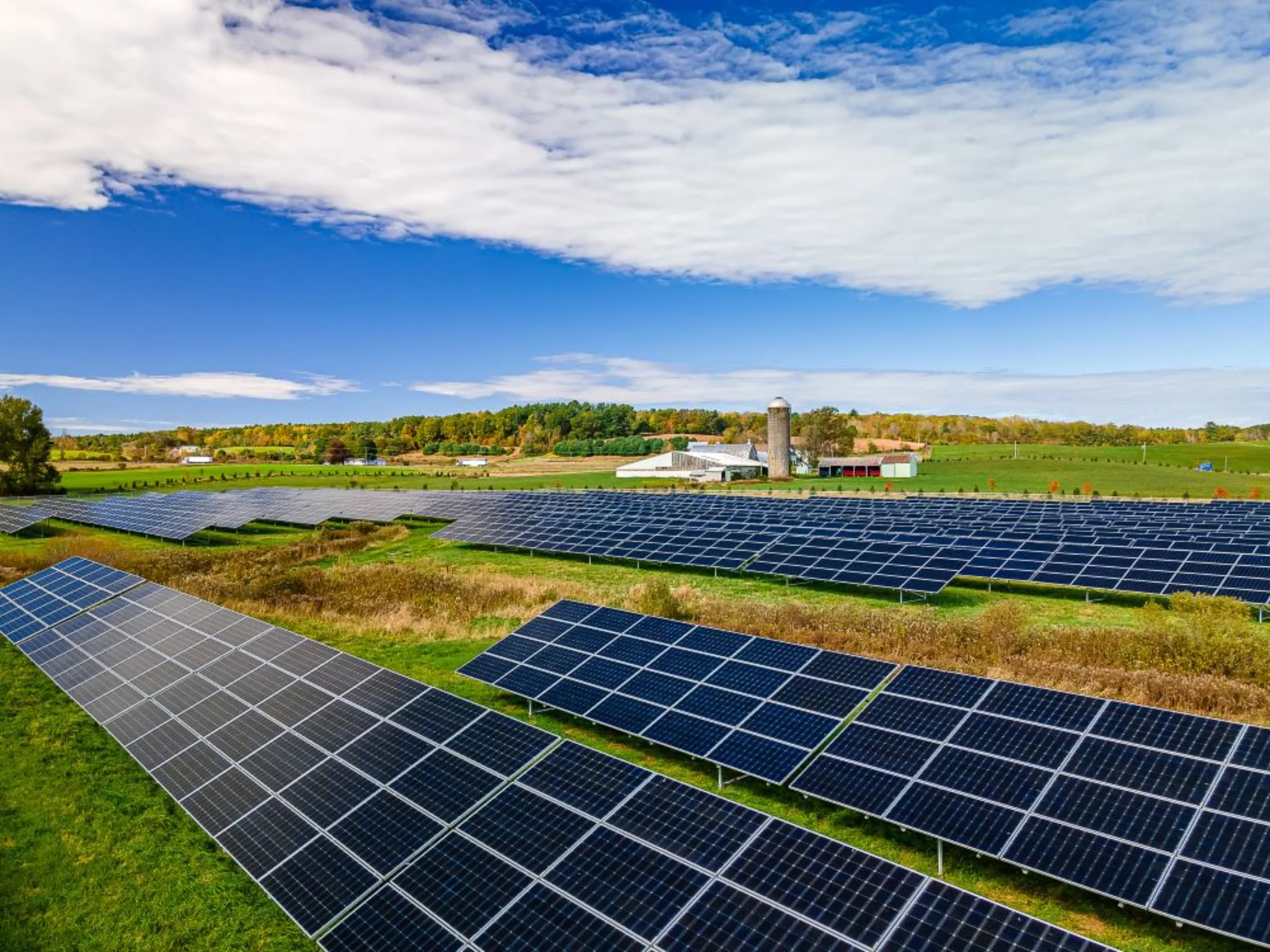 A community solar project in Gloversville, New York. October 19, 2021. Nexamp/Handout via Thomson Reuters Foundation
A just transition away from fossil fuels and to community-centered solar and wind energy is the way to deal with climate change
May Boeve is the executive director of 350.org
The IPCC's 6th Assessment Synthesis Report released this week summarizes what we already knew: that the climate crisis, whose visibility has grown more pronounced over every season, is unequivocally happening.
Its root cause? Humanity's addiction to fossil fuels. Every year that we put off a swift, just transition into a decarbonized economy is a year that we will never get back.
But a better world is possible, and in fact it's already here.
Over the last decade, renewable energy has become more affordable and more accessible. The global energy crisis is driving a sharp acceleration in installations of renewable power, with total capacity growth worldwide set to almost double in the next five years to account for over 90% of global electricity expansion.
This increase is 30% higher than the amount of growth that was forecast just a year ago, and would see renewables overtake coal as the largest source of electricity generation. This keeps the possibility of limiting global warming to 1.5 °C alive, and highlights how quickly change is possible when accompanied by political will.
This leap towards decarbonization is also being taken by grassroots communities worldwide — the ones who are on the frontlines of the crisis. They have had enough, and they have had the courage to take power into their own hands.
Reflecting on some of the key projects that have been the building blocks for our irresistible world, I think of the Solar XL action.
The Keystone XL Pipeline is a partially built pipeline running from the polluting tar sands in Canada across the breadth of the United States. Its construction has been fiercely resisted by local residents, farmers, and Indigenous people, whose livelihoods have been impacted by the pipeline.
In resisting Keystone XL, they did not just say no — they harnessed their agency, and built solar arrays directly on the proposed path of the pipeline. They disrupted the problem with a solution, creating their own energy in place of a pipeline, one of the world's biggest carbon bombs.
In Fiji and the Philippines, organizations have delivered training for communities, teaching them how to set up portable solar energy devices called Tek Paks. The program, called Solar Scholars, involves training volunteers who then commit to passing on the training to others, and are provided with the tools and resources needed to do so.
These devices are used as emergency response when climate disasters impact the accessibility and availability of electricity.
The Philippines is a country that has experienced grave climate impacts — most recently, super-Typhoon Odette whose torrential rains and violent winds destroyed hundreds of thousands of homes and impacted millions across the country when it made landfall in late 2021.
Solar Scholars is the kind of solution that creates regenerative positive impacts down the line beyond just energy generation. One anecdote that comes to mind is of a woman in the Philippines who, after undertaking her Tek Pak training, was able to power a refrigerator to keep her and her husband's daily fish catch fresh for longer, increasing their household income.
Above Machynlleth, a market town in Mid-Wales, two community turbines, 75kw and 500 kw respectively, stand on the surrounding hills.
The turbines are owned by around 200 shareholders and have been generating electricity since 2003, with profits given back to shareholders and funneled into local community schemes.
Amid the financial hardship brought on by the cost-of-living crisis, the scheme has been a vital source of funding for a community hub, food, and outdoor play equipment for local schools.
Community renewable energy projects bring more than just clean power and heat – they create more jobs, build support for change, and help create more resilient local economies and energy systems, reducing carbon emissions and contributing to the national grid while reducing pressures on it in other ways.
While investment into renewable energy is at an all-time high, the reality is that powering up renewables will only have an impact if we power down fossil fuels. We can add as much renewable energy capacity as we like to the mix, but if we're not eliminating emissions that come from fossil fuel use, we're not getting anywhere.
A just transition away from fossil fuels and into community-centered renewable energy is the only path forward.
Solutions are a form of resistance, and resistance is a tool for remediation. The rallying cries for a livable, fossil-free future are louder than ever, and the calls for change are getting louder and louder.
While the business-as-usual few remain stuck in the past, the collective imaginations, agency, and creativity of the many are launching us into the irresistible world we deserve.
---
Any views expressed in this opinion piece are those of the author and not of Context or the Thomson Reuters Foundation.
---
Tags
Clean power

Adaptation

Fossil fuels

Net-zero

Green jobs
---