Americans owe billions in medical debt. Can cities help?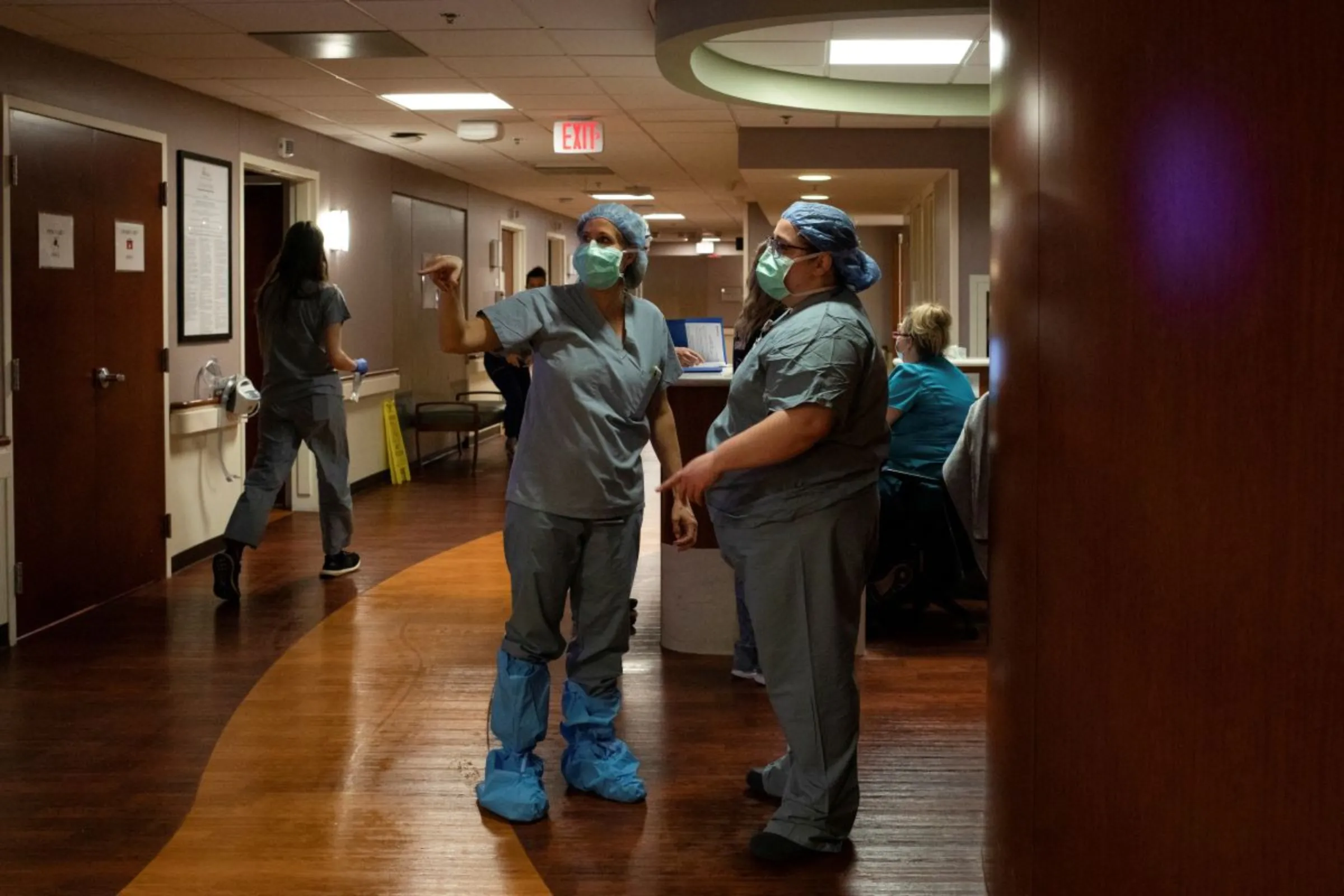 A doctor and nurse consult in the hallway as a patient prepares to be transferred for an emergency C-section in the Family Birth Center at Beaumont Hospital in Royal Oak, Michigan, U.S., February 1, 2022. REUTERS/Emily Elconin
What's the context?
Worried about the impact of debts on their communities, local governments are paying the hospital arrears of low-income homes
About 100 million Americans have medical debts
Healthcare debts are leading cause of bankruptcy
Cities use pandemic relief cash to clear overdue bills
WASHINGTON - Jenn Bakowski's cancer diagnosis and back-to-back medical procedures had already turned her family's life upside down when she started receiving the bills, late notices and collections warnings that are still arriving four years later.
"I probably get 10 to 12 bills sent to me a week, even to this day. I keep going through them, and I try my best, but it's impossible," Bakowski, 53, who lives outside Fort Lauderdale in Florida, told Context by phone.
Her health has now stabilized, but the family spent more than a quarter of its income on medical bills last year, said Bakowski, who has not returned to work and receives government disability benefits.
So the mother of two teenagers was dumbfounded in June when she received a letter informing her that two bills from 2020, totaling nearly $2,600, were being erased, courtesy of an initiative she had never heard of.
"To get that letter (meant) I didn't feel alone," she said.
Bakowski is one of more than 100 million Americans with medical debt, estimated at $195 billion. Most owe less than $1,000, but low-income people and those with disabilities tend to owe more, according to an analysis by the Peterson Center on Healthcare and KFF, a nonprofit focused on healthcare issues.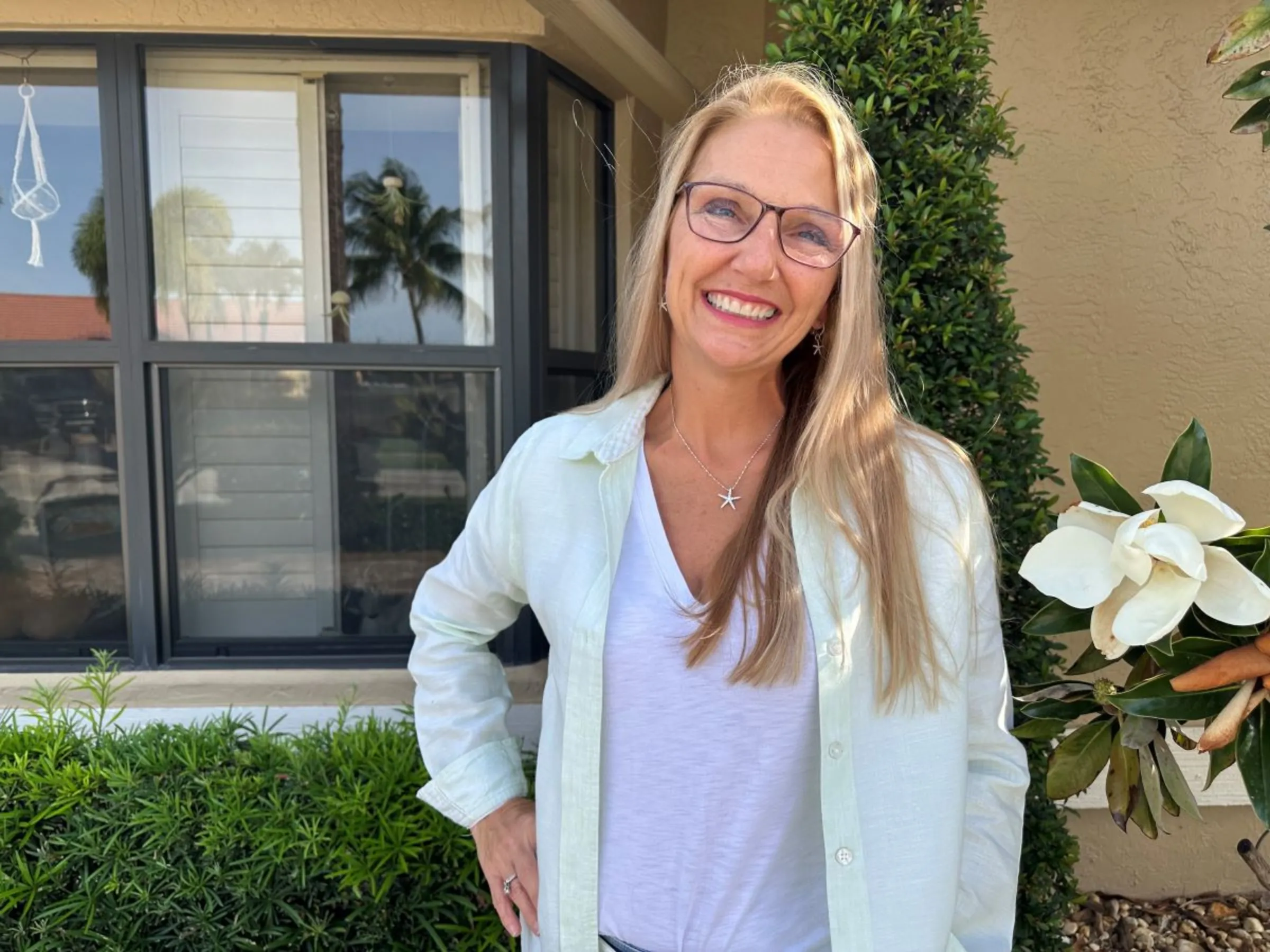 Cheap debt
Most of those who buy debt on the secondary market - whether mortgage-backed securities or overdue medical bills - do so to try to make a profit by collecting on as much as possible, said Allison Sesso, president and CEO of RIP Medical Debt, the nonprofit facilitating these purchases.
But the trade also presents an opportunity for an altruistic buyer such as RIP, which over the past decade has used philanthropic and donor money to purchase and cancel more than $9.5 billion in medical debt for more than 6 million families.
Typically it works with hospital systems to look at the debts they are owed or goes on the secondary markets to buy old arrears.
That information is then cross referenced with income data it purchases from elsewhere to identify people who qualify for RIP's debt relief – typically poorer families or those for whom the debt amounts to 5% of their income, Sesso said.
Then, the relief letters are sent out.
RIP says its approach has caught the attention of local government officials, with 16 cities, 12 counties and seven states interested in collaborating by contributing funds.
The first to partner with RIP - Cook County, Illinois - said in May that since the start of the year it had acquired nearly $80 million in medical debt for 73,000 county residents – part of an effort to erase $1 billion in local arrears.
It is an issue that has received new scrutiny following the COVID-19 pandemic and greater discussion about racial equity – with Black Americans, the study found, almost 50% more likely to have medical debt than White Americans.
Having such arrears can force people to choose between servicing debts or paying for food or rent, officials and researchers said, while the impact on credit ratings can make it harder to get loans, insurance or even to find housing.
Concerned about the knock-on effects spreading through their communities, a handful of cities – including Washington D.C., New Orleans and Toledo, Ohio – are taking steps to buy up medical debt, with several using federal pandemic relief money.
Community-wide impact
In contrast to other debts, people do not plan to take on medical debt and are limited in their ability to shop around, said a report last year from the U.S. Consumer Financial Protection Bureau.
While the uninsured are at greatest risk, most people who incur medical debts have insurance, said Michael Karpman, principal research associate in the Health Policy Center at the Urban Institute think-tank.
The problem is cheaper, high-deductible plans that include "out-of-pocket expenses that they can't afford," he said.
In Cook County, which includes Chicago, county board president Toni Preckwinkle said 14% of households have medical debt and it is the leading cause of bankruptcy.
"It's particularly problematic in African American and Latino communities," Preckwinkle said.
Michele Grim heard about Cook County's initiative during the pandemic when she was a member of the city council in Toledo, Ohio, where she helped push a similar program to get narrowly approved in November.
"Some people believe the scope of local government is limited to police, fire, roads, infrastructure, but I think we have a responsibility, too, to look out for the health and welfare of our citizens," said Grim, who is now an Ohio state representative.
While debt relief is thought of as a one-time intervention, Grim said she could "see a scenario where we could keep a fund going, whether through government or nonprofits."
Medical debt is a concern for hospitals, too, to which nearly three-quarters of U.S. medical debt is owed, found research this year from Karpman.
Financial assistance offered by nonprofit hospitals amounted to about $50 billion in the 2019 tax year, the most recent data available, according to American Hospital Association general counsel Melinda Hatton.
But that assistance can only go so far, said Molly Smith, the group's vice president for policy, pointing to a lack of insurance coverage and a rise in high-deductible health plans as driving medical debt.
Those issues are not addressed by debt relief, she said.
"Unless we get at the root of the problem, medical debt will persist."
Legal changes
Even among those campaigning to change laws to address medical debt, relief initiatives are controversial.
"The immediate relief that these measures are going to offer people is so needed," said Lindsey Muniak, an organizer with the Debt Collective, a national advocacy group.
"But we also really hope that there's intention in these different administrations pursuing these measures toward addressing the structural conditions that are producing this problem."
She pointed to recent laws in Maryland, where she helped spearhead a grassroots effort, that raised an income threshold for free hospital care, for instance, and prohibited wage garnishment or home liens in certain medical debt judgments.
Others say existing laws should be used more widely.
Jared Walker founded a nonprofit called Dollar For in 2021 as a clearinghouse for information on the "charity care" law, which requires nonprofit hospitals to offer free or cheaper care to poorer patients.
So far, the group has helped relieve nearly $27 million in medical debt, with interest massively expanding.
"The first thing you want to say to someone that got a big medical bill is: There's no shame in this. You did nothing wrong," Walker said.
"It has everything to do with a bad system."
(Reporting by Carey L. Biron; Editing by Helen Popper.)
---
---
Tags
Pay gaps

Wealth inequality

Poverty

Cost of living
---