Milk tea maker brings new flavours to UK after Hong Kong clampdown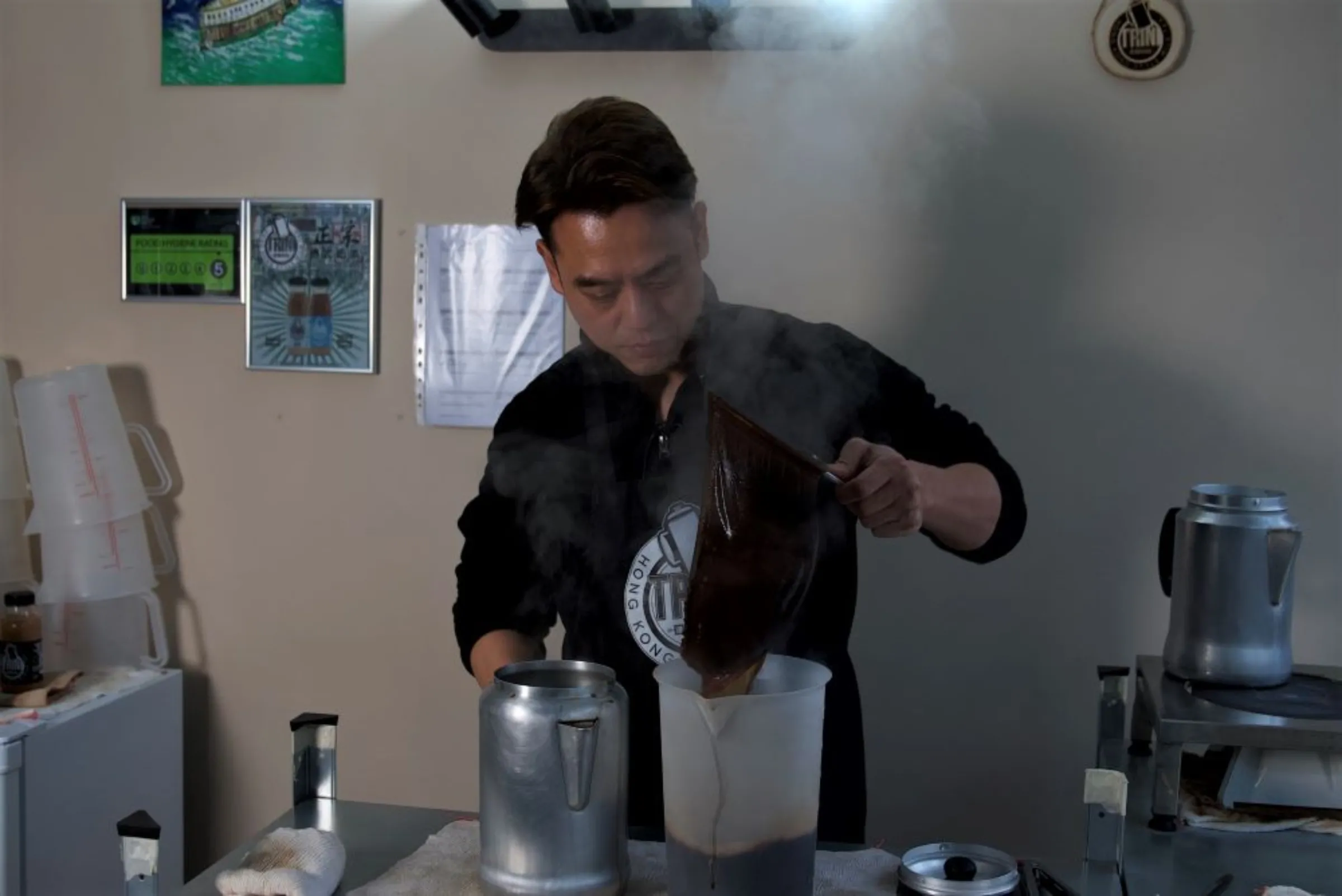 Eric Wong, founder of Trini Hong Kong Milk Tea, works in his kitchen in Sutton, South London, January 2023. Thomson Reuters Foundation
What's the context?
Hong Kong tea trader Eric Wong has started a business in London making traditional Hong Kong-style milk tea - with a twist
LONDON - Two years ago, Britain launched a scheme offering a path to citizenship for Hong Kong residents after China imposed sweeping new security measures on the former British colony.
More than 150,000 Hong Kongers have so far applied for a visa allowing them to move to Britain.
They include former tea trader Eric Wong, 46, who has set up a business making traditional Hong Kong milk tea, also known as "silk stocking milk tea" after the distinctive long bag used to brew it.
Wong runs his company Trini - named after his 5-year-old daughter - from the kitchen of the family's south London home in the suburb of Sutton, where many Hong Kongers have settled.
Britain launched its visa scheme - open to those holding British National (Overseas) status - after accusing Beijing of breaking promises to respect Hong Kong's autonomy following its return to Chinese rule in 1997.
China has said Britain should stop meddling in Hong Kong's affairs.
Here he tells his story to reporter Emma Batha:
I set up my company because I wanted to bring a piece of Hong Kong culture to Britain. The British introduced milky tea to Hong Kong in the 19th century.
We adapted it, the drink evolved, and now I want to bring Hong Kong-style milk tea back to the UK.
I think I'm the first traditional Hong Kong milk tea producer in Britain, but there are a couple of others doing it now too.
When British people try it they're surprised that it's sweet and creamy. The taste is stronger than British tea. I use a blend of six Sri Lankan teas, which a partner in Hong Kong sends me.
Milk tea is very popular in Hong Kong cafes. I think 70% of Hong Kongers drink it, and a lot of people miss it when they leave.
Some people who've been away a long time have shed tears when they tried my milk tea because it brought back memories of Hong Kong for them. That kind of made me want to cry too.
Once an old man who had lived in the UK for more than 20 years tried my tea. At first, he didn't say anything, but then he gave me a big thumbs up and told me to keep going. I felt very touched.
Hong Kong milk tea is completely different to English milk tea. It's made with evaporated milk and can be drunk cold or hot. It's smooth and rich.
In the past, many people in Hong Kong worked in labour intensive jobs so adding evaporated milk helped them feel full and kept them going longer.
I started in August 2021 and now make 3,000 bottles a month from my kitchen. It takes about an hour to make. I sell it through Asian supermarkets and online. I also sell dry teas so people can experiment at home.
My hope is that more British people will discover my milk tea this year. I've created three new flavours – Earl Grey, charcoal-roasted and cinnamon.
I'm using tastes familiar to the British so they can slowly embrace it. I don't think you'll find anyone in Hong Kong making cinnamon tea, but I wanted to try it because British people use cinnamon at Christmas. It's a festive flavour.
I enjoy thinking about how to combine different tastes. I want to continue to diversify, for example by making Yuenyeung which is a mix of coffee and tea that is popular in Hong Kong.
All the leftover tea leaves from my business go to a farmer from Hong Kong who lives nearby and uses it for his compost.
My company is called Trini after our daughter. We actually came to England because of our daughter - I hope my milk tea business can grow up with her.
Hong Kong has changed a lot in recent years. We moved because the politics is not stable and because education is better in the UK.
We sold our flat before we left and rented a place in a development in Sutton while we looked for somewhere to buy.
There are now about 200 Hong Kong families living in that development, and many others in the area. It's like a little Hong Kong here.
My wife's father and sister are also here, but my family have stayed in Hong Kong. The hardest time was in April when my father passed away. Hong Kong was in lockdown because of COVID so I couldn't go back. When I think about Hong Kong I feel very emotional - I miss it so much.
But I like the lifestyle here. It's more relaxed, not so rushed. The hardest thing for me is the language. My wife speaks English, but I have to learn a new language again like a child.
Hopefully, in the future, I can expand my workshop or even have a factory.
At the beginning, only Asians knew my tea, but they've started introducing it to their non-Asian friends so business is improving.
It's not very lucrative yet, but money is not the most important thing to me. The main purpose is to preserve and promote Hong Kong culture.
Making milk tea is like an art, and I feel proud I can share it with the British.
(Reporting by Emma Batha; Editing by Helen Popper.)
---
---
Tags
Entrepreneurship
Migration
Future of work
Economic inclusion
---