'Freedom': Famous Hong Kong farmer puts down new roots in UK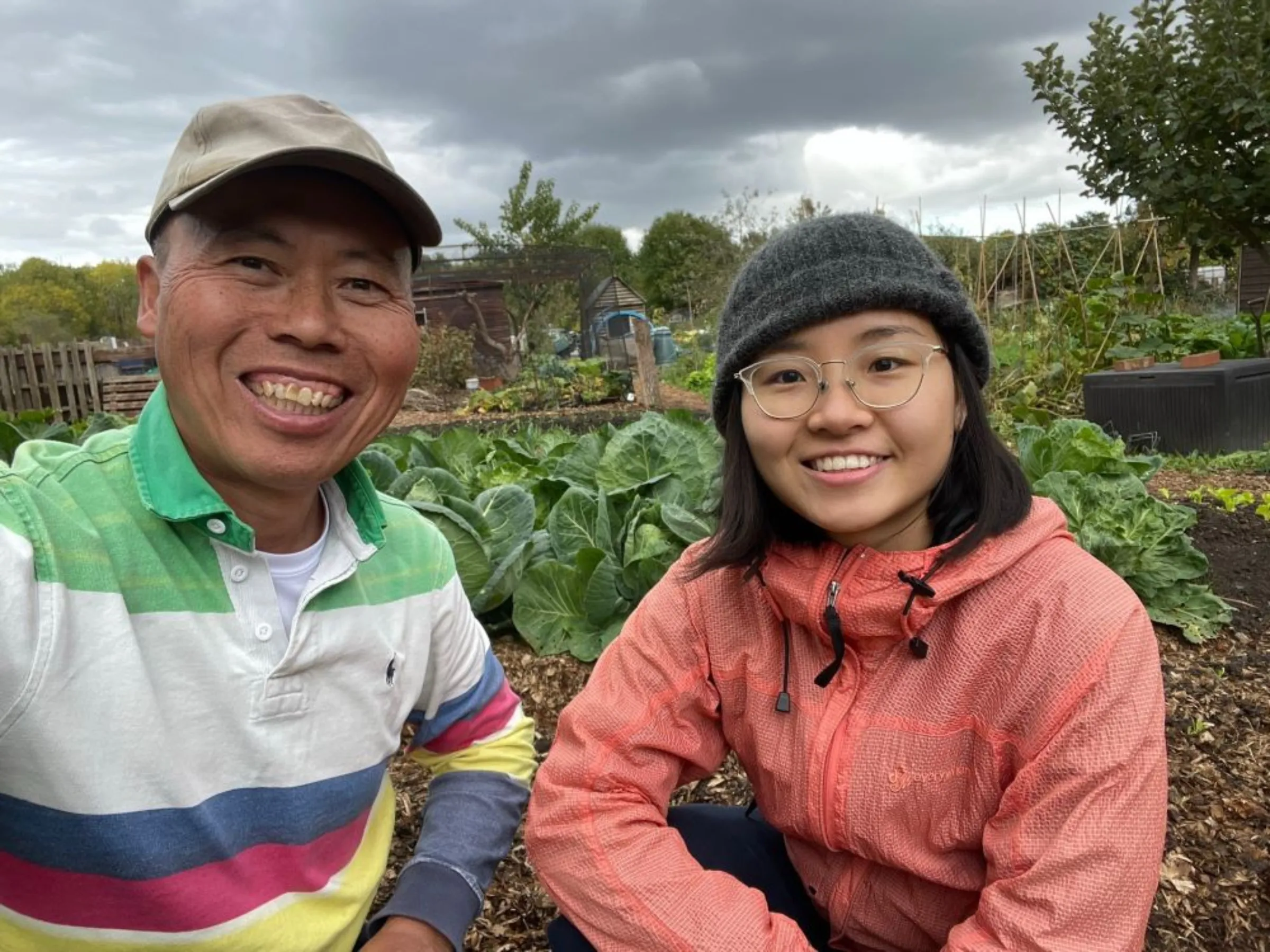 Yu-wing Wong and Perle Wong, founders of AuLaw Organic Farm UK, are seen in a selfie taken at their allotment in New Malden, south London in October 2022. Thomson Reuters Foundation
What's the context?
Former Hong Kong farmer Yu-wing Wong is on a mission to turn Britain's backyards into vegetable gardens
LONDON - Two years ago, Britain launched a scheme offering a path to citizenship for Hong Kong residents after China imposed sweeping security measures on the former British colony.
More than 150,000 Hong Kongers have so far applied for a visa allowing them to move to Britain.
They include farmer Yu-wing Wong, 55, who has swapped his fields in the New Territories for an allotment in New Malden, a south London suburb.
After relocating two years ago with his wife and two teenage sons, Wong co-founded a company to promote urban farming. AuLaw Organic Farm UK has since been shortlisted for an award for "outstanding business contribution to the community".
Britain launched its visa scheme - open to those holding British National (Overseas) status - after accusing Beijing of breaking promises to respect Hong Kong's autonomy following its return to Chinese rule in 1997.
China has said Britain should stop meddling in Hong Kong's affairs.
Here Wong tells his story to reporter Emma Batha:
When I tell British people I'm a farmer from Hong Kong they're really amazed. They can't imagine that Hong Kong has farms.
I come from a farming family, but I studied electronic engineering at university and spent 20 years in business. About 13 years ago, I decided to quit and start my own organic farm.
My mum was against it to begin with, but I broke even after a year and quickly expanded.
My farm became one of the best known in Hong Kong. I also started two associations to promote organic farming. Normally, a farmer will stay on their land for life so people there were very surprised when I left.
I had no plans for what I'd do in Britain. I didn't know the country, I had no idea what it would be like, whether people would be nice, whether there would be opportunities.
On the flight here, I was wondering should I go back to business or try something new. I was flicking channels and by chance I came across an old TV interview I'd done.
I realised there was no need to give up farming. I'd been very successful in Hong Kong. When I got to the UK I would be starting from nothing, but why not try again? By the time the plane landed, I'd made up my mind.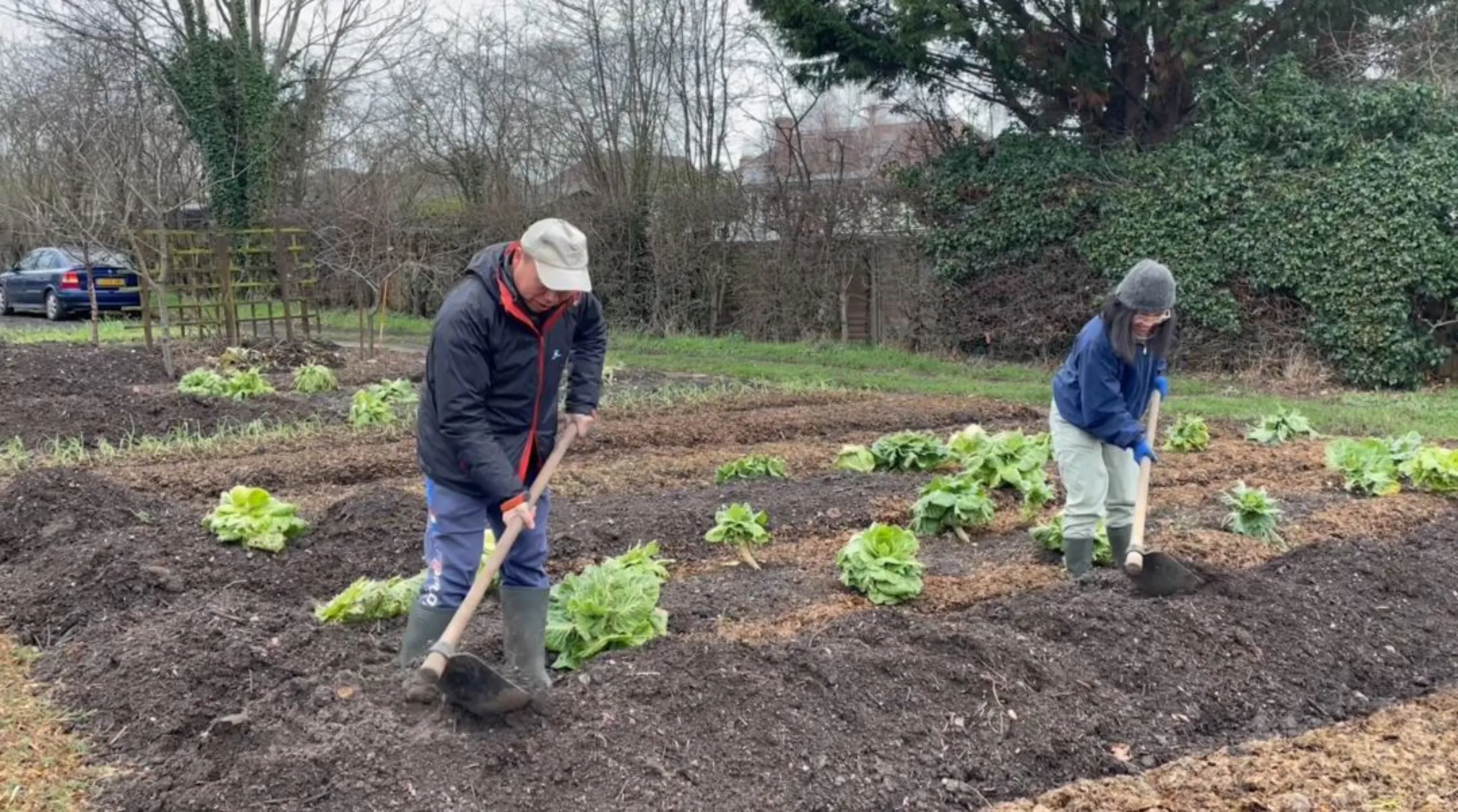 We rented a house in New Malden and began growing vegetables in the garden. I made friends with our neighbours who are Korean and told them I could also help them grow vegetables. They agreed to remove the fence between our gardens and that was the start.
I set up the business with my friend Perle Wong. We want to encourage more people to grow their own food using sustainable methods. Importing vegetables is not environmentally friendly.
In Hong Kong, I sold 50 different crops, but we don't sell vegetables in the UK. We sell seedlings, we help people convert their back gardens, and provide group lessons so people can learn together.
We have an allotment where we can test how different seeds grow. We share our crops with neighbours and donate some to local charities. I want to start keeping bees this year as well.
Hong Kong people love Asian vegetables like choi sum and pak choi, but when they come here there's a limited choice in the supermarkets so we show them how to grow their own, and other vegetables like kale, cabbage, broccoli and cauliflower.
Most Hong Kong people have zero experience of farming. They live in tall buildings with no outside space. But in the UK, many have a bit of land in their back garden.
We're also linking up people to get them to grow together in community gardens. We've focused on Hong Kong people so far, but this year we will work with more local British people. I've met so many nice people. Everyone has been welcoming.
For me, the main surprise here is the sun. As farmers, we work outdoors every day. In Hong Kong, the sun rises and sets the same way every day. It's very strange for me to see the sun at eye-level in the winter, or the moon and sun appear together.
If it rains in Hong Kong the sun disappears, but here you get both at the same time. Of course, you learn all this at school, but you really can't imagine it until you experience it.
We left Hong Kong to come here because we want our young people to grow up with our values of freedom and democracy.
British people often ask how long I'm here for. Most do not know what has happened in Hong Kong, or that Britain launched a scheme for us to move here.
Maybe people have forgotten the ties between Hong Kong and the UK. Sometimes I explain our situation like this: Hong Kong has a father who is China and a mother who is the UK. We don't like the relationship we now have with our father so we want to join our mother.
We're not just passing through. We want to contribute to Britain.
(Reporting by Emma Batha; Editing by Helen Popper.)
---
---
Tags
Entrepreneurship
Migration
Future of work
Economic inclusion
---