As world's poor face 'compounding crises', what could curb risks?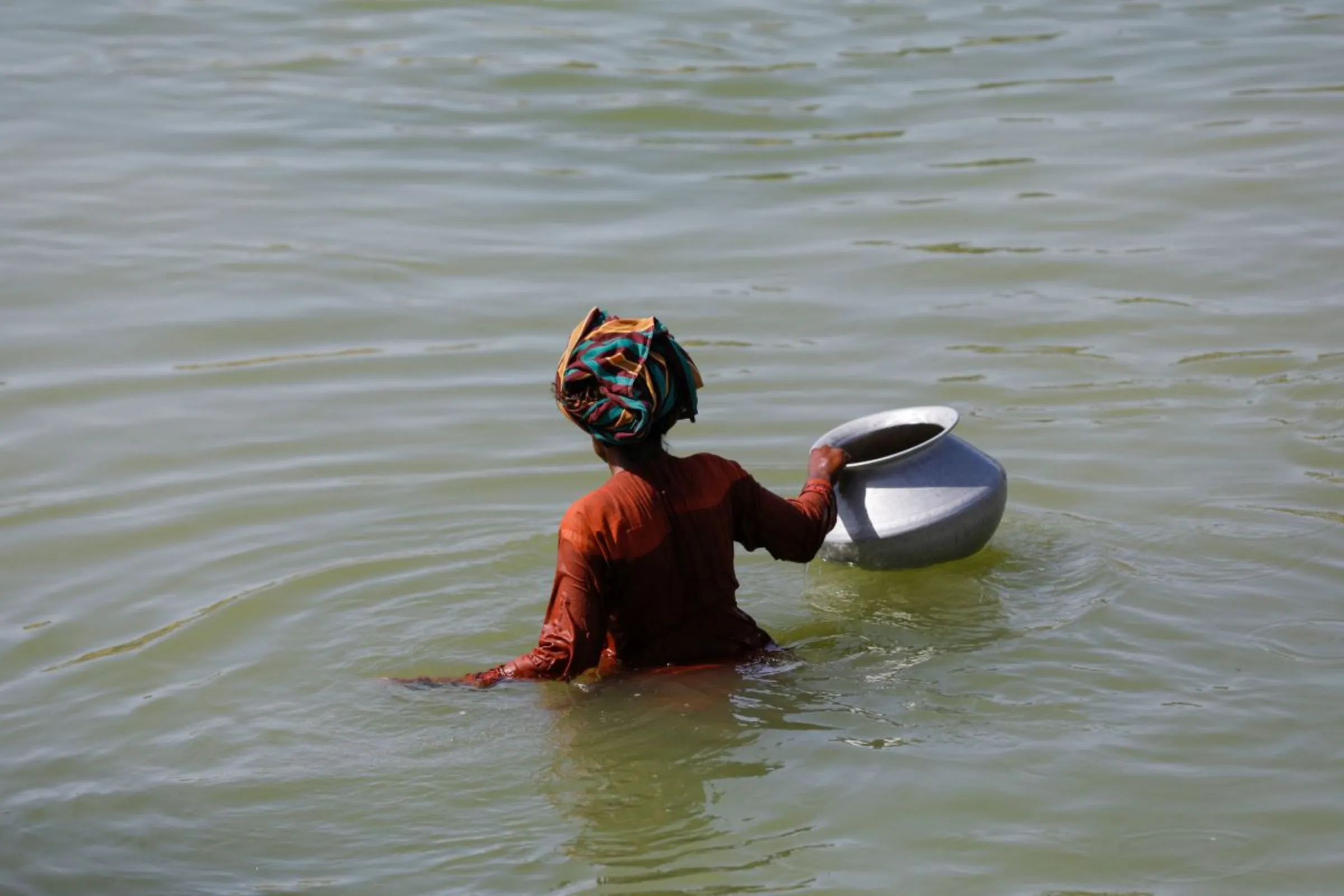 A displaced woman wades through flood water with a water pot, following rains and floods during the monsoon season in Sehwan, Pakistan, September 16, 2022. REUTERS/Akhtar Soomro
What's the context?
Climate change impacts threaten to overwhelm humanitarian aid systems - but changes in how money is moved could help
Poorest nations endure worst impacts of climate change
Humanitarian experts demand aid and development rethink
Local communities should help shape resilience efforts
LONDON - In nations from Somalia to Pakistan, the world's poorest and most fragile communities are facing the harshest impacts of climate change - a reality that is driving worsening poverty, potential for conflict and resentment against major polluters.
But finding innovative ways to get finance directly to those communities, to build resilience that is based on local knowledge and desires, could save cash and lives, and protect a global humanitarian system increasingly overwhelmed by surging need.
Right now, "there's a real sense of compounding crisis", with poorer nations battling a combination of climate shocks, heavy debt and economic woes, said David Miliband, president of the International Rescue Committee, a global humanitarian aid and development organisation.
"Countries are really feeling they're on the precipice," Miliband, a former British foreign secretary, said at a British Academy panel this month on the humanitarian impacts of climate change.
But rethinking the mission of global development banks, ensuring development, climate resilience and humanitarian efforts work in a joined-up way, and letting local people have a real voice in what needs changing - and the cash to change it - can help, experts said.
"There are solutions and innovations to be found that can be quite low-cost and can build up from what people are doing already," said Melissa Leach, director of the Institute of Development Studies at Britain's University of Sussex.
"If we actually look to communities, households, people - including those living in fragile and conflict-affected states - they've actually been living with uncertainties for a very, very long time," she said.
That gives them "a depth of knowledge about living in a resilient way, responding and adapting to uncertainty".
Growing need for aid
The number of people in need of humanitarian aid globally has tripled in the last half-decade, to 340 million, Miliband said.
About 90% of those live in just 20 countries, often those facing significant climate shocks or embroiled in some of the 54 civil conflicts around the world, he said.
But soaring demand for help is overwhelming humanitarian aid systems, with organisations such as the U.N. World Food Programme (WFP) increasingly struggling to raise the growing amounts of money needed, leaving more people hungry.
The combined weight of climate shocks, heavy debt, rising poverty and hunger, and other pressures, such as the economic impacts of Russia's invasion of Ukraine and the COVID-19 pandemic, mean once short-term humanitarian demands are turning into longer ones, experts said.
"This is creating huge challenges for the global humanitarian system," which is set up to provide short-term help, Leach said.
Filling the growing gaps will require a rethink of how help is provided, with a new climate change "loss and damage" fund established at COP27 one part of the picture, analysts said.
But finding ways to ensure need doesn't continue to skyrocket - such as investing now in things like social protection systems, which help buffer a range of shocks - is also key, they said.
"How can we reconcile the immediate need to act on the humanitarian crisis and at the same time shift now towards a more sustainable and resilient system that will see us through the next 200 years or more?," asked Edward Davey, co-director of the World Resources Institute in Britain.
He pointed to efforts within the WFP to trial "anticipatory action" programmes, which give those in the path of a predicted climate shock cash in advance to try to protect their assets, avoiding later heavy spending on aid.
The U.N. Food and Agriculture Organization has estimated that every dollar it has spent on anticipatory action has produced $7 in benefits, and avoided losses for families.
But cash for such trials is drying up as more immediate aid demands soar, draining coffers.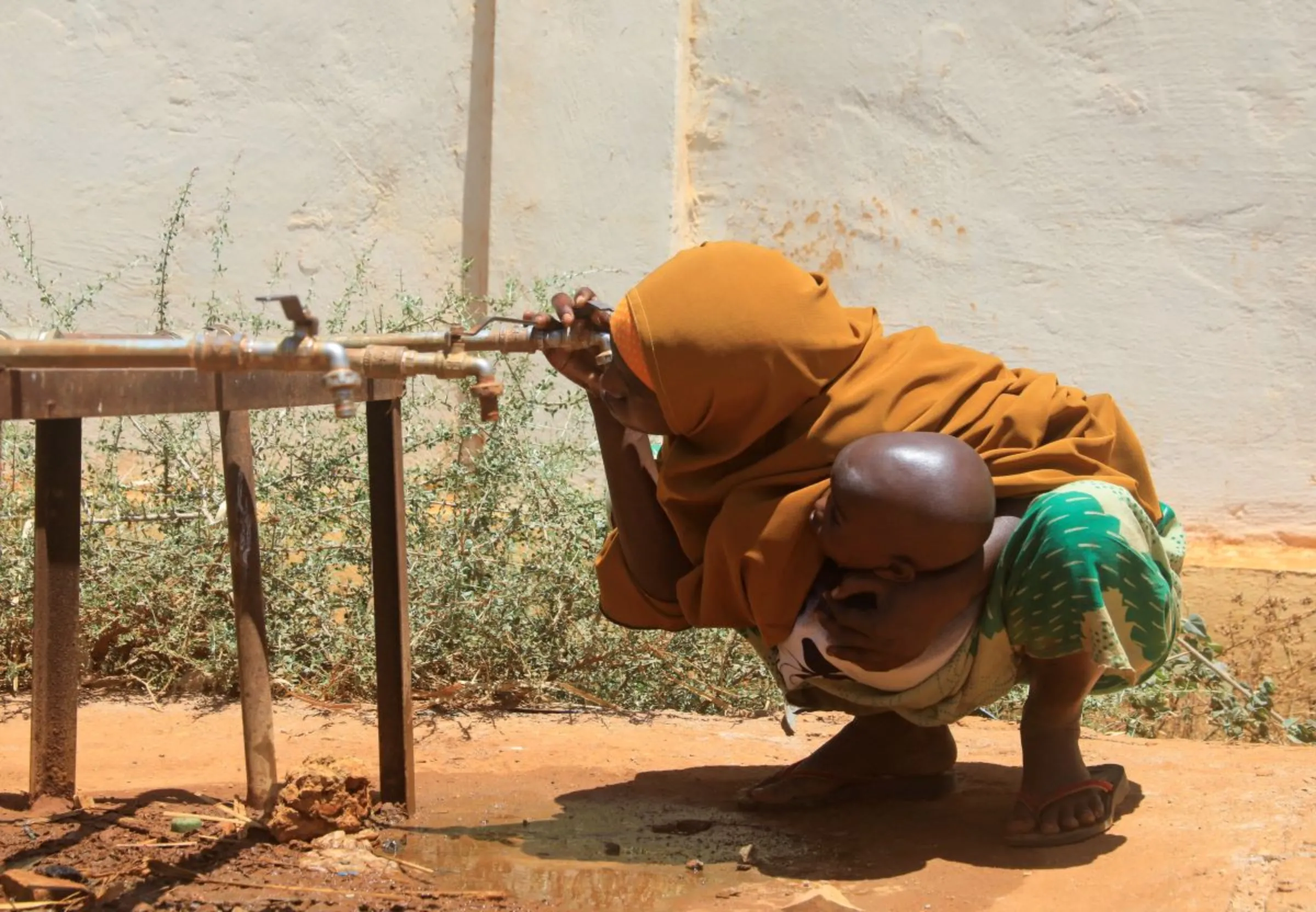 "The prevention agenda, the resilience agenda, is going to be left behind. There's no budget space to experiment," Gernot Laganda, WFP's climate and disaster risk reduction chief, warned at COP27 last year.
Ways forward
Among the keys to countering rising fragility is revamping the spending of big multilateral institutions, such as the World Bank, in an effort to drive more money toward cutting climate change and building resilience to its impacts, especially in poorer countries.
The so-called "Bridgetown Agenda" to reform the banks, championed by Barbados Prime Minister Mia Mottley and French President Emmanuel Macron, also aims to ease the crippling debt burden on many poorer nations, freeing fiscal space for climate action.
The bank reform agenda is "absolutely crucial" to getting more money to climate resilience and adaptation projects, said Vijay Rangarajan, who leads the UK Foreign, Commonwealth and Development Office's (FCDO) work on energy, climate and the environment.
He said that climate change, development and humanitarian spending by governments is increasingly interrelated but that the pots of money for each often remain separate, hampering efforts to join up the work.
Another challenge in trying to get money where it is needed in vulnerable countries is finding ways to deliver when the national government is weak, absent entirely or compromised and part of the problem, the analysts said.
In such situations, working through powerful local authorities, such as well-established and respected religious bodies, traditional leaders or civil society groups, can be one potential solution, Leach said.
"I think there's often been a political reluctance as well as a practical reluctance for humanitarian actors to deal at that level, partly because of the assumption that one should always work with government," she said.
But Miliband noted that a "people first" rather than "government first" strategy for moving assistance was now what was needed.
What may be most crucial, the experts said, is recognising that growing global instability driven by climate and other shocks is only likely to worsen, which makes finding ways to build resilience in the most vulnerable nations and communities urgent.
All countries - but particularly the most fragile - need to prepare for the "absolute certainty of climate shocks coming," said Rangarajan, who works on the Middle East, Afghanistan and Pakistan, among other regions, for the FCDO.
The reality for poor communities is "the more you build up their resilience, the more they're resilient to not only climate change," he added.
(Reporting by Laurie Goering; Editing by Kieran Guilbert)
---
---
Tags
Extreme weather

Adaptation

Climate policy

Climate inequality

Loss and damage
---