We won't stop biodiversity loss without transforming food systems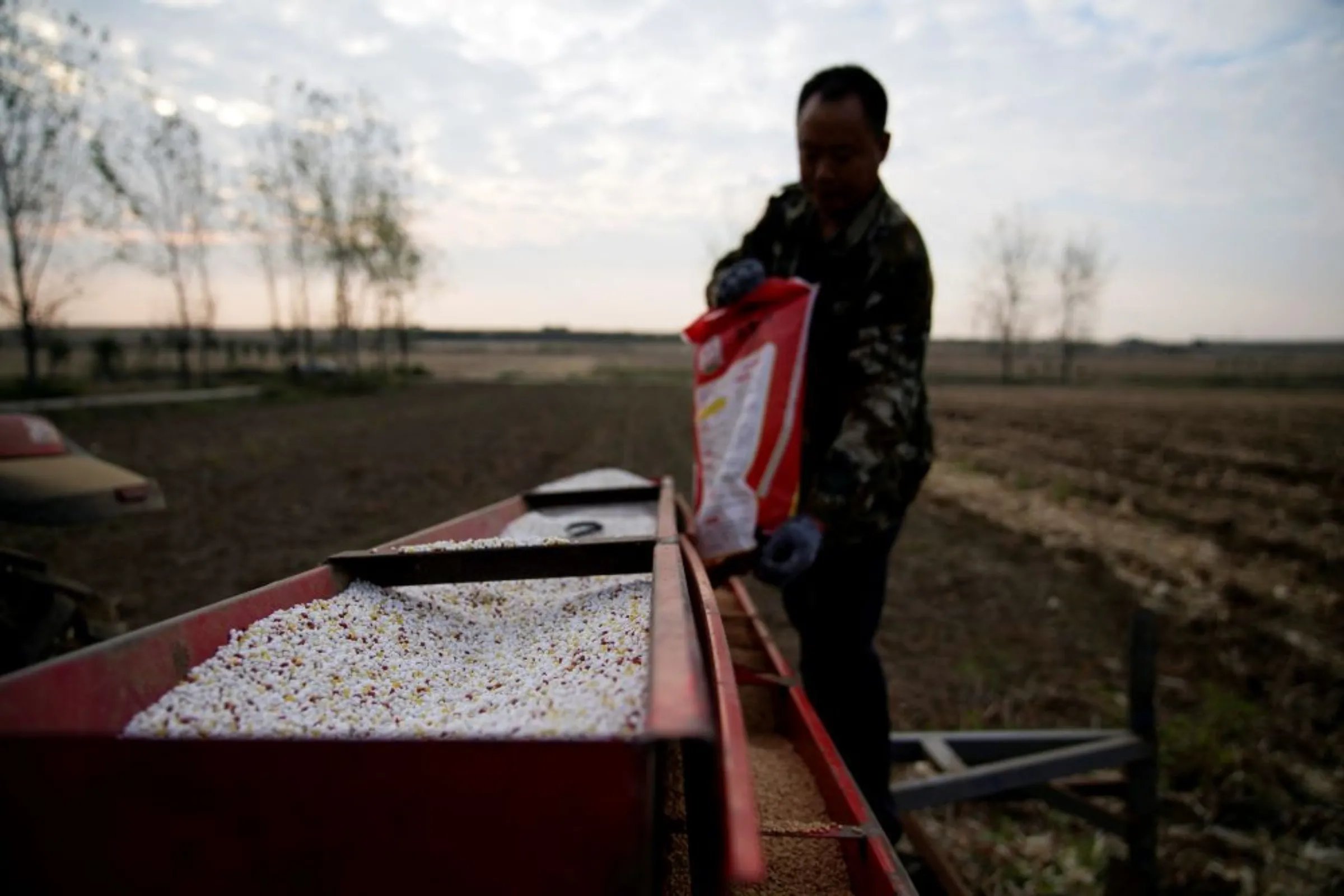 A farmer loads seeds into a seeder with fertiliser, on a wheat field in Nanyang, Henan province, China October 13, 2021. REUTERS/Aly Song
Moving away from industrial agriculture must be at the heart of a COP15 biodiversity protection agreement
Oliver Oliveros is interim director of the Global Alliance for the Future of Food and Alison Blay-Palmer is director of the Laurier Centre for Sustainable Food Systems and UNESCO Chair in Food, Biodiversity and Sustainability Studies.
In the pursuit of ever-cheaper food and higher yields, agribusiness has concentrated and industrialised the farming of crops and animals, without regard for the negative impacts on ecosystems and human health.
The intensive use of fertilisers and pesticides has degraded soils, depleted insect and other animal populations, and polluted streams and rivers.
Farms have expanded further and further into wild areas, driving devastating deforestation in critically important areas like the Amazon. Agricultural expansion is responsible for 80% of deforestation globally, and unsustainable practices like monocropping and heavy tilling are also contributing to the rampant destruction of biodiversity.
Half the world's habitable land is now used for agriculture.
Fortunately, although food systems are at the heart of the crisis facing nature and biodiversity, they can also be the solution.
Moving beyond a narrow focus on yields, and towards diverse, resilient and nature-friendly food systems could radically enhance our ability to tackle the intertwined challenges of biodiversity loss, climate change and food and nutrition security.
Starting this week in Montreal, COP15 – a two-year delayed conference of the UN Convention on Biological Diversity – aims to set new global biodiversity targets until 2030, and halt biodiversity loss.
Many people are focusing on a key 30x30 campaign to protect 30% of the Earth's surface by 2030, and other conservation measures. But this approach misses the main driver of biodiversity loss: industrial food systems.
To realise the opportunity offered by COP15, targets to eliminate the impact of food production, processing, consumption and waste on ecosystems and biodiversity need to be in the final text of a new Global Biodiversity Framework.
This means including food policy in national biodiversity strategies and action plans, and asking governments to make their domestic food policies, including farming subsidies, coherent with their biodiversity and climate goals.
How these targets are implemented is also important: investing in bottom-up initiatives at the right scales would increase food security and resilience while harnessing the power of nature as a multiplier solution to the other crises.
Agroecology is an ecologically, socially and economically sustainable approach to food and farming, which promotes diversity, resilience, and low resource use.
It is recognised by major UN organisations as a way of cutting greenhouse gas emissions, contributing to climate adaptation and reversing biodiversity loss, supporting indigenous rights, and is an obvious policy solution that could be backed at COP15.
So far, agroecology has been held back by narrow perspectives on its ability to feed the world, but a wealth of evidence to the contrary is starting to influence policy direction. Participants of COP15 should support the inclusion of agroecology in the text of the Global Biodiversity Framework.
Attendees at COP15 also need to pay more attention to enhancing the variety of crops and animals we eat. Currently just nine plant species provide 66% of the world's calories, and production is concentrated in a few hands.
Recent food price spikes and the attendant rise in acute hunger globally show how fragile our current global food systems really are. Diversifying our food production is essential to guarantee future food and nutrition security in a warming world.
There is also an abundance of evidence that indigenous peoples are more successful at protecting biodiversity, particularly crop biodiversity, than traditional conservation measures: recognising and protecting indigenous rights is an important facet to halting biodiversity loss.
Finally, we need more and better funding to support the transition to better food systems that protect ecosystems and biodiversity, like agroecology. Rich countries need to increase their contributions - especially to the Global South - for biodiversity protections, but must also stop financing nature's extinction.
The world currently spends over $1.8 trillion of public money a year on subsidies that destroy biodiversity: these must be repurposed for biodiversity- and climate-positive food systems and protections.
It has been 30 years since the world convened at the Rio de Janeiro 'Earth Summit', which created the Convention on Biological Diversity and its sister conventions on climate and desertification.
If we are to tackle these interconnected existential threats, we need to remove the silos between the summits and solutions. COP15 offers a once-in-a-generation opportunity to do, and accelerate the transition to a safer future.
---
Any views expressed in this opinion piece are those of the author and not of Context or the Thomson Reuters Foundation.
---
Tags
Climate policy

Agriculture and farming

Biodiversity

Climate solutions
---